printer friendly version
High-temperature power connectors
29 April 2020
Interconnection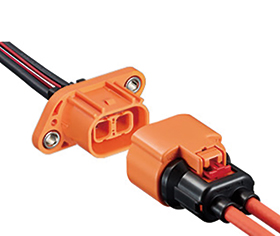 Hirose Electric has introduced the HVH-280 Series power connectors for automotive applications. They are low-profile connectors with a 3-point high-pressure female contact design that enables a high current capacity of 30 A. There are two versions available which are waterproof or non-waterproof.
The series is designed with heat resistant materials to withstand severe temperature environments; the non-waterproof version can withstand temperature ranges up to 125°C and 120°C for the waterproof version. With this heat resistance capability, the connector satisfies the needs of severe automotive requirements.
Along with heat resistance, the HVH-280 Series includes features which allow a reliable insertion of the contact and the provision of strong vibration resistance. The non-waterproof version is equipped with a retainer which ensures that the contacts are correctly assembled into the connector housing.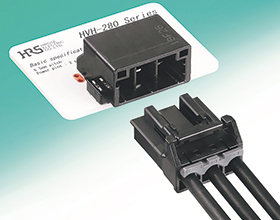 The waterproof version comes with a CPA (connector position assurance) which makes an accidental unmating of the connector impossible. Only by intentional activating of this CPA with a tool like e.g. a screwdriver, will the main locking mechanism be operational again.
Suitable applications are converters, inverters, positive temperature coefficient (PTC) heaters, on-board chargers, distribution boards and robot controller units.
For more information contact Nelina Brand, Otto Marketing, +27 12 803 7373, nelina@ottomarketing.co.za
Credit(s)
Further reading:
THT-configurable male connectors
30 June 2020, Würth Elektronik eiSos , Interconnection
WR-FAST Fast Connection is the name of a series of THT-configurable male connectors for accommodating single wires with blade receptacles – for example in household appliances. The new connectors are 
...
Read more...
---
Hybrid and pneumatic modules for modular connectors
30 June 2020, RF Design , Interconnection
Smiths Interconnect has extended its L modular connector series with the addition of two new module types that complete the company's wide offering of modular solutions. The L Series of modular connectors 
...
Read more...
---
High-speed backplane interconnect solutions
30 June 2020, IPD Electronics , Interconnection
TE Connectivity's high-speed backplane connectors offer the flexibility and performance needed for a range of datacom applications, including servers, switches, routers, and optical transport. The company's 
...
Read more...
---
High-density multicoax cable assemblies
30 June 2020, RFiber Solutions , Interconnection
Withwave's high-speed and high-density multicoax cable assemblies (WMX Series) provide a wide range of multiple coax connectors and flexible cable assemblies with a choice of 20, 40, 50 and 67 GHz configurations 
...
Read more...
---
Circular connectors for power, signals and data
30 June 2020, TRX Electronics , Interconnection
Standardised circular connectors have become the industry standard across a wide range of applications. Customers can find the right option for their most innovative designs with Phoenix Contact's PLUSCON 
...
Read more...
---
Rugged fibre connectors
29 July 2020, TRX Electronics , Interconnection
TE Connectivity's ruggedised fibre optics bring the benefits of optical technology to challenging environments, providing more bandwidth, more distance and more performance. TE's offering includes 
...
Read more...
---
EMI/RFI shielding cable ties
29 May 2020, Actum Electronics , Interconnection
BAND-IT EMI cable ties have been designed and manufactured to excel in mission-critical applications, such as Mil/Aero EMI/RFI (electromagnetic interference/RF interference), for the past 30 years.  
...
Read more...
---
How are end-launch PCB connectors useful?
29 April 2020, RF Design , Interconnection
There has been an increasing use of RF coaxial connectors, especially microwave and millimetre-wave coaxial connectors, for high-speed digital and precision sensing applications, There is also a growing 
...
Read more...
---
IP68 circular connectors
29 April 2020, IPD Electronics , Interconnection
Sure-Seal 7/8" IP68 connectors are designed for both signal and high-current applications. They are compatible with industrial mini-change connectors and are sealed to an IP68 rating. These 7/8" IP68 
...
Read more...
---
Micro-miniature circular connectors
29 April 2020, IPD Electronics , Interconnection
Available from local distributor IPD Electronics via its agreement with PEI-Genesis, Amphenol 2M series micro-miniature connectors are fully guaranteed to be intermateable with Glenair Mighty Mouse connectors. The 
...
Read more...
---