printer friendly version
NXP streamlines development with Microsoft Azure RTOS
29 April 2020
Computer/Embedded Technology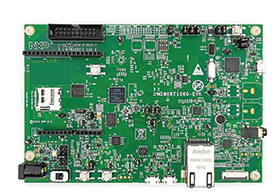 NXP Semiconductors expanded its partnership with Microsoft to bring Microsoft Azure RTOS, a comprehensive real-time operating system (RTOS), to a broader range of processing solutions from its EdgeVerse portfolio. The collaborative efforts will give NXP's developer community using MCUXpresso software and tools seamless access to the capabilities of Azure RTOS, including fully integrated middleware and tools for file management, graphical user interface, security, networking and wired/wireless connectivity.
Currently, Azure RTOS support is available for many of NXP's low-power, secure 32-bit LPC and i.MX RT crossover microcontrollers (MCUs). With this announcement, NXP intends to broaden its partnership and enable Azure RTOS from within its popular MCUXpresso software development kit (SDK), which will further expand support across its broader MCU portfolio. This turnkey integration will simplify nearly every step of the development cycle, such as choosing the right processor, developing and deploying secure, intelligent edge devices, building secure local area networks and connecting to the cloud.
NXP and Microsoft envision this collaboration will reduce production costs for developers and help them bring new industrial and IoT edge applications to market faster.
"The rapid adoption of edge processing has changed the landscape of operating systems for MCUs. The industrial and IoT edge of today requires embedded software that is anchored by small footprint RTOS, combined with comprehensive middleware stacks, which Azure RTOS provides," said Joe Yu, vice president and general manager of microcontrollers at NXP. "We're happy to complement the breadth of our MCUs with Azure RTOS for our customers to unlock the limitless possibilities of the intelligent edge and secure connected world."
Credit(s)
Further reading:
ESD protection devices for high-speed automotive interfaces
28 April 2021, EBV Electrolink , Circuit & System Protection
Nexperia has announced a new range of ESD protection devices aimed specifically at protecting the ever-increasing number of high-speed interfaces found in automotive applications, especially the in-vehicle 
...
Read more...
---
Isolated gate driver safely controls SiC MOSFETs
28 April 2021, EBV Electrolink , Power Electronics / Power Management
Joining STMicroelectronics' STGAP family of isolated gate drivers, the STGAP2SiCS is optimised for safe control of silicon carbide (SiC) MOSFETs and operates from a high-voltage rail up to 1200  V. Capable 
...
Read more...
---
NXP's EdgeLock provides secure enclave for IoT devices
28 April 2021, EBV Electrolink , Telecoms, Datacoms, Wireless, IoT
NXP Semiconductors has unveiled the EdgeLock secure enclave, a preconfigured, self-managed and autonomous on-die security subsystem that offers intelligent protection for Internet of Things (IoT) edge 
...
Read more...
---
AI platform for mass-market embedded/edge deployments
31 March 2021, RF Design , Computer/Embedded Technology
NVIDIA's Jetson TX2 NX delivers the next step in AI performance for entry-level embedded and edge products. It provides up to 2,5 times the performance of Jetson Nano and shares form factor and pin compatibility 
...
Read more...
---
Machine learning core repository on GitHub
28 April 2021 , Computer/Embedded Technology
Artificial intelligence is notoriously difficult because it relies on data science. Additionally, creating the right algorithm, such as a decision tree, and setting it up, can also be tricky. Unfortunately, 
...
Read more...
---
User-configurable embedded I/O modules
31 March 2021, Rugged Interconnect Technologies , Computer/Embedded Technology
APZU modules from Acromag provide a programmable Xilinx Zynq UltraScale+ multiprocessor system-on-chip (MPSoC). This MPSoC combines a feature-rich, ARM-based processing system and programmable logic in 
...
Read more...
---
Fourth generation PC/104 SBC extends product lifecycles
31 March 2021, Electronic Products Design , Computer/Embedded Technology
Diamond Systems has introduced Athena IV, a wide-temperature, COM-based SBC (single board computer) with integrated data acquisition and PC/104 I/O expansion. This combination of features makes the compact 
...
Read more...
---
Synaptics signs distribution deal with EBV
26 February 2021, EBV Electrolink , News
EBV Elektronik has secured a supply chain agreement with Synaptics. Synaptics was founded with the primary objective of enhancing the way in which technology and the real world interrelate, to enable 
...
Read more...
---
BLDC motor control demonstrator and evaluation board
26 February 2021, EBV Electrolink , Power Electronics / Power Management
EBV Elektronik is demonstrating the simplicity of designing with Power Integrations' BridgeSwitch devices with the introduction of the EBV BridgeSwitch MB high-voltage, single-phase brushless DC (BLDC) 
...
Read more...
---
New Bluetooth LE microcontrollers from STMicro
26 February 2021, EBV Electrolink , Telecoms, Datacoms, Wireless, IoT
STMicroelectronics has extended its STM32WB Bluetooth LE microcontroller (MCU) offering with new devices that combine entry-level features with extra power savings for longer-lasting performance. The 
...
Read more...
---