printer friendly version
Versatile temperature sensor IC
25 March 2020
Analogue, Mixed Signal, LSI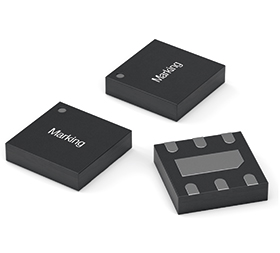 Although the WSEN-TIDS temperature sensor from Würth Elektronik measures just 2,0 x 2,0 x 0,5 mm, its range of application is wide. Its accuracy in the measuring range -40°C to 125°C is ±0,5°C, while in the range -10°C to 60°C it goes down to ±0,25°C. Applications extend from PCB temperature monitoring and system monitoring for power supplies, heating, ventilation, air conditioning and cold chain monitoring, to sensor technology in industrial controls, domestic appliances or wearables.
The sensor is factory calibrated and can therefore be used without time-consuming re-measurements. The sensor's 16-bit output signal can be read out via an I²C interface with different output data rates up to a maximum of 200 Hz. An additional interrupt pin can optionally be used to indicate when a programmed temperature threshold value is exceeded.
The WSEN-TIDS is ideally suited for battery powered applications as it operates from 1,5 to 3,6 V and draws a current of only 1,75 μA. A development kit is available for the temperature sensor. Long-term availability is guaranteed with this proven industrial sensor. WSEN-TIDS is available from stock without a minimum order quantity.
Further reading:
maXTouch touchscreen controller for various aspect ratios
EBV Electrolink Analogue, Mixed Signal, LSI
As the automotive market continues to demand larger touchscreens with more flexibility in size and shape, Microchip Technology is announcing a new maXTouch touchscreen controller that allows automotive 
...
Read more...
---
Signal chain implementation for condition monitoring systems
Altron Arrow Editor's Choice Analogue, Mixed Signal, LSI
Like all system designs, there are many choices to be made when it comes to designing a condition monitoring system, each of which comes with various trade-offs and can drastically alter the DAQ signal chain design.
Read more...
---
High-speed SAR ADC family
Analogue, Mixed Signal, LSI
Texas Instruments expanded its portfolio of high-speed data converters with a broad family of successive-approximation register (SAR) analog-to-digital converters (ADCs) that enable high-precision data 
...
Read more...
---
Digital flow sensor for respiratory devices
Electrocomp Analogue, Mixed Signal, LSI
The compact SFM3119 digital flow meter is the successor to Sensirion's SFM3100 mass flow meter. Compared to its predecessor, the SFM3119 comes with a digital I
2
C output as well as improved specifications.  
...
Read more...
---
Liquid flow sensor in small planar package
Electrocomp Analogue, Mixed Signal, LSI
With a tiny footprint of only
10 x 10 mm
, Sensirion's LPG10-1000 liquid flow sensor provides optimal performance and speed in measuring liquid flow in a planar microfluidic glass substrate, with down-mount 
...
Read more...
---
Wide range of sensor technologies for innovative designs
TRX Electronics Analogue, Mixed Signal, LSI
Mouser Electronics has created a sensor technology content stream on its website that highlights the latest in innovative sensor solutions and resources from the world's top manufacturers. With the 
...
Read more...
---
Capacitive touchscreen controllers
EBV Electrolink Analogue, Mixed Signal, LSI
Microchip Technology is adding two new members to its family of IEC/UL 60730 Class B certified touchscreen controllers. The new MXT448UD-HA and MXT640UD-HA extend the Class B portfolio of devices beyond 
...
Read more...
---
High-precision voltage reference IC
Future Electronics Analogue, Mixed Signal, LSI
Extended temperature-range voltage reference ICs for automotive and industrial applications require low drift, high reliability and high performance. A new high-precision voltage reference (Vref) IC from 
...
Read more...
---
Liquid flow sensor evaluation kits
Electrocomp Analogue, Mixed Signal, LSI
The LD20 single-use liquid flow sensor series from Sensirion is suitable for fast, precise and reliable measurements of the lowest flow rates in biomedical applications. An evaluation kit for the LD20-0600L 
...
Read more...
---
Low-latency contactless angle sensor
NuVision Electronics Analogue, Mixed Signal, LSI
The MA734 is a MagAlpha digital angle sensor that detects the absolute angular position of a permanent magnet (typically a diametrically magnetised cylinder on a rotating shaft). Fast data acquisition 
...
Read more...
---