printer friendly version
Jemstech continuing its growth path
29 April 2020
News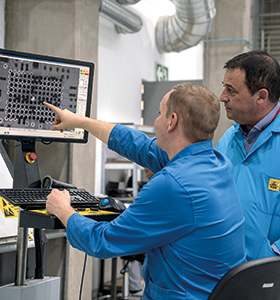 Since its inception in 2005 and especially during the past five years, Jemstech has grown from a medium-sized electronic manufacturing services (EMS) provider into one of the major players for electronics contract manufacturing in the South African market. Jemstech is now conveniently located in Louwlardia, Centurion, centrally between Johannesburg and Pretoria. Its foundation is built on niche customers who required a flexible EMS partner to build highly complex assemblies without any compromise on quality or reliability. By assisting customers with design for manufacturing (DFM) in the early prototype phase, it ensured assemblies of the highest quality and reliability.
The company has since enhanced its EMS capability and expanded into new manufacturing areas, markets and customers, requiring higher volumes. Its new product introduction (NPI) process ensures on-boarding of new customers with higher volume production with confidence.
In its role as turnkey EMS partner, Jemstech first aims to understand each customer's individual needs, after which it works collaboratively to bring flexibility and speed to meet demanding deadlines. The company focuses to work towards the development of tailored solutions which enable its customers to offer the best products within their respective markets.
COVID-19 and the effect on the South African EMS market
When observing the effect that COVID-19 will have on the electronics manufacturing market in South Africa, the trend that lead-times of components are on the increase, is already noted. This will have a detrimental impact on those who are mainly exporters into the global marketplace.
Component manufacturers in China are not back to 100% capacity due to the aftermath of the virus outbreak. Normal supply chains are disrupted as a result of only essential goods allowed to be offloaded and transported, which leads to further delays in the importation of material to manufacture and assemble final products. Delays are also expected from couriers due to the backlog of non-essential goods to be delivered.
By joining forces with customers and suppliers, Jemstech is implementing action plans to overcome these obstacles and ensure that it is able to deliver on commitments. The supply chain is constantly monitored to prompt clients should potential risks arise.
The future
Jemstech's Gerrie Jansen says that the company remains confident in the future of the South African electronics manufacturing market. After having moved into its new, purpose-built 4500 m2 manufacturing facility on 6 January 2019, it continues to invest in new equipment, systems and procedures to increase its capacity for greater efficiency to offer even more value to its loyal customer base.
Jemstech's newly acquired ASM Assembly Systems Siplace SMD line will provide additional capacity to expand manufacturing volume to existing and new customers.
In the words of Leonard Cohen, "There is a crack in everything. That's how the light gets in." The South African electronics manufacturing industry will gather its strength and persevere to overcome this period and the light will start shining through the cracks.
Credit(s)
Further reading:
A journey into the automation unknown
31 August 2020 , News
From small-town specialised machine builder to global technology company, Jendamark Automation's business journey has been characterised by calculated leaps into the unknown. And, as South African manufacturers 
...
Read more...
---
Resources for home and building automation
31 August 2020, TRX Electronics , News
Mouser Electronics is expanding its comprehensive range of building automation solutions from Silicon Labs, TE Connectivity (TE), and Littelfuse for the rapidly growing smart home and building automation 
...
Read more...
---
From the editor's desk: Enough of 2020 already
31 August 2020, Technews Publishing , News
Forgive me, but I don't think I'm alone in being a bit all over the place mentally at the moment. So far, two of my colleagues have been diagnosed positive for COVID-19 and have fortunately recovered. 
...
Read more...
---
Tribute to Paul Soteriou
31 August 2020 , News
Paul Soteriou, a man always willing to share what he had with a smile and with a deep-found love for South Africa, passed away earlier this year.
Read more...
---
Personality profile: Brian Andrew
31 August 2020, RS Components (SA) , News
With a father who is a civil engineer and an older brother who is a chemical engineer, you could say engineering was in the DNA of Brian Andrew.
Read more...
---
SA company scores in major international renewable energy project
31 August 2020, ETION Create , News
South African-based Etion Create has been selected as one of the preferred suppliers in the Sofia offshore wind farm project in the United Kingdom, one of the largest in the world. Etion Create, an original 
...
Read more...
---
Company profile: Vepac Electronics
31 August 2020, Vepac Electronics , News
Vepac Electronics was formed in 1987 and has been operating in South Africa since 1976 as Vero UK. Vepac Electronics was formed as a management buyout of Vero UK by the management at the time led by 
...
Read more...
---
South African stakeholders commit to responsible AI
31 August 2020 , News
Much like a microcosm of our socio-economic context, the artificial intelligence (AI) landscape in South Africa is uneven and burdened with regulatory challenges. If not addressed, these challenges could 
...
Read more...
---
Clearing the Static
31 August 2020, Actum Electronics , News
Ionisation and static control
Electronic products normally consist of conductors and insulators. Within the ESD-protected workstation, insulators can be found on products such as PCBs, onthe tools being 
...
Read more...
---
Women taking the lead in engineering
31 August 2020 , Editor's Choice, News
Alaris Antennas is an engineering company specialising in the design and production of (often) customised antennas for electronic warfare. This is not an industry that typically attracts women to steer 
...
Read more...
---