printer friendly version
Solid-state drive based on QLC technology
29 April 2020
Computer/Embedded Technology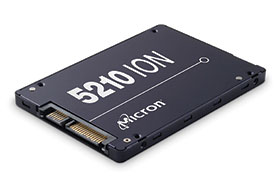 Micron Technology announced new Micron 5210 ION enterprise SATA SSD capacity and features, solidifying its leadership in QLC (quad-level cell) technology volume production. The world's first QLC solid-state drive (SSD), the Micron 5210 is based on the company's advanced QLC NAND technology and quickly replacing legacy hard disk drives (HDDs).
From SQL and NoSQL databases to big data and analytics, object stores and vSAN capacity tiers, customers are now reaping the benefits of NAND Flash on performance-sensitive workloads that used to live on HDDs. Rapidly supplanting 10K HDDs, the Micron 5210 delivers 175 times faster random reads, 30 times faster random writes, two times more sequential throughput and three times more energy efficiency than the largest 10K RPM HDDs1 – all at a compelling price point.
Original equipment manufacturer (OEM) adoption momentum is accelerating the industry's transition from HDDs to QLC SSDs in general-purpose server workloads, improving their performance, reliability and power consumption.
"The new and innovative QLC wear-optimisation technology engineered into Micron's SSDs can enable customers to safely leverage SSDs for many of their workloads, addressing an important customer need as performance and capacity demands grow," said John Donovan, executive director of Data Center Infrastructure at Lenovo Data Center Group. "Micron's 5210 QLC SSDs are available today on Lenovo's ThinkSystem solution portfolio."
As workloads evolve to meet growing demands for real-time data insights and analytics, data centres increasingly need the steady-state speed, capacity, efficiency and reliability that enterprise Flash storage can provide but HDDs cannot. High-density Micron QLC NAND Flash media achieves densities of one terabit on a single chip, providing the ease and platform continuity of SATA, but with the value and speed of QLC NAND. The Micron 5210 ION SSD is optimised to meet these demands.
For more information contact Dirk Venter, Altron Arrow, +27 11 923 9600, dventer@arrow.altech.co.za, www.altronarrow.com
Credit(s)
Further reading:
AI platform for mass-market embedded/edge deployments
31 March 2021, RF Design , Computer/Embedded Technology
NVIDIA's Jetson TX2 NX delivers the next step in AI performance for entry-level embedded and edge products. It provides up to 2,5 times the performance of Jetson Nano and shares form factor and pin compatibility 
...
Read more...
---
Component shortages and how to mitigate them
31 March 2021, RS Components (SA), Projects Concern Manufacturing, Production Logix, Altron Arrow , News
To find out just how severe the problem is right now, and the impact it is having, we consulted two South African CEMs and two component distributors for their insights and advice.
Read more...
---
User-configurable embedded I/O modules
31 March 2021, Rugged Interconnect Technologies , Computer/Embedded Technology
APZU modules from Acromag provide a programmable Xilinx Zynq UltraScale+ multiprocessor system-on-chip (MPSoC). This MPSoC combines a feature-rich, ARM-based processing system and programmable logic in 
...
Read more...
---
Fourth generation PC/104 SBC extends product lifecycles
31 March 2021, Electronic Products Design , Computer/Embedded Technology
Diamond Systems has introduced Athena IV, a wide-temperature, COM-based SBC (single board computer) with integrated data acquisition and PC/104 I/O expansion. This combination of features makes the compact 
...
Read more...
---
Bidirectional logic-level voltage translators
31 March 2021, Altron Arrow , Analogue, Mixed Signal, LSI
The 74LVC2T45 and 74LVCH2T45 from Diodes Incorporated provide logic-level voltage translation between devices that operate from different supply rails. The devices have dual power supplies and support 
...
Read more...
---
Multi-constellation GNSS module
31 March 2021, Altron Arrow , Telecoms, Datacoms, Wireless, IoT
Telit's high-precision GNSS SE868SY-D is a new multi-frequency, multi-constellation positioning receiver capable of combining GPS/QZSS and Galileo in the L1/E1 and L5/E5 bands, GLONASS in the L1, BeiDou 
...
Read more...
---
Evaluate 3D magnetic sensors in under ten minutes
31 March 2021, Altron Arrow , Analogue, Mixed Signal, LSI
You probably think that it's not possible to evaluate a 3D magnetic sensor in less than ten minutes? Think again! Anything is possible with Infineon's 2GO kits. Its 3D magnetic sensor 2GO kit is a budget-priced 
...
Read more...
---
PoE to USB-C power and data adaptor
26 February 2021, Altron Arrow , Power Electronics / Power Management
There are many consumer, enterprise and industrial devices today that have a USB Type-C port as the only input power option. While USB-C technology can offer high power and high data rate, it limits the 
...
Read more...
---
Multi-parameter vital signs monitoring is easier than ever before
31 March 2021, Altron Arrow , Analogue, Mixed Signal, LSI
There is rapid expansion and adoption of digital healthcare fuelled by the continuous advancement in electronics and breakthroughs in cloud computing, AI, and communication technologies.
Read more...
---
STM32 wireless MCU module
26 February 2021, Altron Arrow , Telecoms, Datacoms, Wireless, IoT
STMicroelectronics is offering a solution to accelerate the market introduction of new Bluetooth LE and 802.15.4 based IoT devices with a miniature, ready-to-use STM32 wireless microcontroller (MCU) module.  
...
Read more...
---