printer friendly version
Solid-state drive based on QLC technology
29 April 2020
Computer/Embedded Technology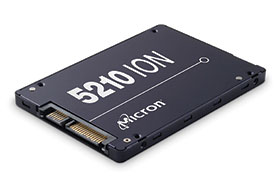 Micron Technology announced new Micron 5210 ION enterprise SATA SSD capacity and features, solidifying its leadership in QLC (quad-level cell) technology volume production. The world's first QLC solid-state drive (SSD), the Micron 5210 is based on the company's advanced QLC NAND technology and quickly replacing legacy hard disk drives (HDDs).
From SQL and NoSQL databases to big data and analytics, object stores and vSAN capacity tiers, customers are now reaping the benefits of NAND Flash on performance-sensitive workloads that used to live on HDDs. Rapidly supplanting 10K HDDs, the Micron 5210 delivers 175 times faster random reads, 30 times faster random writes, two times more sequential throughput and three times more energy efficiency than the largest 10K RPM HDDs1 – all at a compelling price point.
Original equipment manufacturer (OEM) adoption momentum is accelerating the industry's transition from HDDs to QLC SSDs in general-purpose server workloads, improving their performance, reliability and power consumption.
"The new and innovative QLC wear-optimisation technology engineered into Micron's SSDs can enable customers to safely leverage SSDs for many of their workloads, addressing an important customer need as performance and capacity demands grow," said John Donovan, executive director of Data Center Infrastructure at Lenovo Data Center Group. "Micron's 5210 QLC SSDs are available today on Lenovo's ThinkSystem solution portfolio."
As workloads evolve to meet growing demands for real-time data insights and analytics, data centres increasingly need the steady-state speed, capacity, efficiency and reliability that enterprise Flash storage can provide but HDDs cannot. High-density Micron QLC NAND Flash media achieves densities of one terabit on a single chip, providing the ease and platform continuity of SATA, but with the value and speed of QLC NAND. The Micron 5210 ION SSD is optimised to meet these demands.
Credit(s)
Further reading:
Discovery kit for IoT nodes using STM32U5 MCU
Altron Arrow DSP, Micros & Memory
The B-U585I-IOT02A Discovery kit provides a complete demonstration and development platform for STMicroelectronics' STM32U585AI microcontroller, featuring an Arm Cortex-M33 core with Arm TrustZone and 
...
Read more...
---
VPX processor board with strong security
Rugged Interconnect Technologies Computer/Embedded Technology
Concurrent Technologies has developed a VPX processor board based on the Intel Xeon E-2200 processor family (previously known as Coffee Lake Refresh) launched by Intel for use in long-lifecycle embedded 
...
Read more...
---
Signal chain implementation for condition monitoring systems
Altron Arrow Editor's Choice Analogue, Mixed Signal, LSI
Like all system designs, there are many choices to be made when it comes to designing a condition monitoring system, each of which comes with various trade-offs and can drastically alter the DAQ signal chain design.
Read more...
---
USB charger solution with high power density
Altron Arrow Power Electronics / Power Management
Diodes Incorporated has launched a three-chip solution for enhancing the performance of ultra-high-power-density USB Type-C power delivery (PD) systems. These products can be used in a wide variety of 
...
Read more...
---
Full AI/machine learning sensing solution
Computer/Embedded Technology
SensiML, a developer of AI tools for building intelligent Internet of Things (IoT) endpoints, has teamed up with onsemi to deliver a complete machine learning solution for autonomous sensor data processing 
...
Read more...
---
Frame grabber for up to four CoaXPress links
Rugged Interconnect Technologies Computer/Embedded Technology
Kaya Instruments' Komodo II CoaXPress 12G PCIe/104 is a high-spec frame grabber supporting the CoaXPress 2.0 standard. It can receive video streams from up to four CoaXPress links in single, dual or 
...
Read more...
---
Demo of new TouchGFX video widget
Altron Arrow Multimedia, Videos
The latest release (version 4.18) of STMicroelectronics' TouchGFX software for user-interface development with STM32 microcontrollers (MCUs) added support for video playback, enhanced tools for multi-developer 
...
Read more...
---
Configurable dual IO-Link and SIO transceiver
Altron Arrow Telecoms, Datacoms, Wireless, IoT
STMicroelectronics is bringing extra flexibility to IO-Link connections with the L6364 transceiver, which features dual communication channels that allow configurable output doubling for extra drive strength, 
...
Read more...
---
Benchmarking tools for quantum computing released
Computer/Embedded Technology
Quantum computers are still a long way from being practical in real-world scenarios, but development is already underway on benchmarking tools to measure their performance. The Quantum Economic Development 
...
Read more...
---
Updates add video to ST's TouchGFX suite
Altron Arrow Computer/Embedded Technology
STMicroelectronics has released TouchGFX Version 4.18 for user-interface development with STM32 microcontrollers (MCUs), adding video playback, enhanced tools for multi-developer collaboration and support 
...
Read more...
---