printer friendly version
Thick-film chip resistors
29 April 2020
Passive Components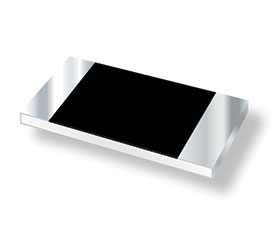 Bourns announced the introduction of its new Model CR01005 series thick-film chip resistor. This extra small – 01005 inch (0402 metric) – CR01005 series broadens the general purpose thick-film chip resistor family to eight different footprints up to 2512 inch (6431 metric).
The Model CR01005 series meets the current downsizing market trend and helps strengthen the already broad range of surface-mount chip resistors being offered by Bourns. This new series is suitable for use in mobile devices, consumer electronics, industrial automation, power supplies, LED lighting applications and communication base stations.
This new chip resistor is made using a thick-film element printed onto a ceramic substrate and complements the other circuit conditioning components that Bourns offers, such as power inductors and rectifier diodes.
Credit(s)
Further reading:
Dual-band GNSS RTK module
31 March 2021, Electrocomp , Telecoms, Datacoms, Wireless, IoT
The RTK-1010 is a high-performance dual-band GNSS RTK module that is designed for applications requiring centimetre-level positioning accuracy. It adopts a 12 nm manufacturing process and integrates an 
...
Read more...
---
Upcoming modifications to Bourns' isolation power transformers
26 February 2021, Electrocomp , Passive Components
In the spirit of continuous improvement, effective 14 June 2021, Bourns is changing the silicone material, Hi-pot specification and marking content for its HCT Series high clearance/creepage distance 
...
Read more...
---
Rack-mounted instrument enclosure
31 March 2021, Electrocomp , Enclosures, Racks, Cabinets & Panel Products
Made from extruded aluminium, the RM Series of enclosures from Hammond Manufacturing are suitable for rack-mount or desktop use. Featuring strong construction yet light in weight, the enclosures are made 
...
Read more...
---
Compact transformers for DC/DC converters
26 February 2021, Electrocomp , Passive Components
New from TDK is the EPCOS E10 EM series, a range of insulated SMT transformers that are suitable for various DC/DC converter topologies and gate driver circuits in e-mobility and industrial electronics. 
...
Read more...
---
Closed-loop MEMS accelerometer
26 February 2021, Electrocomp , Analogue, Mixed Signal, LSI
TDK announced the release of Tronics AXO315, a miniature, 1-axis closed-loop MEMS accelerometer with a 24-bit digital SPI interface and SMD package that reaches quartz sensor performance, outperforms 
...
Read more...
---
Embedded Wi-Fi antennas
25 November 2020, Electrocomp , Telecoms, Datacoms, Wireless, IoT
AVX released a brand new series of embedded Wi-Fi antennas designed to satisfy steadily increasing cross-market demand for smaller and thinner wireless products with superior signal sensitivity. The 
...
Read more...
---
Standard and modified enclosures catalogue
26 February 2021, Electrocomp , Technical Literature
This shortform, 8-page catalogue provides an overview of aluminium, metal and plastic enclosures available from Hammond Manufacturing, together with corresponding accessories. Hammond Manufacturing 
...
Read more...
---
Low-profile USB Type C vertical receptacle
26 February 2021, Electrocomp , Interconnection
With a height of just 6,5 mm on a printed circuit board (PCB), the vertical-mount USB4120 is a low-profile USB Type C receptacle and joins GCT's range of charging-focused ionex connectors. The 16-pin 
...
Read more...
---
High voltage and safety certified MLCCs
25 November 2020, TRX Electronics , Passive Components
Knowles Precision Devices offers a wide range of components, including high-voltage MLC (multi-layer chip) capacitors and safety certified capacitors designed to meet the needs of industrial equipment 
...
Read more...
---
GDT surge protection devices
25 November 2020, Electrocomp , Circuit & System Protection
Bourns' new and improved next-generation surface mount two-electrode GDT (gas discharge tube) surge protection devices have been designed using Bourns' proprietary, advanced computer simulation techniques 
...
Read more...
---