printer friendly version
Elmatica CEO to vice chair IPC cybersecurity task group
30 June 2020
News
Didrik Bech, CEO of printed circuit broker Elmatica, has been appointed to serve as vice chair for IPC's new cybersecurity task group. The 2-12c Task Group leadership is a representation of IPC as an international standards body. The group is chaired by Toshiyuki Sawada of NEC Japan and in addition to Didrik Bech, Kathleen Nargi-Toth from Bowhead USA also serves as co-vice chair.
"The goal of the IPC 2-12c Cybersecurity Protection Standard Task Group is to develop a new industry standard to provide a system to reduce the manufacturing supply-chain cybersecurity risks. We are pleased to have Didrik Bech and his experience within cybersecurity on board as vice chair," says Chris Jorgensen, director of technology transfer at IPC.
IPC-1792, 'Standard for Cybersecurity Management in the Manufacturing Industry Supply Chain', is an open international standard, meaning that anyone from the electronics manufacturing industry with interest in the topic can join the task group. Anyone with interest in participating can contact Chris Jorgensen to be added to the task group or for more information (his email address is at the end of this article).
"IPC is continuously providing important standards for the entire industry. Lately we have experienced a shift in knowledge and focus toward cybersecurity, driven forward by both new legislations in the EU, nationally and not least by US DoD and the CMMC standards," says Bech.
"I am looking forward to working closely with both IPC, the task group members and the industry, to ensure that IPC-1792 is set within the correct scope in a fast moving cyber landscape, make sure it will augment other cybersecurity standards and regulations and be specific to our industry," Bech concludes.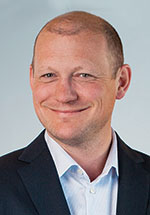 Didrik Bech.
The IPC-1792 cybersecurity standard is applicable for internal cybersecurity and external cybersecurity. It also includes mechanisms for self- or third-party assessment to the four cybersecurity models as well as a mechanism of validation by a certificate authority (CA).
The standard will provide a system for reducing manufacturing supply-chain cybersecurity risks. Within this system, the standard will identify levels of cybersecurity protection which can be used to assess a manufacturing facility's cybersecurity model to show existing cybersecurity protections and to identify steps to take to achieve higher cybersecurity levels.
Credit(s)
Further reading:
CSIR drives agenda to extract IP value for industrial development
23 June 2021 , News
The Council for Scientific and Industrial Research (CSIR) urged innovators and industry to maximise and explore the value of intellectual property (IP) to fast-track ideas to the market for the benefit 
...
Read more...
---
CSIR programme stimulates graphene adoption
26 May 2021 , News
The Council for Scientific and Industrial Research (CSIR) has established a graphene programme to help South Africa to develop its own capabilities, technologies and products based on graphene. The 
...
Read more...
---
Extended ST offering from RS
23 June 2021, RS Components (SA) , News
The scope of the supply chain agreement between RS Components and STMicroelectronics has been significantly extended. This new phase in the relationship between the two companies will result in a substantial 
...
Read more...
---
Avnet uses CalcuQuote API to improve customer experience
23 June 2021, Avnet Abacus, Avnet Silica , News
Avnet EMEA and CalcuQuote have engaged in connecting Avnet via API to Calcuquote's procurement services platform for customers. CalcuQuote optimises electronic components quoting and sourcing by taking 
...
Read more...
---
Worldwide IC market forecast to top $500 billion
23 June 2021 , News
IC Insights will soon release its mid-year update to The McClean Report that includes its most current forecast for the global IC market from 2021 through 2025. In a very rare event, 32 of the 33 major 
...
Read more...
---
Mouser recognises 2021 Best-in-Class Award winners
23 June 2021 , News
Mouser Electronics congratulated the 2021 winners of its annual Mouser Best-in-Class Awards. The annual awards selection, now in its 26th year, recognises the outstanding individuals from Mouser's manufacturer 
...
Read more...
---
Structural battery breakthrough towards 'massless' energy storage
26 May 2021 , News
Chalmers University of Technology researchers have produced a structural battery that performs 10 times better than all previous versions. It contains carbon fibre that serves simultaneously as an electrode, 
...
Read more...
---
BAMR celebrates 75th anniversary
26 May 2021, BAMR , News
BAMR is celebrating its 75th year of serving the local industry, having been founded on 22 May 1946 by Fred Duk, a former Major in the South African Air Force, upon his return from the Second World 
...
Read more...
---
A tribute to Mark Schroeder
26 May 2021, S.J. Andrews Electronics , News
Written by Mark's family, with pride as we remember our husband, our dad, our granddad – a man who was and will always be so loved.
Read more...
---
Company profile: RS Components SA
26 May 2021, RS Components (SA) , News
The history of RS Components is a long and storied one, having been founded in London in 1937 by J.H. Waring and P.M. Sebestyen under the name Radiospares. In those early days, the company was run out 
...
Read more...
---