printer friendly version
PCIe Gen 4 switches
30 June 2020
Computer/Embedded Technology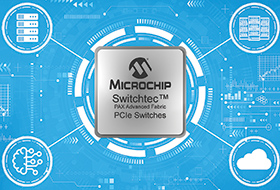 To support cloud, data centre and hyperscale computing that facilitates advancements in artificial intelligence (AI) and machine learning (ML), Microchip Technology released to production its Switchtec PAX Advanced Fabric Gen 4 PCIe switch family, enabling complex fabric topologies with greater scalability, lower latency and higher performance than traditional Peripheral Component Interconnect Express (PCIe) switches.
Microchip's Switchtec PAX PCIe family of switches provides a turnkey fabric solution and reduces time-to-market for systems requiring multi-host sharing of single root I/O virtualisation (SR-IOV), non-volatile memory (NVMe), solid state drives (SSDs), graphics processing units (GPUs) and other PCIe endpoints.
The Switchtec PAX devices are the industry's lowest-power Gen 4 PCIe switches, significantly reducing total system power consumption. The Switchtec PAX family of switches is available in the following variants:
100-lane, 84-lane, 68-lane, 52-lane, 36-lane and 28-lane. Other PAX features include:
• Advanced error containment.
• Comprehensive diagnostics and debug capabilities.
• Wide breadth of I/O interfaces.
• Integrated MIPS processor.
• Secure boot to prevent execution of unauthorised firmware through public key cryptography.
Applications include GPU workstations, composable general purpose GPUs (GP-GPU) fabrics, scalable multi-host systems, SR-IOV-enabled JBOFs, disaggregated systems and rack-scale architectures.
For more information contact Shane Padayachee, Avnet South Africa, +27 11 319 8600, shane.padayachee@avnet.eu, www.avnet.co.za
Credit(s)
Further reading:
Smallest automotive maXTouch controllers
29 July 2020, Altron Arrow, Avnet South Africa , DSP, Micros & Memory
To help enhance and ease today's driving experience, automotive manufacturers are implementing additional touch displays beyond the centre infotainment display (CID). Supporting the application of these 
...
Read more...
---
Configured computing systems and individual elements
29 July 2020, Vepac Electronics , Computer/Embedded Technology
Verotec has a selection of configured systems plus individual elements such as backplanes, power supplies and cooling products, which are compliant with the PICMG/VITA specifications, and supported by 
...
Read more...
---
Pentek accelerates real-time recording
29 July 2020, Rugged Interconnect Technologies , Computer/Embedded Technology
Pentek has introduced a new addition to the Talon series of recorders, the Model RTR 2757 4U 19-inch rackmount recorder. This new recorder complements Pentek's Quartz RFSoC products that stream digitised 
...
Read more...
---
3 kW TVS diode arrays
30 June 2020, Avnet South Africa , Circuit & System Protection
To ensure critical operations, aviation and space systems rely on digital and logic functionality and circuitry in engine control units, environmental controls, instruments and actuators. Data centres, 
...
Read more...
---
Backplanes for various computing architectures
30 June 2020, Vepac Electronics , Computer/Embedded Technology
Verotec designs, supplies and integrates bus-based products and systems. Its extensive standard range consists of open-architecture backplanes and extender boards for VME, VME64x, VXI, VPX, VXS, CompactPCI, 
...
Read more...
---
DIN-rail mounting DC-DC converters
30 June 2020, Avnet South Africa , Power Electronics / Power Management
Shortly after unveiling the brand-new DIN-rail mounting DC-DC converter family, the DDR-15/30/60/120/240 series, Mean Well has announced the DDR-480 series (480 W) to enable integration into higher-power 
...
Read more...
---
Solid-state drive based on QLC technology
29 April 2020, Altron Arrow , Computer/Embedded Technology
Micron Technology announced new Micron 5210 ION enterprise SATA SSD capacity and features, solidifying its leadership in QLC (quad-level cell) technology volume production. The world's first QLC solid-state 
...
Read more...
---
Wi-Fi and BLE combo module
29 May 2020, Avnet South Africa , Telecoms, Datacoms, Wireless, IoT
Dialog Semiconductor announced the DA16600, a module that combines its advanced Wi-Fi and BLE (Bluetooth Low Energy) capabilities into a single solution. This two-in-one module is comprised of two 
...
Read more...
---
HV MOSFET for ruggedness, smart PWM controller for flexibility
30 June 2020, Avnet South Africa , Power Electronics / Power Management
As the world recently celebrated Earth Day, STMicroelectronics' blog recently featured one of its many components that help better manage the electricity people consume every day and therefore, decided 
...
Read more...
---
Why 'new space' satellites demand a new approach to components
29 May 2020, Avnet South Africa , News
New space is opening up exciting opportunities for businesses, which can create completely new products, services and capabilities that were, until recently, impossible or impractical.
Read more...
---