printer friendly version
PCIe Gen 4 switches
30 June 2020
Computer/Embedded Technology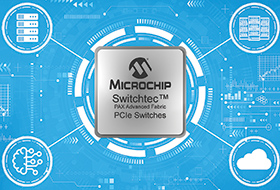 To support cloud, data centre and hyperscale computing that facilitates advancements in artificial intelligence (AI) and machine learning (ML), Microchip Technology released to production its Switchtec PAX Advanced Fabric Gen 4 PCIe switch family, enabling complex fabric topologies with greater scalability, lower latency and higher performance than traditional Peripheral Component Interconnect Express (PCIe) switches.
Microchip's Switchtec PAX PCIe family of switches provides a turnkey fabric solution and reduces time-to-market for systems requiring multi-host sharing of single root I/O virtualisation (SR-IOV), non-volatile memory (NVMe), solid state drives (SSDs), graphics processing units (GPUs) and other PCIe endpoints.
The Switchtec PAX devices are the industry's lowest-power Gen 4 PCIe switches, significantly reducing total system power consumption. The Switchtec PAX family of switches is available in the following variants:
100-lane, 84-lane, 68-lane, 52-lane, 36-lane and 28-lane. Other PAX features include:
• Advanced error containment.
• Comprehensive diagnostics and debug capabilities.
• Wide breadth of I/O interfaces.
• Integrated MIPS processor.
• Secure boot to prevent execution of unauthorised firmware through public key cryptography.
Applications include GPU workstations, composable general purpose GPUs (GP-GPU) fabrics, scalable multi-host systems, SR-IOV-enabled JBOFs, disaggregated systems and rack-scale architectures.
Further reading:
VPX processor board with strong security
Rugged Interconnect Technologies Computer/Embedded Technology
Concurrent Technologies has developed a VPX processor board based on the Intel Xeon E-2200 processor family (previously known as Coffee Lake Refresh) launched by Intel for use in long-lifecycle embedded 
...
Read more...
---
Full AI/machine learning sensing solution
Computer/Embedded Technology
SensiML, a developer of AI tools for building intelligent Internet of Things (IoT) endpoints, has teamed up with onsemi to deliver a complete machine learning solution for autonomous sensor data processing 
...
Read more...
---
Frame grabber for up to four CoaXPress links
Rugged Interconnect Technologies Computer/Embedded Technology
Kaya Instruments' Komodo II CoaXPress 12G PCIe/104 is a high-spec frame grabber supporting the CoaXPress 2.0 standard. It can receive video streams from up to four CoaXPress links in single, dual or 
...
Read more...
---
Benchmarking tools for quantum computing released
Computer/Embedded Technology
Quantum computers are still a long way from being practical in real-world scenarios, but development is already underway on benchmarking tools to measure their performance. The Quantum Economic Development 
...
Read more...
---
Updates add video to ST's TouchGFX suite
Altron Arrow Computer/Embedded Technology
STMicroelectronics has released TouchGFX Version 4.18 for user-interface development with STM32 microcontrollers (MCUs), adding video playback, enhanced tools for multi-developer collaboration and support 
...
Read more...
---
SoM maker relies on ST MPU and open-source community
Altron Arrow Computer/Embedded Technology
"Open source is not only code sharing but a willingness to bring a certain know-how to a community and make a business around it."
Read more...
---
Analog microphone array board for advanced audio sensing
Altron Arrow Computer/Embedded Technology
The STEVAL-STWINMAV1 microphone array expansion board adds advanced audio sensing capabilities to STMicroelectronics' STEVAL-STWINKT1B (and STEVAL-STWINKT1) SensorTile Wireless Industrial Node (STWIN) 
...
Read more...
---
Compact fanless IoT edge server
Brandwagon Distribution Computer/Embedded Technology
With the rise of AI, machine vision and deep learning, much of the data analytics and processing are now happening further from the info centres in the field or where the data is collected. For those 
...
Read more...
---
Highly flexible remote I/O controllers
RF Design Computer/Embedded Technology
Remote I/O devices are well-established in the industrial world. By supporting popular communications protocols such as Modbus, they give other equipment and control systems such as scada access to remote 
...
Read more...
---
Data acquisition HATs for Raspberry Pi
Osiris Technical Systems Computer/Embedded Technology
Raspberry Pi is the most popular single-board computer in use today, but does not have built-in test and measurement capabilities such as analog-to-digital converters (ADCs), digital-to-analog converters 
...
Read more...
---