printer friendly version
New range of Tektronix DSOs
30 June 2020
Test & Measurement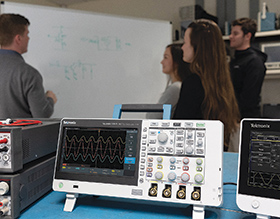 Comtest has released Tektronix's new TBS2000B series of digital storage oscilloscopes (DSOs) that was developed to meet the performance, usability and affordability needs of both engineers and educators.
The TBS2000B scopes extend the performance of the TBS2000 portfolio to 200 MHz with 2GS/s maximum sample rate.
The TBS2000B Series is designed for easy operation and fast hands-on learning with a range of key features:
• Large 9-inch WVGA display and 15 horizontal divisions provide 50% more signal visibility.
• 5M point record length, 200 MHz bandwidth and 2 GSps sample rate capture and display significantly more signal to debug and validate designs faster.
• New lower-noise front end design offers better signal integrity and more accurate measurements.
• TekVPI probe interface supports a wide range of active, differential and current probes with automatic scaling and units.
• On-waveform cursor readouts with search and mark features enable easy identification of events that occur in the acquired waveform.
• Bandwidth is field-upgradeable from 70 MHz to 100 MHz to 200 MHz.
• Includes Wi-Fi support (via USB Wi-Fi dongle), two USB host ports and 100-BaseT Ethernet for easy collaboration.
Providing 100% compatibility with existing designs, the TBS2000B series is a drop-in replacement for TBS2000 series oscilloscopes, with the same form factor and programmable interface.
Hands-on learning with built-in instruction features
The TBS2000B is ideal for university and training environments, with built-in features that make instruction in engineering fundamentals easier for both students and teachers:
• HelpEverywhere offers instant tips within key menus, including measurement information, application tips and general guidance in the form of text and graphics.
• TekSmart Lab network software helps instructors set up and monitor many instruments from one PC.
• Courseware ecosystem lets instructors load information into the TBS2000B to help students during labs.
• Autoset, cursors and automated measurements can be disabled to facilitate teaching basic concepts.
Credit(s)
Further reading:
RF test probes for the 5G revolution
28 April 2021, Electronic Industry Supplies , Test & Measurement
5G, the fifth-generation mobile communications standard, will shape the third decade of the 21st century: a higher degree of networking is emerging, connecting different aspects of life and enabling new 
...
Read more...
---
Digital flow sensor for respiratory devices
31 March 2021, Electrocomp , Test & Measurement
The compact SFM3119 digital flow meter is the successor to Sensirion's SFM3100 mass flow meter. Compared to its predecessor, the SFM3119 comes with a digital I
2
C output as well as improved specifications. The 
...
Read more...
---
Handheld spectrum analysers for up to 6 GHz frequencies
31 March 2021, Comtest , Test & Measurement
The latest offering from Bird, a leading RF and tech provider, has expanded its highly sought-after SignalHawk family of rugged, handheld spectrum analyser products by adding the SH-60S-AOA Angle of Arrival 
...
Read more...
---
Comtest to represent Netscout
26 February 2021, Comtest , News
Comtest is pleased to announce that it now represents Netscout Systems, protecting digital business services against disruptions in availability, performance and security. Netscout's market and technology 
...
Read more...
---
Range of environmental T&M instruments
25 November 2020, RS Components (SA) , Test & Measurement
RS Components is now stocking a wide range of its own-brand RS PRO environmental test and measurement (T&M) products. These high-precision instruments and devices are for engineers and scientists to monitor 
...
Read more...
---
Real-time drone detection system
25 November 2020, Conical Technologies , Test & Measurement
Aaronia announced the release of its sixth generation real-time drone detection system. The new AARTOS system monitors all frequency bands in real time, and has direction finding and frequency monitoring 
...
Read more...
---
User-friendly oscilloscope for STEM learning
25 November 2020, RS Components (SA) , Test & Measurement
Affordable, compact, and easy to use, Tektronix' TBS1000C digital storage oscilloscope (DSO) comes with an enhanced user interface and courseware, proving a great tool for STEM educators, students, and 
...
Read more...
---
Radiation safety tester for 5G EMF
26 February 2021, Conical Technologies , Test & Measurement
Since 1986, the Microwave Vision Group (MVG) has developed unique expertise in the visualisation of electromagnetic waves. The latest addition to its list of electromagnetic field (EMF) exposure monitors 
...
Read more...
---
Software links oscilloscopes with the cloud
26 February 2021, Comtest , Test & Measurement
Comtest, local representative of Tektronix, has announced the availability of TekDrive, the first native oscilloscope-to-cloud software solution to facilitate global data collaboration directly on an 
...
Read more...
---
Spectrum analyser with 10,4-inch display
28 April 2021, RFiber Solutions , Test & Measurement
Known as one of China's leading test and measurement manufacturers and suppliers, Owon has released the XSA1000TG Series spectrum analyser with digital IF technology that offers a minimum bandwidth of 
...
Read more...
---