printer friendly version
Circular connectors for power, signals and data
30 June 2020
Interconnection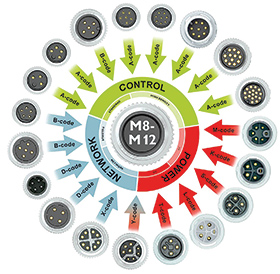 Standardised circular connectors have become the industry standard across a wide range of applications. Customers can find the right option for their most innovative designs with Phoenix Contact's PLUSCON circular connectors.
The PLUSCON range offers comprehensive connection solutions for devices, supplying data rates up to 10 Gbps, up to 27 signal positions and power up to 630 V and 16 A. PLUSCON modular device connectors make it simple and cost-effective to integrate data, signal and power supply pin assignments into your devices, with a product offering that includes litz wires or round cables, PCB-mounted connectors and a range of connectors and cables for field cabling.
Compact M5 connectors deliver a range of contact options and positions, with vibration- and temperature-resistant assembly for reliable power and signal transmission, even in harsh environments.
Compact, two-piece PLUSCON M8 connectors are rugged enough to provide a reliable, gas-tight connection – even in dirty or wet environments – and accommodate outer diameters from 2,5 to 5 mm and wire sizes of 28-20 AWG. They are available as plug and socket in 3- or 4-pole versions, with colour-coded terminals that correspond to typical sensor wiring for quicker assembly.
High-density M12 connectors give you durable connections for industrial applications. Available in 12 or 17 poles as plug and socket versions, the M12 connector housing is zinc die-cast and rugged to withstand harsh industrial environments, including water spray or temporary submersion.
For more information contact TRX Electronics, +27 12 997 0509, info@trxe.com, www.trxe.com
Credit(s)
Further reading:
THT-configurable male connectors
30 June 2020, Würth Elektronik eiSos , Interconnection
WR-FAST Fast Connection is the name of a series of THT-configurable male connectors for accommodating single wires with blade receptacles – for example in household appliances. The new connectors are 
...
Read more...
---
Hybrid and pneumatic modules for modular connectors
30 June 2020, RF Design , Interconnection
Smiths Interconnect has extended its L modular connector series with the addition of two new module types that complete the company's wide offering of modular solutions. The L Series of modular connectors 
...
Read more...
---
High-speed backplane interconnect solutions
30 June 2020, IPD Electronics , Interconnection
TE Connectivity's high-speed backplane connectors offer the flexibility and performance needed for a range of datacom applications, including servers, switches, routers, and optical transport. The company's 
...
Read more...
---
High-density multicoax cable assemblies
30 June 2020, RFiber Solutions , Interconnection
Withwave's high-speed and high-density multicoax cable assemblies (WMX Series) provide a wide range of multiple coax connectors and flexible cable assemblies with a choice of 20, 40, 50 and 67 GHz configurations 
...
Read more...
---
Versatile micro switches
30 June 2020, TRX Electronics , Switches, Relays & Keypads
The V19, Honeywell's unsealed micro switch family, provides a cost-conscious switch solution to assist in hitting overall system-level cost and design goals in high-volume applications. Suitable applications 
...
Read more...
---
Rugged fibre connectors
29 July 2020, TRX Electronics , Interconnection
TE Connectivity's ruggedised fibre optics bring the benefits of optical technology to challenging environments, providing more bandwidth, more distance and more performance. TE's offering includes 
...
Read more...
---
Broadband capacitors and their significance
30 June 2020, TRX Electronics , Passive Components
There are a number of circuits that require coupling RF signals or bypassing them to ground while blocking DC over extraordinarily large RF bandwidths. The applications for which they are intended typically 
...
Read more...
---
EMI/RFI shielding cable ties
29 May 2020, Actum Electronics , Interconnection
BAND-IT EMI cable ties have been designed and manufactured to excel in mission-critical applications, such as Mil/Aero EMI/RFI (electromagnetic interference/RF interference), for the past 30 years.  
...
Read more...
---
How are end-launch PCB connectors useful?
29 April 2020, RF Design , Interconnection
There has been an increasing use of RF coaxial connectors, especially microwave and millimetre-wave coaxial connectors, for high-speed digital and precision sensing applications, There is also a growing 
...
Read more...
---
IP68 circular connectors
29 April 2020, IPD Electronics , Interconnection
Sure-Seal 7/8" IP68 connectors are designed for both signal and high-current applications. They are compatible with industrial mini-change connectors and are sealed to an IP68 rating. These 7/8" IP68 
...
Read more...
---