printer friendly version
MyPlace Smart Home Starter Pack
30 June 2020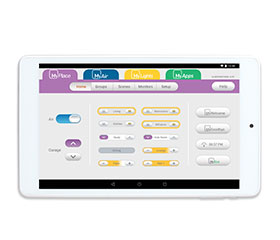 We already know how much convenience and efficiency have been brought to our lives by smartphones – and smart homes are the next logical step. What we want is to make our lives more comfortable, more convenient, more glamorous and yet simpler. The luxury we relish from the benefits of a smart home far outweigh the costs, like the difference between the first smartphone and the Nokia 3310. Once we see the value of the benefits, we will happily start choosing which elements of the smart home we need.
MyPlace, developed by Advantage Air, has recently launched a revolutionary Smart Home Starter Pack. The Myplace Smart Home Starter pack connects into the existing wiring of your house. It offers you the chance to tap into your home's technology and connect to your house in a fresh new way. The system includes a wired-in tablet, control box and a connection box for 6 circuits. You will have access to control six elements of your choice in your home. Be it the lights in six rooms or five rooms and a garage door – MyPlace gives you the comfort of control.
With the MyPlace app, you can control the elements in your home from the couch, from work, or anywhere around the world. MyPlace makes smart technology affordable by working with the existing elements in your home, such as lights, garage doors, fans and blinds. MyPlace creates a scalable ecosystem in your home, so if you outgrow the starter pack, you can choose to add on more control.
MyPlace scheduling makes day-to-day life easier, and is simple to set up and use. Scheduling the system will allow you to switch items on and off automatically, either when you are away or at home. It can save you money, make you feel secure, or just make life easier.
Smart home technology is fast becoming a must-have. By installing MyPlace now, you get to enjoy the comfort and control of living in a connected home. And if you decide to sell, your home is even more appealing to buyers. MyPlace adds value in the short and in the long term to protect the value of your home. A house with smart home technology will sell quicker than one without. If you are moving into a new home now, you would probably sell in about 7 to 10 years' time. By then, smart home technology will be far more advanced than it is now, and likely to be part of most homes. Selling your home then could pose problems, as you would need to sell in a market where your home may not be able to compete. If you are putting in technology now, which can update itself, you need not be stuck with a home that does not sell in 7-10 years' time.
If you want to protect the value of your home, have practical everyday benefits and feel magnificent at home, then the luxury of a smart home is worth the investment.
For more information contact Zak Khan, Advantage Air, +27 82 062 4461, zakk@advantageair.co.za, www.myplaceafrica.co.za
Further reading:
Cost-effective smart building retrofit system
29 July 2020, ElectroMechanica
Retrofitting older building stock with 'smart' automation solutions is now possible with the latest Hager system introduced locally by leading supplier ElectroMechanica (EM). Known as coviva, the system 
...
Read more...
---
Bose introduces new smart speaker and soundbars
29 July 2020
The next chapter in Bose's legendary home audio history.
Read more...
---
GSM boosters
30 June 2020, Otto Wireless
Otto Wireless Solutions' ICASA approved, non network-locked boosters have two incredible features which have led to their mass adoption.
Read more...
---
Mesh Wi-Fi made easy
30 June 2020, Otto Wireless
Running a smart environment on a Wi-Fi backbone requires a good Wi-Fi mesh system, with low latency, and reliable handover between Wi-Fi access points.
Read more...
---
Bang & Olufsen debuts Beovision Harmony at Milan Design Week
30 June 2020
Beovision Harmony is a stunning piece of design that once again demonstrates Bang & Olufsen's uncompromising approach to design, craftsmanship and sound performance.
Read more...
---
Bose announces portable home speaker
30 June 2020
Battery-powered Wi-Fi and Bluetooth, built-in voice control, AirPlay 2 and Spotify Connect, all from one amazing speaker.
Read more...
---
CamdenBoss broadens its Room Sensor Enclosure range
30 June 2020, Vepac Electronics
CamdenBoss has introduced two new sizes to its popular Room Sensor Enclosure range, with three available size options.
Read more...
---
Affordable home automation solutions
30 June 2020
Experience the benefits of a smart home that's connected to your needs every moment of the day.
Read more...
---
Netatmo indoor and outdoor cameras for enhanced safety
30 June 2020, Legrand Southern Africa
Smart cameras that provide real-time notifications in the event of a person or vehicle trespassing on a property.
Read more...
---
New features from Nexia
30 June 2020
Customise your heating and cooling experiences in your smart home with news features from Nexia.
Read more...
---