printer friendly version
Robust temperature sensor for E-mobility
30 June 2020
Analogue, Mixed Signal, LSI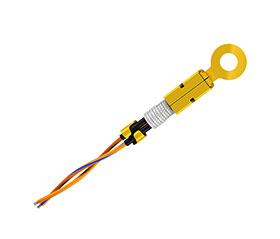 The new B58703M1103A* temperature sensor is specially developed for demanding E-mobility applications, which call for high long-term stability. The NTC sensor is designed for a temperature range of -40°C to +150°C, whereby a temporary load of up to 200°C is permitted. At 25°C the rated resistance is 10 kΩ with a B25/100 value of 3625 K and a tolerance of ±1 percent.
The sensor has been subjected to climatic, chemical and mechanical testing according to the service life tests of LV 124 and in doing so has achieved electrical resistance class H3 according to LV 123, which corresponds to 2,5 kV DC. This high and long-term stable electrical strength is required to prevent damage, for example, to control devices throughout the service life of the vehicle.
The connecting cables of the new temperature sensor meet the LV 112-4 standard for electrical cables in motor vehicles and are twisted to improve EMC performance. The cable lengths are 655 mm and 1000 mm as standard. The sensor includes an M4 mounting bracket made from copper alloy for mounting purposes. This choice of material offers excellent thermal coupling and ideal material compatibility with the copper busbar, which prevents contact corrosion.
The field of application of the new sensor is temperature monitoring of busbars, battery modules and connector systems in E-mobility.
Credit(s)
Further reading:
Multi-sensor IoT module
29 July 2020, Electrocomp , Telecoms, Datacoms, Wireless, IoT
TDK announced worldwide availability of the InvenSense SmartBug, a compact, wireless multi-sensor solution designed for a plethora of commercial and consumer IoT applications. The out-of-the-box solution 
...
Read more...
---
DIN rail enclosures
30 June 2020, Electrocomp , Enclosures, Racks, Cabinets & Panel Products
Hammond Manufacturing has announced its 1597DIN family of UL94-V0 flame-retardant plastic enclosures for mounting to standard IEC/EN 60715 35 mm DIN rails for applications such as industrial control equipment, 
...
Read more...
---
CeraCharge now available in a small packing unit
30 June 2020, Electrocomp , Passive Components
TDK is presenting a new packing unit for CeraCharge, the world's first SMD technology solid-state rechargeable battery, in the compact size EIA 1812 (4,4 x 3,0 x 1,1 mm). The packing unit (B73180A0101M199) 
...
Read more...
---
Sensor signal conditioning IC
30 June 2020, Hi-Q Electronics , Analogue, Mixed Signal, LSI
New from Renesas Electronics is the ZSSC3240 sensor signal conditioner (SSC) – the newest member of its leading-edge SSC portfolio. The ZSSC3240 delivers high accuracy, sensitivity and flexibility for 
...
Read more...
---
Thick-film chip resistors
29 April 2020, Electrocomp , Passive Components
Bourns announced the introduction of its new Model CR01005 series thick-film chip resistor. This extra small – 01005 inch (0402 metric) – CR01005 series broadens the general purpose thick-film chip resistor 
...
Read more...
---
Highly accurate 1-wire temperature sensor
29 April 2020, CST Electronics , Analogue, Mixed Signal, LSI
The MAX31825 temperature sensor from Maxim Integrated provides 8-bit to 12-bit Celsius temperature measurements with better than ±1°C accuracy from 0°C to +70°C and ±1,75°C from -45°C to +145°C. The 
...
Read more...
---
HDMI 2.1 active switch
29 May 2020, Altron Arrow , Analogue, Mixed Signal, LSI
Diodes Incorporated announced the PI3HDX12221, an HDMI 2.1 active switch with linear ReDriver that enables manufacturers of TVs, PCs, gaming consoles and set-top boxes to adopt the latest 12 Gbps HDMI 
...
Read more...
---
Board-mount pressure sensors
29 May 2020, TRX Electronics , Analogue, Mixed Signal, LSI
The ABP series of board-mount pressure sensors from Honeywell are fully calibrated and temperature compensated for sensor offset, sensitivity, temperature effects and accuracy errors (which include non-linearity, 
...
Read more...
---
The top benefits of MEMS timing
29 May 2020, Avnet South Africa , Analogue, Mixed Signal, LSI
MEMS (micro electromechanical systems), designed to resonate and generate clocks signals, may not dominate the world of timing applications right now, but the technology's popularity is growing. Competing 
...
Read more...
---
Dual-channel high-speed protector
29 April 2020, Electrocomp , Circuit & System Protection
Bourns announced the release of the Model TBU-RS085-300-WH, for use in RS-485 communication interface protection. The part is an integrated dual-channel transient blocking unit (TBU) over-current and 
...
Read more...
---