printer friendly version
Hybrid and pneumatic modules for modular connectors
30 June 2020
Interconnection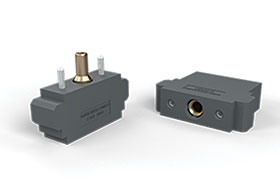 Smiths Interconnect has extended its L modular connector series with the addition of two new module types that complete the company's wide offering of modular solutions.
The L Series of modular connectors is easy to assemble, based on the principle of building blocks with a system composed of two elements: modules and frames. Modules of various styles and different contact types are available for different application requirements, combining signal, power, and coaxial contact technologies into custom arrangements within a single connector frame.
Smiths Interconnect now offers two new contact technologies, fibre-optic and pneumatic, into the proven modular connector series. The new hybrid module combines two fibre-optic termini with the option of one of its premium Coaxtac coaxial contacts or a 25 A Hypertac power contact; the new pneumatic module adds the function of the air contacts to offer the possibility of a mechanical performance within a modular configuration.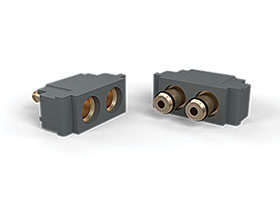 Ideal for rugged rack and panel applications, the L Series can now support additional applications that require high-speed data transmission (in space, aerospace, defence, and industrial market segments with the hybrid module) and mechanical power (in robots, testing and tooling machines with the pneumatic module).
Both new modules can be used in the standard versions of the L Series as well as in those compliant to EN45545 requirements for fire safety.
For more information contact Andrew Hutton, RF Design, +27 21 555 8400, andrew@rfdesign.co.za, www.rfdesign.co.za
Credit(s)
Further reading:
THT-configurable male connectors
30 June 2020, Würth Elektronik eiSos , Interconnection
WR-FAST Fast Connection is the name of a series of THT-configurable male connectors for accommodating single wires with blade receptacles – for example in household appliances. The new connectors are 
...
Read more...
---
Bluetooth SiP for wearables and medical devices
30 June 2020, RF Design , Telecoms, Datacoms, Wireless, IoT
Nordic Semiconductor announced that Tangshan, China-based Tangshan Hongjia Electronic Technology has selected Nordic's nRF52840 Bluetooth 5.2/Bluetooth Low Energy (Bluetooth LE) advanced multiprotocol 
...
Read more...
---
Adhesive mount combo antenna
30 June 2020, RF Design , Telecoms, Datacoms, Wireless, IoT
The Taoglas MA256.A is a 3-in-1 adhesive mount combination antenna for use in cases requiring worldwide 4G coverage and GPS/GLONASS/BeiDou/Galileo for positioning. The MA256 has been designed to be mounted 
...
Read more...
---
High-speed backplane interconnect solutions
30 June 2020, IPD Electronics , Interconnection
TE Connectivity's high-speed backplane connectors offer the flexibility and performance needed for a range of datacom applications, including servers, switches, routers, and optical transport. The company's 
...
Read more...
---
High-density multicoax cable assemblies
30 June 2020, RFiber Solutions , Interconnection
Withwave's high-speed and high-density multicoax cable assemblies (WMX Series) provide a wide range of multiple coax connectors and flexible cable assemblies with a choice of 20, 40, 50 and 67 GHz configurations 
...
Read more...
---
Small form factor 5G/4G antenna
30 June 2020, RF Design , Telecoms, Datacoms, Wireless, IoT
The Taoglas Olympian II G45 is a low-profile, robust external 5G/4G antenna. The permanent mount antenna has a small form factor at only 48,5 mm tall and 50 mm in diameter. It is ideal for external use, 
...
Read more...
---
Cellular chipset for global low-power IoT
30 June 2020, RF Design , Telecoms, Datacoms, Wireless, IoT
The UBX-R5 Series from u-blox is a global multi-band cellular chipset that supports LPWA, LTE-M and NB-IoT technologies. It is optimised for IoT applications such as smart metering, telematics, tracking, 
...
Read more...
---
Surface mount resistors and terminations
30 June 2020, RF Design , Passive Components
Smiths Interconnect announced the release of its extended CXH series of surface mount chip resistors and terminations. The CXH series uses a patented layout to provide improved power handling over conventional 
...
Read more...
---
Circular connectors for power, signals and data
30 June 2020, TRX Electronics , Interconnection
Standardised circular connectors have become the industry standard across a wide range of applications. Customers can find the right option for their most innovative designs with Phoenix Contact's PLUSCON 
...
Read more...
---
Rugged fibre connectors
29 July 2020, TRX Electronics , Interconnection
TE Connectivity's ruggedised fibre optics bring the benefits of optical technology to challenging environments, providing more bandwidth, more distance and more performance. TE's offering includes 
...
Read more...
---