printer friendly version
CeraCharge now available in a small packing unit
30 June 2020
Passive Components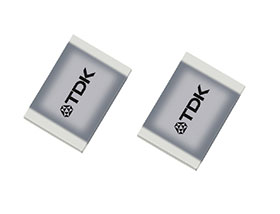 TDK is presenting a new packing unit for CeraCharge, the world's first SMD technology solid-state rechargeable battery, in the compact size EIA 1812 (4,4 x 3,0 x 1,1 mm). The packing unit (B73180A0101M199) includes 10 blister-packed CeraCharge batteries which come in a vacuum-sealed plastic bag.
The components are manufactured in regular series production and are suitable for test purposes, prototype construction and the installation of pilot lines. The packing unit can be obtained quickly and easily from selected TDK service distributors.
CeraCharge can be recharged more than 1000 times, and has a capacity of 100 µAh at a nominal voltage of 1,5 V. Currents in the range of a few mA can also be rapidly drawn. Thanks to the SMD technology, it is simple to fit the batteries and process them in reflow soldering processes, which in turn reduces the production costs of the device. CeraCharge is designed for a temperature range of -20°C to +80°C.
Unlike most ordinary technologies, CeraCharge is a solid-state rechargeable battery that uses a ceramic solid as electrolyte instead of liquid electrolyte, thus eliminating the risk of fire, explosion or leakage of electrolyte fluid. In a similar way to ceramic capacitors, CeraCharge is based on multilayer technology and combines a relatively high energy density in a very compact space with process security, when manufacturing multilayer construction components.
To increase capacity and voltage, individual CeraCharge chips can be connected in series and in parallel as required, opening up a very wide spectrum of potential uses – especially in IoT applications. For example, this could include real-time clocks, Bluetooth beacons, wearables or energy harvesting.
Credit(s)
Further reading:
Dual-band GNSS RTK module
31 March 2021, Electrocomp , Telecoms, Datacoms, Wireless, IoT
The RTK-1010 is a high-performance dual-band GNSS RTK module that is designed for applications requiring centimetre-level positioning accuracy. It adopts a 12 nm manufacturing process and integrates an 
...
Read more...
---
Upcoming modifications to Bourns' isolation power transformers
26 February 2021, Electrocomp , Passive Components
In the spirit of continuous improvement, effective 14 June 2021, Bourns is changing the silicone material, Hi-pot specification and marking content for its HCT Series high clearance/creepage distance 
...
Read more...
---
Rack-mounted instrument enclosure
31 March 2021, Electrocomp , Enclosures, Racks, Cabinets & Panel Products
Made from extruded aluminium, the RM Series of enclosures from Hammond Manufacturing are suitable for rack-mount or desktop use. Featuring strong construction yet light in weight, the enclosures are made 
...
Read more...
---
Compact transformers for DC/DC converters
26 February 2021, Electrocomp , Passive Components
New from TDK is the EPCOS E10 EM series, a range of insulated SMT transformers that are suitable for various DC/DC converter topologies and gate driver circuits in e-mobility and industrial electronics. 
...
Read more...
---
Closed-loop MEMS accelerometer
26 February 2021, Electrocomp , Analogue, Mixed Signal, LSI
TDK announced the release of Tronics AXO315, a miniature, 1-axis closed-loop MEMS accelerometer with a 24-bit digital SPI interface and SMD package that reaches quartz sensor performance, outperforms 
...
Read more...
---
Embedded Wi-Fi antennas
25 November 2020, Electrocomp , Telecoms, Datacoms, Wireless, IoT
AVX released a brand new series of embedded Wi-Fi antennas designed to satisfy steadily increasing cross-market demand for smaller and thinner wireless products with superior signal sensitivity. The 
...
Read more...
---
Standard and modified enclosures catalogue
26 February 2021, Electrocomp , Technical Literature
This shortform, 8-page catalogue provides an overview of aluminium, metal and plastic enclosures available from Hammond Manufacturing, together with corresponding accessories. Hammond Manufacturing 
...
Read more...
---
Low-profile USB Type C vertical receptacle
26 February 2021, Electrocomp , Interconnection
With a height of just 6,5 mm on a printed circuit board (PCB), the vertical-mount USB4120 is a low-profile USB Type C receptacle and joins GCT's range of charging-focused ionex connectors. The 16-pin 
...
Read more...
---
High voltage and safety certified MLCCs
25 November 2020, TRX Electronics , Passive Components
Knowles Precision Devices offers a wide range of components, including high-voltage MLC (multi-layer chip) capacitors and safety certified capacitors designed to meet the needs of industrial equipment 
...
Read more...
---
GDT surge protection devices
25 November 2020, Electrocomp , Circuit & System Protection
Bourns' new and improved next-generation surface mount two-electrode GDT (gas discharge tube) surge protection devices have been designed using Bourns' proprietary, advanced computer simulation techniques 
...
Read more...
---