printer friendly version
Microtronix promises the personal touch
29 July 2020
News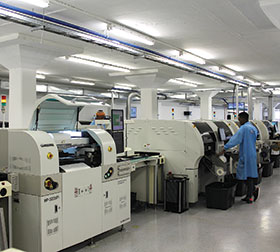 In times like this, surrounded by mostly bad news, we hoped the front cover of Dataweek this month would make you smile and you will appreciate some light hearted humour in these dark days of our struggling country, economy and its people.
Microtronix, like most businesses, has been affected by the Covid-19 lockdown but due to some stringent hygienic precautions, including the use of face masks for all staff and regular sanitisation of hands and working areas, the factory is again fully functional and open for business 'unusual'.
On a very positive note, everyone seems very happy to be back at work and motivated after a long forced holiday for some (although our non-factory/admin teams have been working hard from home) – a scenario one does not normally encounter this time of year. Our biggest challenges have been the interruptions in the supply chain and receiving materials on time, as well as the extremely volatile rand-dollar exchange rate, and the increased cost of freight – component availability is now finally returning to normality but everything now carries a Covid-19 freight surcharge, and along with the weakened rand is pushing up prices of everything we procure.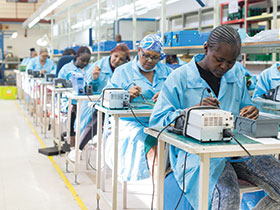 My hope is that this returns to normal as soon as possible to enable the factories to continue operating smoothly. Unlike many other industries, electronics manufacturing simply cannot operate from home. Another positive factor is the increased enquiries for goods to be manufactured in SA as the result of a seemingly negative sentiment aimed towards Chinese made products among large OEM manufacturers.
The Microtronix strategy to maintain three factories to service all levels of customers is still proving effective as we are able to still offer small clients a 1-100 PCB personal service and fast turnaround time, and offer bigger clients many thousands of products with an equally fast production service and quality.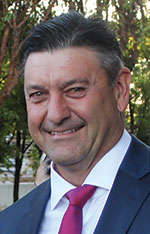 Mike Goodyer.
Once you have joined the Microtronix family we like to think it's a relationship for life as we grow with you within your business. Microtronix has been running on SAP Business One for over four years now and we are finally seeing some huge advantages with respect to embedded stock control, ease of quoting and stores management, and traceability, with all these benefits hopefully adding to our customers' overall experience and satisfaction levels.
After 27 years of manufacturing history, our systems are solid, robust and entrenched, and along with quality and reliability we hope to remain a trusted manufacturing partner to all our clients through the tough times that lie ahead of us all – and in typical Microtronix fashion of 'work hard and play hard', please feel free to join us in our well stocked corporate bar for a quiet glass of wine or beer to toast to an improved future!
Credit(s)
Further reading:
Obituary: Steven James Meyer
January 1957 - January 2022
Technews Publishing News
It is with deep sadness and shock that we announce the sudden death of SA Instrumentation & Control Editor, Steven Meyer. Steven joined Technews in October 2007 in the position of Deputy Editor. His 
...
Read more...
---
ICASA doles out provisional RF spectrum
News
The Independent Communications Authority of South Africa (ICASA) has concluded its analysis of applications for provisional assignment of radio frequency spectrum under the new ICT Covid-19 National State 
...
Read more...
---
productronica's hybrid format a success despite restrictions
News
Following its tried and trusted biennial scheduling, productronica 2021 was held on the fairgrounds of Messe München on 16-19 November. Strict hygiene rules were observed in accordance with Covid-19 protocols, 
...
Read more...
---
Report evaluates market for Li-ion battery recycling
News
In the past, the lack of end-of-life batteries meant that the Li-ion (lithium-ion) recycling market had little opportunity to prosper. The transition to electric vehicles (EVs) is changing this. Recycling 
...
Read more...
---
RFID market research explores 2021 and what to expect for the future
News
Despite a 5% drop in the global RFID market in 2020 compared to 2019 due to the impact of Covid-19, the market has recovered well in 2021. According to the newly released RFID market research report from 
...
Read more...
---
SABS launches local content verification scheme
News
A new certification and grading scheme launched by the South African Bureau of Standards (SABS) intends to harmonise local content and local production for producers and manufacturers, levelling the playing 
...
Read more...
---
DesignSpark to host new activist engineering programme
RS Components (SA) News
RS Components has launched its DesignSpark #ActivistEngineering programme, further strengthening the company's commitment to engage and inspire design engineers across the globe to 'make amazing happen 
...
Read more...
---
October semiconductor sales up 24% over 2020
News
Global sales of semiconductors were $48,8 billion in October 2021, an increase of 24,0% from the October 2020 total of $39,4 billion and 1,1% more than the September 2021 total of $48,3 billion. Announced 
...
Read more...
---
CSIR Learning Factory supports skills development and innovation in 4IR
News
The CSIR has established a Learning Factory to support South African industries in acquiring the skills needed to maximise the benefits of the Fourth Industrial Revolution (4IR). The first online course 
...
Read more...
---
RS Components SA partners with Engineers Without Borders
RS Components (SA) News
The annual Engineering for People Design Challenge as well as the Inspiring and Building Community Leaders programmes kicked off earlier this year. The competition, now in its 10th year, is a year-long 
...
Read more...
---