printer friendly version
Clearing the Static: ESD wrist straps
29 July 2020
News
The human body is the primary source of electrostatic charge generation. In order to control and reduce static charge build-up and prevent electrostatic discharges (ESD), we use grounding systems to ensure that components, personnel and any other conductors are at the same electrical potential.
An ESD wrist strap is the most reliable method of grounding a person within the ESD Protected Area (EPA). According to European standards, every employee or operator within the EPA needs to wear a wrist strap while seated. A wrist strap set consists of a conductive wrist band and grounding cord that will effectively drain static charge away from the body so that it cannot discharge onto the object being worked on.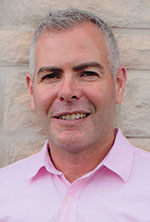 Greg Barron.
Types of wrist straps
Operators can opt for single-wire, dual-wire or disposable wrist straps, based on the application and requirement. Quality straps are manufactured from anti-allergenic materials and designed with safety in mind. Specific types include:
• Adjustable elastic band: made from wide-knitted anti-stretch material.
• Thermoplastic wrist straps: lightweight, adjustable zipper-style design.
• Metal wrist straps: adjustable or fixed; very reliable and durable.
• Coil cords: come in black PVC and blue/yellow polyurethane.
To ensure your wrist strap is functioning optimally, daily testing should be conducted and the results logged. As standard, wrist straps need to maintain 100 V on the human body or less.
Through our static control division, Altico, Actum Group specialises in ESD control within the working environment.
Contact us on +27 11 608 3001 or sales@actum.co.za to enquire about our cleaning solutions.
Credit(s)
Further reading:
Personality profile: Jean Mearns
29 July 2020, WH Circuit , News
"No one works for me, they only work with me, for without each other our team will fail to exceed the expectations of our customers."
Read more...
---
Letter to the editor
29 July 2020 , News
I take exception to the article 'To fake or not to fake' published in the June edition of Dataweek that is clearly based on the principle 'guilty until proven innocent'. I am by no means an expert 
...
Read more...
---
Q&A with Brandon Kuhn and Steve Stafford
29 July 2020 , News
Q: What is the rationale behind the reorganisation? What impact will it have on Avnet's customers in South Africa?    A (Kuhn):
Since 2009, our shared front-end model in South Africa has differed from the 
...
Read more...
---
Avnet EMEA names two new leaders to SA operation
29 July 2020 , News
Avnet has named Steve Stafford and Brandon Kuhn as new leaders in South Africa following the completion of a reorganisation in the region.
Read more...
---
UCT chooses Tektronix instruments for training lab
29 July 2020, Comtest , News
Comtest, local partner to Tektronix, recently assisted the University of Cape Town (UCT) physics department in refurbishing its electrical training laboratory. All of the existing analog oscilloscopes 
...
Read more...
---
New electromagnetic solutions range from Accutronics
29 July 2020, Accutronics , News
Accutronics has been appointed as the reseller for the Electromagnetic Integrated Solutions (EIS) range of products from API Technologies. APITech offers a complete line of coaxial EMI solutions, 
...
Read more...
---
Fighting COVID-19 using TV white space spectrum
29 July 2020 , News
The CSIR has partnered with the Technology Innovation Agency (TIA) to enable local Internet service providers to deploy Television White Space (TVWS) networks, using the CSIR-developed Secondary Geo-Location 
...
Read more...
---
From the editor's desk: This too shall pass
29 July 2020, Technews Publishing , News
Things were tough enough for the South African electronics manufacturing industry before, but this year has thrown up unprecedented challenges that nobody could have foreseen and which are outside of 
...
Read more...
---
Electronics news digest
29 July 2020 , News
South Africa
• As part of the national data-driven approach to countering COVID-19, the CSIR has developed a platform that monitors human mobility to better understand movement patterns across specific 
...
Read more...
---
Microtronix promises the personal touch
29 July 2020, Microtronix Manufacturing , News
In times like this, surrounded by mostly bad news, we hoped the front cover of
Dataweek
this month would make you smile and you will appreciate some light hearted humour in these dark days of our struggling 
...
Read more...
---