printer friendly version
New benchmark in low-cost LTE to be released soon
29 July 2020
Telecoms, Datacoms, Wireless, IoT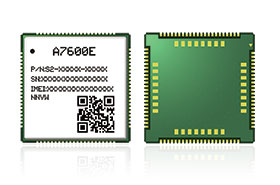 SIMCom, represented locally by Otto Wireless Solutions, has expanded its family of SIM7600, LTE Cat. 1 devices, and is due to unveil a new flagship product, which is expected to take the 4G market by storm.
Originally, the SIM7600E was released as a standalone device, supporting LTE Cat. 1, HSPA+, UMTS, EDGE and GPRS. The device also features a GNSS receiver, supporting GPS, GLONASS, Beidou and Galileo. As an all-encompassing solution, the SIM7600E ticked all the right boxes, except for one: its price.
Earlier this year, in response to the perception of an expensive price tag, the SIM7600E-L1C was released, and this module offers comparable features to the parent device, at a reduced price of about 10% below the original SIM7600E. The release of this device has seen significantly more customers move towards LTE Cat. 1, but mass adoption has still not taken place, because even at 10% cheaper, there are still many customers who are paying for features which they simply do not need, and will never use. Consequently, it is still considered an expensive module, particularly for clients who need LTE connectivity, and nothing more.
It is for this reason that the latest member of the family is expected to achieve mass adoption. The device deviates far away from the 'classic norms' of modules, and in so doing sets its sights firmly on mass adoption by tracking and telematics companies, as well as IoT companies.
The new device is the A7600E. This is a pure communication module, with no GNSS features. The main innovation is that the device supports LTE Cat. 1, and if LTE connectivity is unavailable, falls straight back to EDGE/GPRS. There is no 3G/HSPA support. It is expected to have no voice capability.
By omitting 3G technology entirely, both hardware and licensing costs are entirely avoided, which sets the stage for the A7600E to be the first true low-cost LTE Cat. 1 module. Having a wide operating temperature (-40⁰C to +85⁰C) also makes the device extremely usable and attractive to a wide variety of potential customers, including, crucially, the vehicle tracking market.
Credit(s)
Further reading:
Otto Wireless reveals RAD new product line
29 July 2020, Otto Wireless , Telecoms, Datacoms, Wireless, IoT
As a world leader in the telecommunications field with over 39 years of innovation, a significant worldwide presence in over 150 countries and an installed base of more than 16 million network elements, 
...
Read more...
---
Multi-sensor IoT module
29 July 2020, Electrocomp , Telecoms, Datacoms, Wireless, IoT
TDK announced worldwide availability of the InvenSense SmartBug, a compact, wireless multi-sensor solution designed for a plethora of commercial and consumer IoT applications. The out-of-the-box solution 
...
Read more...
---
Bluetooth SiP for wearables and medical devices
30 June 2020, RF Design , Telecoms, Datacoms, Wireless, IoT
Nordic Semiconductor announced that Tangshan, China-based Tangshan Hongjia Electronic Technology has selected Nordic's nRF52840 Bluetooth 5.2/Bluetooth Low Energy (Bluetooth LE) advanced multiprotocol 
...
Read more...
---
Adhesive mount combo antenna
30 June 2020, RF Design , Telecoms, Datacoms, Wireless, IoT
The Taoglas MA256.A is a 3-in-1 adhesive mount combination antenna for use in cases requiring worldwide 4G coverage and GPS/GLONASS/BeiDou/Galileo for positioning. The MA256 has been designed to be mounted 
...
Read more...
---
Diodes for RF/microwave applications
30 June 2020, Hi-Q Electronics , Telecoms, Datacoms, Wireless, IoT
Skyworks' broad portfolio of PIN, limiter, Schottky, and varactor diodes are ideal for WLAN, infrastructure, handset, Satcom (LNB/DBS-CATV), automotive, aerospace and defence, test and measurement, metering, 
...
Read more...
---
Small form factor 5G/4G antenna
30 June 2020, RF Design , Telecoms, Datacoms, Wireless, IoT
The Taoglas Olympian II G45 is a low-profile, robust external 5G/4G antenna. The permanent mount antenna has a small form factor at only 48,5 mm tall and 50 mm in diameter. It is ideal for external use, 
...
Read more...
---
GSM boosters
30 June 2020, Otto Wireless
Otto Wireless Solutions' ICASA approved, non network-locked boosters have two incredible features which have led to their mass adoption.
Read more...
---
Mesh Wi-Fi made easy
30 June 2020, Otto Wireless
Running a smart environment on a Wi-Fi backbone requires a good Wi-Fi mesh system, with low latency, and reliable handover between Wi-Fi access points.
Read more...
---
Dual-core wireless MCU
30 June 2020, Altron Arrow , Telecoms, Datacoms, Wireless, IoT
The STM32WBx0 is a dual-core wireless MCU based on an Arm Cortex-M4 core running at 64 MHz (application processor) and an Arm Cortex-M0+ core at 32 MHz (network processor). The STM32WBx0 Value Line 
...
Read more...
---
MIFARE DESFire EV3 IC
30 June 2020, EBV Electrolink , Telecoms, Datacoms, Wireless, IoT
NXP Semiconductors announced its new MIFARE DESFire EV3 IC that ushers in next-generation performance, advanced security and seamless integration of mobile services for a new era of security and connectivity 
...
Read more...
---