printer friendly version
Smallest automotive maXTouch controllers
29 July 2020
DSP, Micros & Memory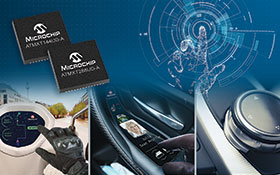 To help enhance and ease today's driving experience, automotive manufacturers are implementing additional touch displays beyond the centre infotainment display (CID). Supporting the application of these secondary displays with advanced features, Microchip Technology announced the extension of its maXTouch portfolio with the new MXT288UD touch controller family, with the industry's smallest automotive grade packaged touchscreen controllers.
The MXT288UD-AM and the MXT144UD-AM devices offer low power mode, weatherproof operation and glove touch detection in multi-function displays, and touch pad and smart surfaces for vehicles, motorcycles, e-bikes and car-sharing services.
Secondary touch surfaces can be placed in both the interior of a car and exterior of a motor vehicle, for example on handlebars, doors, electronic mirrors, control knobs and the steering wheel, or between seats or in an armrest. With the MXT288UD family's small
7 x 7 mm automotive grade VQFN56 package, tier one suppliers can now reduce board space by 75 percent and greatly minimise the overall bill of materials (BoM) for these compact applications.
The family's low power wait-for-touch mode consumes less than 50 µA, remaining responsive for the user even if the display switches off to save power or to avoid disturbing the driver at night. The system will wake with a touch event anywhere on the touch surface.
In addition, the MXT288UD-AM and the MXT144UD-AM devices enable detection and tracking of multi-finger thick gloves through a wide variety of overlay materials and thicknesses like leather or wood, or across uneven surfaces – even in the presence of moisture. Normally the dielectric constant of these overlay materials would limit the detection of the touch, however these devices provide a unique solution to reliably detect and track multi-fingers with a high signal-to-noise ratio (SNR) and through a proprietary differential mutual acquisition scheme.
For example, in car sharing applications, this reliable touch functionality helps users access a car from the outside by tracking touch coordinates on an exterior display in any environment, for example rain, snow or extreme heat. Motorcycles and other motorbike vehicles also benefit from such weatherproof designs.
As a turnkey solution, the MXT288UD family provides proven firmware developed according to automotive SPICE processes, and is AEC-Q100 qualified – making it easy for today's automotive manufacturers to integrate into existing systems at a lower risk with faster time to market.
Development tools and design services
Both software and hardware support are available. Software tools include maXTouch Studio and a maXTouch analyser. For the MXT288UD, the hardware offered includes an evaluation kit with a printed circuit board (PCB) and a 5-inch capacitive touch panel, while the MXT144UD's evaluation kit includes a PCB and a 2,9-inch capacitive touch pad. For both devices, a bridge PCB is included with a USB connection for interfacing to a computer when running maXTouch Studio.
Credit(s)
Further reading:
A UI to build better UIs
25 August 2021, Altron Arrow , Design Automation
TouchGFX Designer 4.17 has become available for download, the latest version of STMicroelectronics' user interface (UI) design software featuring a user interface overhaul to make the application more 
...
Read more...
---
Fast-acting chip fuse for automotive applications
29 September 2021, Altron Arrow , Circuit & System Protection
Vishay introduced a new, very fast-acting thin film chip fuse. For automotive applications, the Vishay Beyschlag MFU 0603 AT is AEC-Q200 qualified and features current ratings from 0,5 A to 5,0 A.  
...
Read more...
---
MCUs for secure and connected automotive gateways
25 August 2021, Altron Arrow , DSP, Micros & Memory
The SPC58 Chorus H Line is part of STMicroelectronics' portfolio of general-purpose automotive power architecture microcontrollers (MCUs). It is designed for high-end body, networking and security applications 
...
Read more...
---
High-voltage resistors can replace standard resistor chains
25 August 2021, Altron Arrow , Passive Components
A new series of AEC-Q200 qualified thick-film chip resistors, with operating voltages up to 3 kV and in the 2010 and 2512 case sizes, has been introduced by Vishay. With their high operating voltages, 
...
Read more...
---
Low-power multiprotocol wireless MCU
29 September 2021, Altron Arrow , DSP, Micros & Memory
The STM32WB15CC multiprotocol wireless microcontroller (MCU) embeds a powerful and ultra-low-power radio compliant with the Bluetooth Low Energy SIG specification 5.2. It contains a dedicated Arm Cortex-M0+ 
...
Read more...
---
Improving precision ADC signal chain design time with CTSDs
29 September 2021, Altron Arrow , Editor's Choice
Signal conditioning circuits with stringent requirements need to be designed and tailored around specific and individual ADC technologies to ensure that ADC data sheet performance can be achieved.
Read more...
---
Battery state-of-health monitor
29 September 2021, Altron Arrow , Power Electronics / Power Management
The LTC3337 is a primary battery state-of-health (SOH) monitor with a built-in precision coulomb counter. It is designed to be placed in series with a primary battery with minimal associated series voltage 
...
Read more...
---
Power and sensing selection guide
29 September 2021, Altron Arrow , Technical Literature
With the 2021 edition of its Power and Sensing Selection Guide, Infineon Technologies aims to remove choice overload and decision stress by arranging its broad, cutting-edge power and sensor portfolio 
...
Read more...
---
Leading the revolution in industrial robotics
29 September 2021, Altron Arrow , News
While pessimists will continue to follow the sky-is-falling prognostications about robots and the potential negative outcomes of automation, it's important to stay calm and embrace the positive changes ahead.
Read more...
---
Network synchronisation chip for 5G radio access equipment
25 August 2021, Altron Arrow , Telecoms, Datacoms, Wireless, IoT
5G technology requires time sources to be synchronised throughout a packet-switched network 10 times more accurately than 4G requirements. Microchip Technology now makes it possible to achieve 5G performance 
...
Read more...
---