printer friendly version
Smallest automotive maXTouch controllers
29 July 2020
DSP, Micros & Memory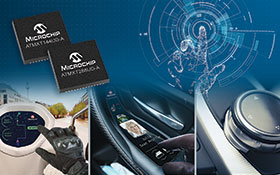 To help enhance and ease today's driving experience, automotive manufacturers are implementing additional touch displays beyond the centre infotainment display (CID). Supporting the application of these secondary displays with advanced features, Microchip Technology announced the extension of its maXTouch portfolio with the new MXT288UD touch controller family, with the industry's smallest automotive grade packaged touchscreen controllers.
The MXT288UD-AM and the MXT144UD-AM devices offer low power mode, weatherproof operation and glove touch detection in multi-function displays, and touch pad and smart surfaces for vehicles, motorcycles, e-bikes and car-sharing services.
Secondary touch surfaces can be placed in both the interior of a car and exterior of a motor vehicle, for example on handlebars, doors, electronic mirrors, control knobs and the steering wheel, or between seats or in an armrest. With the MXT288UD family's small
7 x 7 mm automotive grade VQFN56 package, tier one suppliers can now reduce board space by 75 percent and greatly minimise the overall bill of materials (BoM) for these compact applications.
The family's low power wait-for-touch mode consumes less than 50 µA, remaining responsive for the user even if the display switches off to save power or to avoid disturbing the driver at night. The system will wake with a touch event anywhere on the touch surface.
In addition, the MXT288UD-AM and the MXT144UD-AM devices enable detection and tracking of multi-finger thick gloves through a wide variety of overlay materials and thicknesses like leather or wood, or across uneven surfaces – even in the presence of moisture. Normally the dielectric constant of these overlay materials would limit the detection of the touch, however these devices provide a unique solution to reliably detect and track multi-fingers with a high signal-to-noise ratio (SNR) and through a proprietary differential mutual acquisition scheme.
For example, in car sharing applications, this reliable touch functionality helps users access a car from the outside by tracking touch coordinates on an exterior display in any environment, for example rain, snow or extreme heat. Motorcycles and other motorbike vehicles also benefit from such weatherproof designs.
As a turnkey solution, the MXT288UD family provides proven firmware developed according to automotive SPICE processes, and is AEC-Q100 qualified – making it easy for today's automotive manufacturers to integrate into existing systems at a lower risk with faster time to market.
Development tools and design services
Both software and hardware support are available. Software tools include maXTouch Studio and a maXTouch analyser. For the MXT288UD, the hardware offered includes an evaluation kit with a printed circuit board (PCB) and a 5-inch capacitive touch panel, while the MXT144UD's evaluation kit includes a PCB and a 2,9-inch capacitive touch pad. For both devices, a bridge PCB is included with a USB connection for interfacing to a computer when running maXTouch Studio.
For more information contact Dirk Venter, Altron Arrow, +27 11 923 9600, dventer@arrow.altech.co.za, www.altronarrow.com; Avnet Silica, avnet-silica-sales-southafrica@avnet.eu, www.avnet-silica.com
Credit(s)
Further reading:
Component shortages and how to mitigate them
31 March 2021, RS Components (SA), Projects Concern Manufacturing, Production Logix, Altron Arrow , News
To find out just how severe the problem is right now, and the impact it is having, we consulted two South African CEMs and two component distributors for their insights and advice.
Read more...
---
Bidirectional logic-level voltage translators
31 March 2021, Altron Arrow , Analogue, Mixed Signal, LSI
The 74LVC2T45 and 74LVCH2T45 from Diodes Incorporated provide logic-level voltage translation between devices that operate from different supply rails. The devices have dual power supplies and support 
...
Read more...
---
MCUs for low-power industrial and IoT applications
31 March 2021, Hi-Q Electronics , DSP, Micros & Memory
Renesas Electronics has expanded its RA4 Series microcontrollers (MCUs) with 12 new RA4M2 Group parts. The new devices deliver an exceptional combination of very low power consumption, high performance 
...
Read more...
---
Multi-constellation GNSS module
31 March 2021, Altron Arrow , Telecoms, Datacoms, Wireless, IoT
Telit's high-precision GNSS SE868SY-D is a new multi-frequency, multi-constellation positioning receiver capable of combining GPS/QZSS and Galileo in the L1/E1 and L5/E5 bands, GLONASS in the L1, BeiDou 
...
Read more...
---
Low-power MCUs with advanced cybersecurity
31 March 2021, Future Electronics , DSP, Micros & Memory
STMicroelectronics has announced a new generation of extreme power-saving microcontrollers (MCUs), the STM32U5 series, to meet the most demanding power/performance requirements for smart applications 
...
Read more...
---
Evaluate 3D magnetic sensors in under ten minutes
31 March 2021, Altron Arrow , Analogue, Mixed Signal, LSI
You probably think that it's not possible to evaluate a 3D magnetic sensor in less than ten minutes? Think again! Anything is possible with Infineon's 2GO kits. Its 3D magnetic sensor 2GO kit is a budget-priced 
...
Read more...
---
PoE to USB-C power and data adaptor
26 February 2021, Altron Arrow , Power Electronics / Power Management
There are many consumer, enterprise and industrial devices today that have a USB Type-C port as the only input power option. While USB-C technology can offer high power and high data rate, it limits the 
...
Read more...
---
Multi-parameter vital signs monitoring is easier than ever before
31 March 2021, Altron Arrow , Analogue, Mixed Signal, LSI
There is rapid expansion and adoption of digital healthcare fuelled by the continuous advancement in electronics and breakthroughs in cloud computing, AI, and communication technologies.
Read more...
---
STM32 wireless MCU module
26 February 2021, Altron Arrow , Telecoms, Datacoms, Wireless, IoT
STMicroelectronics is offering a solution to accelerate the market introduction of new Bluetooth LE and 802.15.4 based IoT devices with a miniature, ready-to-use STM32 wireless microcontroller (MCU) module.  
...
Read more...
---
NXP unveils advanced i.MX applications processors
26 February 2021, EBV Electrolink , DSP, Micros & Memory
NXP Semiconductors announced the expansion of its EdgeVerse portfolio with its crossover applications processors, including i.MX 8ULP and i.MX 8ULP-CS (cloud secured) Microsoft Azure Sphere-certified 
...
Read more...
---