printer friendly version
Multimedia: Saving time routing in Altium Designer 20
29 July 2020
Multimedia, Videos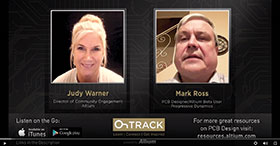 Mark Ross is a long-time Altium Beta user and is Judy Warner's guest in this OnTrack episode to share his insights and the value he gets from being a Beta user. He also chimes in on a long list of questions about what he thinks of Altium Designer 20. He gets into the details on this latest release of Altium Designer and what sets it apart from other eCAD packages, the most significant new feature, and answers the question, "are there any designs the tool can't handle?"
Go to the short URL www.dataweek.co.za/*jul20-altium to watch the video, read the notes, or listen to the podcast (which can be streamed or downloaded).
Credit(s)
Further reading:
Complete guide to DIY SMT assembly in your office
31 March 2021, EDA Technologies , Manufacturing / Production Technology, Hardware & Services
Altium's Mark Harris, the author of the above-titled article, explains it best in his intro:"I want to share a little secret with you in this article: assembling SMT prototypes boards is not only easy, 
...
Read more...
---
Upcoming live webinars from Altium
26 February 2021, EDA Technologies , Events
Designing is stressful enough, you shouldn't have to worry about procuring parts as well. Unfortunately, this is the reality for most of us, especially in today's climate. Supplies and prices seem to 
...
Read more...
---
Data management for successful PCB designs
25 November 2020, EDA Technologies , Design Automation
Effective PCB data management is a crucial, yet multi-faceted, part of the design process. The following articles by two experts from Altium highlight the challenges and importance of this topic.
Read more...
---
Boston Dynamics shows off robots with a dance
25 November 2020 , Multimedia, Videos
Boston Dynamics celebrated the new year by convincing some of its robots to stop their climbing-up-and-down-stairs tests to instead perform a choreographed dance to The Contours' 1960s rock and roll classic, 
...
Read more...
---
Protecting you and your home with IoT
25 November 2020 , Smart Home Automation
IoT technology gives people the power to keep a watchful eye on what is important to them, whether they are 200 metres or 200 kilometres away.
Read more...
---
China launches 6G test satellite
25 November 2020 , Multimedia, Videos
No sooner has 5G cellular technology started to be rolled out, than China has launched what has been described as "the world's first 6G satellite" into space to test the technology. With the telecoms 
...
Read more...
---
Microscopic robot that 'walks'
28 October 2020 , Multimedia, Videos
Scientists at Cornell University have created a tiny micro-robot that 'walks' using four legs. Invisible to the naked eye, ten of the computer chip bots could fit within the full stop at the end of this 
...
Read more...
---
Electronics workforce training courses
28 October 2020 , Multimedia, Videos
IPC has launched Electronics Workforce Training courses to help electronics companies and their employees. The courses will help IPC members overcome workforce skill gap challenges with essential and 
...
Read more...
---
Resource centre: Mouser's new Customer Resource Centre
30 September 2020, TRX Electronics , Multimedia, Videos
Mouser Electronics' new Customer Resource Centre allows customers to easily take advantage of Mouser's online purchasing services and tools through a central hub containing everything customers need to 
...
Read more...
---
Podcast: The safety behind connected vehicles
30 September 2020 , Multimedia, Videos
Connected and increasingly autonomous vehicles offer those of us on the road a lot of benefits. But as cars become more electronic in nature and more like rolling computers, the role of safety becomes 
...
Read more...
---