printer friendly version
Electronics news digest
29 July 2020
News
South Africa
• As part of the national data-driven approach to countering COVID-19, the CSIR has developed a platform that monitors human mobility to better understand movement patterns across specific areas, such as virus hotspots, high-risk and vulnerable areas, as well as monitor lockdown compliance and the spread of the virus. The platform presents a dashboard of integrated and holistic national mobility intelligence to stakeholders and decision-makers in data, research and statistics, the national Department of Health, law enforcement agencies, provincial roads and transport departments, the National Institute for Communicable Diseases and others.
Overseas
Business
• For the first quarter of its 2020 financial year, NXP Semiconductors reported revenue of
$2,02 billion, lower than in the previous quarter ($2,30 billion) as well as the first quarter of 2019 ($2,09 billion). This resulted in an operating income of $68 million, but things don't look as rosy for the company's next quarter. It expects revenue to plunge to $1,7 billion to $1,9 billion, and to suffer an operating loss of $115 million to $237 million.
• STMicroelectronics reported financial results for its second quarter ended 27 June 2020. Net revenues totalled $2,09 billion, representing a year-over-year decrease of 4,0% and a sequential decrease of 6,5%. Net income and diluted earnings per share decreased to $90 million and $0,10, respectively, compared to $160 million and $0,18, respectively, in the year-ago second quarter. The company is more optimistic about its third quarter, providing guidance of $2,45 billion in revenues.
• Texas Instruments reported second quarter revenue of $3,24 billion (12% lower year-on-year), net income of $1,38 (up 6%) billion and earnings per share of $1,48 (up 9%). Its third-quarter outlook is for revenue in the range of $3,26 billion to $3,54 billion, and earnings per share between $1,14 and $1,34.
• Net sales for the fourth quarter of Microchip Technology's fiscal 2020 were $1,326 billion, down 0,3% from net sales of $1,330 billion in the prior year's fourth fiscal quarter. Net income for the fourth quarter of fiscal 2020 was $99,9 million, or $0,39 per diluted share, down from net income of $174,7 million, or $0,70 per diluted share, in the prior year's fourth fiscal quarter.
• During the second quarter of 2020, STMicroelectronics returned to normal operations, supporting its customers' demand and continuing to ensure the health and safety of its employees. The company reported second quarter net revenues of $2,09 billion, net income of $90 million or $0,10 diluted earnings per share. This compares to 2019 second quarter revenues of $2,17 billion, net income of $160 million and $0,18 diluted earnings per share.
Companies
• Analog Devices and Maxim Integrated Products have entered into a definitive agreement under which Analog Devices will acquire Maxim in an all-stock transaction that values the combined enterprise at over $68 billion. Maxim's strength in the automotive and data centre markets, combined with Analog Devices' strength across the broad industrial, communications and digital healthcare markets, are highly complementary and aligned with key secular growth trends.
• ams announced the successful closing of its acquisition of OSRAM Licht AG. The takeover offer has been fully settled and the offer price paid to the holders of the tendered shares. Following the closing, ams holds 69% of all shares in OSRAM (excluding treasury shares) on the basis of the takeover offer and additional purchases equivalent to a transaction value of around 2,7 billion Euros. As the majority shareholder of OSRAM, ams expects to gain representation on the supervisory board of OSRAM based on its shareholding shortly. ams will announce further steps towards the integration of the two companies in due course.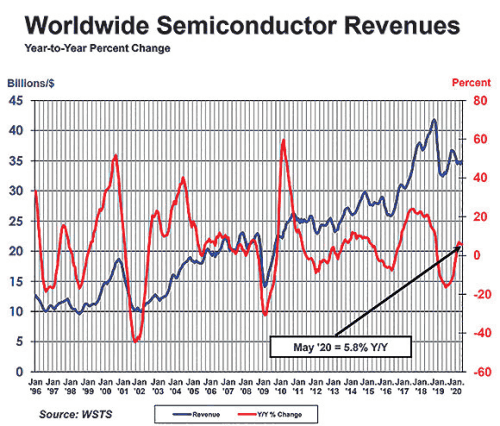 • Infineon Technologies announced the closing of the acquisition of Cypress Semiconductor. Cypress adds a differentiated portfolio of microcontrollers, connectivity components, software ecosystems and high-performance memories. All this is highly complementary to Infineon's leading power semiconductors, automotive microcontrollers, sensors and security solutions. Combining these technology assets enables advanced solutions for high-growth applications such as ADAS/AD, IoT and 5G mobile infrastructure.
Industry
• The Semiconductor Industry Association (SIA) announced worldwide sales of semiconductors were $35,0 billion in May 2020, an increase of 5,8 percent from the May 2019 total and 1,5 percent more than the April 2020 total. Additionally, SIA endorsed the WSTS (World Semiconductor Trade Statistics) Spring 2020 global semiconductor sales forecast, which projects the industry's worldwide sales will be $426,0 billion in 2020. This would mark a 3,3 percent increase from the 2019 sales total.
Further reading:
Personality profile: Jean Mearns
29 July 2020, WH Circuit , News
"No one works for me, they only work with me, for without each other our team will fail to exceed the expectations of our customers."
Read more...
---
Letter to the editor
29 July 2020 , News
I take exception to the article 'To fake or not to fake' published in the June edition of Dataweek that is clearly based on the principle 'guilty until proven innocent'. I am by no means an expert 
...
Read more...
---
Q&A with Brandon Kuhn and Steve Stafford
29 July 2020 , News
Q: What is the rationale behind the reorganisation? What impact will it have on Avnet's customers in South Africa?    A (Kuhn):
Since 2009, our shared front-end model in South Africa has differed from the 
...
Read more...
---
Avnet EMEA names two new leaders to SA operation
29 July 2020 , News
Avnet has named Steve Stafford and Brandon Kuhn as new leaders in South Africa following the completion of a reorganisation in the region.
Read more...
---
UCT chooses Tektronix instruments for training lab
29 July 2020, Comtest , News
Comtest, local partner to Tektronix, recently assisted the University of Cape Town (UCT) physics department in refurbishing its electrical training laboratory. All of the existing analog oscilloscopes 
...
Read more...
---
New electromagnetic solutions range from Accutronics
29 July 2020, Accutronics , News
Accutronics has been appointed as the reseller for the Electromagnetic Integrated Solutions (EIS) range of products from API Technologies. APITech offers a complete line of coaxial EMI solutions, 
...
Read more...
---
Fighting COVID-19 using TV white space spectrum
29 July 2020 , News
The CSIR has partnered with the Technology Innovation Agency (TIA) to enable local Internet service providers to deploy Television White Space (TVWS) networks, using the CSIR-developed Secondary Geo-Location 
...
Read more...
---
Clearing the Static: ESD wrist straps
29 July 2020, Actum Electronics , News
The human body is the primary source of electrostatic charge generation. In order to control and reduce static charge build-up and prevent electrostatic discharges (ESD), we use grounding systems to ensure 
...
Read more...
---
From the editor's desk: This too shall pass
29 July 2020, Technews Publishing , News
Things were tough enough for the South African electronics manufacturing industry before, but this year has thrown up unprecedented challenges that nobody could have foreseen and which are outside of 
...
Read more...
---
Microtronix promises the personal touch
29 July 2020, Microtronix Manufacturing , News
In times like this, surrounded by mostly bad news, we hoped the front cover of
Dataweek
this month would make you smile and you will appreciate some light hearted humour in these dark days of our struggling 
...
Read more...
---