printer friendly version
Bose introduces new smart speaker and soundbars
29 July 2020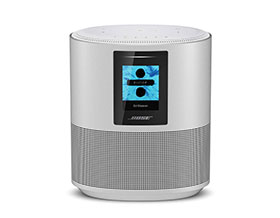 Bose has started the next chapter in its legendary home audio history with a new wireless smart speaker and two new smart soundbars – the Bose Home Speaker 500 for music, and the Bose Soundbar 700 and Soundbar 500 for music and home theatre. Each crushes the limitations of spaciousness from a single enclosure, combining size-defying performance with superior voice pickup and the power of Amazon Alexa now (other voice assistants to follow) and AirPlay 2 for simple streaming from Apple devices added in early 2019.
Engineered from the ground up, the new Bose smart speaker and soundbars use the proprietary mic technology found in Bose headsets and headphones to hear commands better over louder listening levels. With Bluetooth, Wi-Fi, and Alexa built-in, they deliver instant, easy access to millions of songs and tens of thousands of skills for information, entertainment, smart home control, and more. They work brilliantly alone or together as a multi-room system.
"Voice-controlled speakers aren't new, and there are plenty of great options to choose from, but we had a different vision for ours, inspired by what we could do to make the experience better," said Doug Cunningham, category manager in the Bose Consumer Electronics Division. "All of our new smart speakers double up on functionality. It takes just one Home Speaker 500 to deliver true stereo separation – there's no need to pair two. Our Soundbar 700 and 500 are thin and discreet with jaw-dropping surround sound – whether you're streaming Spotify or watching a movie. They combine Bluetooth and Wi-Fi for unbeatable ease of use, can be mixed and matched to play in sync or separately, and with new Alexa functionality and more VPAs on the way, they'll only get better over time."
Voice control — The Bose microphone difference
The new Bose home speaker and soundbars use advanced Bose microphone technology developed over years of research for Bose commercial headsets, consumer headphones, and other applications, past and future. They each feature a custom-designed eight-microphone array precisely positioned for accurate near-field and far-field voice pickup – when it's quiet, noisy, or your music is playing loudly. Whether you're close by or across the room, or a playlist is set for the background, a party, or competing with conversation, they'll hear you the first time.
For more information contact Paul Murphy, Sound Systems, +27 21 421 4289, paul@sound-systems.co.za, www.sound-systems.co.za
Further reading:
Cost-effective smart building retrofit system
29 July 2020, ElectroMechanica
Retrofitting older building stock with 'smart' automation solutions is now possible with the latest Hager system introduced locally by leading supplier ElectroMechanica (EM). Known as coviva, the system 
...
Read more...
---
GSM boosters
30 June 2020, Otto Wireless
Otto Wireless Solutions' ICASA approved, non network-locked boosters have two incredible features which have led to their mass adoption.
Read more...
---
Mesh Wi-Fi made easy
30 June 2020, Otto Wireless
Running a smart environment on a Wi-Fi backbone requires a good Wi-Fi mesh system, with low latency, and reliable handover between Wi-Fi access points.
Read more...
---
Bang & Olufsen debuts Beovision Harmony at Milan Design Week
30 June 2020
Beovision Harmony is a stunning piece of design that once again demonstrates Bang & Olufsen's uncompromising approach to design, craftsmanship and sound performance.
Read more...
---
Bose announces portable home speaker
30 June 2020
Battery-powered Wi-Fi and Bluetooth, built-in voice control, AirPlay 2 and Spotify Connect, all from one amazing speaker.
Read more...
---
CamdenBoss broadens its Room Sensor Enclosure range
30 June 2020, Vepac Electronics
CamdenBoss has introduced two new sizes to its popular Room Sensor Enclosure range, with three available size options.
Read more...
---
Affordable home automation solutions
30 June 2020
Experience the benefits of a smart home that's connected to your needs every moment of the day.
Read more...
---
Netatmo indoor and outdoor cameras for enhanced safety
30 June 2020, Legrand Southern Africa
Smart cameras that provide real-time notifications in the event of a person or vehicle trespassing on a property.
Read more...
---
MyPlace Smart Home Starter Pack
30 June 2020
With the MyPlace app, you can control the elements in your home from the couch, from work, or anywhere around the world.
Read more...
---
New features from Nexia
30 June 2020
Customise your heating and cooling experiences in your smart home with news features from Nexia.
Read more...
---