printer friendly version
Came Domotic 3.0: smart technology to adapt your home to the lifestyle of the people who live in it
29 July 2020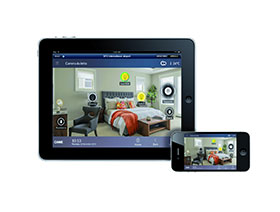 The Came Domotic 3.0 home automation system allows people to manage all the automated devices in their home according to their lifestyle needs. Designed to improve the comfort and wellbeing of people inside the home, the system creates a living space tailored to individual needs, saving both time and energy. It makes it easy for each user to manage the devices installed in their home according to their own habits, controlling them from a touchscreen terminal, or remote connection via a smartphone or tablet.
All the automated devices in a home – from automation to lighting, the video entry system to temperature control, the sound system to the burglar alarm – are fully integrated with each other to manage any space intelligently and offer the ultimate in comfort and security. The new Came home automation system, characterised by ease of programming and complete system connectivity, reflects the focus of the company on technological innovation and design able to add value to the homes they are installed in. Came Domotic 3.0 is ideal for both new and existing buildings, and, thanks to wireless devices, it can be installed without the need for building work.
For more information visit www.camebpt.co.za
Further reading:
New method to defend against smart home device attacks
29 July 2020
Researchers have developed a new method that enables telecommunications and Internet service providers to monitor vulnerable smart home devices.
Read more...
---
Modern homes work for the owner
29 July 2020
The challenge is how to integrate systems so that they're easy to operate and don't end up adding more complexity.
Read more...
---
'Works With' smart home virtual conference
29 July 2020
From 9-10 September 2020, Silicon Labs will be hosting a virtual conference that aims to help those interested in smart home automation to learn to work with Silicon Labs' ecosystem of partners from Amazon, 
...
Read more...
---
Cost-effective smart building retrofit system
29 July 2020, ElectroMechanica
Retrofitting older building stock with 'smart' automation solutions is now possible with the latest Hager system introduced locally by leading supplier ElectroMechanica (EM). Known as coviva, the system 
...
Read more...
---
Bose introduces new smart speaker and soundbars
29 July 2020
The next chapter in Bose's legendary home audio history.
Read more...
---
GSM boosters
30 June 2020, Otto Wireless
Otto Wireless Solutions' ICASA approved, non network-locked boosters have two incredible features which have led to their mass adoption.
Read more...
---
Mesh Wi-Fi made easy
30 June 2020, Otto Wireless
Running a smart environment on a Wi-Fi backbone requires a good Wi-Fi mesh system, with low latency, and reliable handover between Wi-Fi access points.
Read more...
---
Bang & Olufsen debuts Beovision Harmony at Milan Design Week
30 June 2020
Beovision Harmony is a stunning piece of design that once again demonstrates Bang & Olufsen's uncompromising approach to design, craftsmanship and sound performance.
Read more...
---
Bose announces portable home speaker
30 June 2020
Battery-powered Wi-Fi and Bluetooth, built-in voice control, AirPlay 2 and Spotify Connect, all from one amazing speaker.
Read more...
---
CamdenBoss broadens its Room Sensor Enclosure range
30 June 2020, Vepac Electronics
CamdenBoss has introduced two new sizes to its popular Room Sensor Enclosure range, with three available size options.
Read more...
---