printer friendly version
HMI for IoT development kit
29 July 2020
Design Automation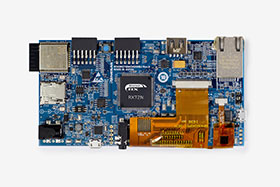 Optimised for HMI development in the IoT (Internet of Things), Renesas Electronics' RX72N Envision Kit offers a highly sophisticated and integrated platform for developing applications that require a graphical user interface (GUI). With a fully integrated WQVGA LCD with capacitive touch sensing, developers can quickly develop HMIs for IoT applications.
The kit is based on the RX72N 32-bit microcontroller (MCU), the flagship member of Renesas' RX MCU family. The RX72N features Renesas' third-generation RX CPU core, the RXv3, which has been designed to deliver improved performance and faster interrupt response. Hardware accelerators for trigonometric calculations increase the speed of motor control applications, while the integrated TFT LCD controller and 2D drawing engine make full use of the kit's display.
Trusted Secure IP, an integrated security hardware IP, provides a cryptography engine to realise AES, RSA, ECC as well as secure key management to protect customers' important keys and IDs. Furthermore, the RX72N enables both wired and wireless network connections necessary for IoT applications via integrated Ethernet controllers and various serial interfaces for wireless module connection.
Renesas is lowering the barriers to HMI development with the Envision Kit, by embedding emWin middleware from Segger to support its GUI software package, along with two demonstration applications based on FreeRTOS from AWS. The RX72N Envision Kit also integrates other features, including high-efficiency DC/DC converters, a D2Audio IC, stereo MEMS microphone to support voice recognition, and an LCD backlight driver with complementary light sensor. Comprehensive connectivity is included in the form of Ethernet, Bluetooth and Wi-Fi.
To better support faster development cycles, the board also integrates an E2 Lite emulator. Support for running two applications is provided by the RX72N MCU, thanks to its 4 MB dual bank Flash memory. It also features 1 MB of SRAM. A microSD card interface and PMOD connectors are also included for further expansion.
Credit(s)
Further reading:
Feature updates for Proteus design software
31 March 2021, Dizzy Enterprises , Design Automation
Proteus 8.12 expands on its high-speed design feature offering by adding support for pass-through components on length-matched differential pairs. Pass-through components are those which are included 
...
Read more...
---
Component shortages and how to mitigate them
31 March 2021, RS Components (SA), Projects Concern Manufacturing, Production Logix, Altron Arrow , News
To find out just how severe the problem is right now, and the impact it is having, we consulted two South African CEMs and two component distributors for their insights and advice.
Read more...
---
Electrocomponents plc joins the ECIA
31 March 2021, RS Components (SA) , News
The Electronic Components Industry Association (ECIA) has welcomed Electrocomponents plc, a global omni-channel solutions partner for electronics, industrial and automation customers and suppliers, which 
...
Read more...
---
Pathfindr device helps people maintain safe social distancing
26 February 2021, RS Components (SA) , Manufacturing / Production Technology, Hardware & Services
The Safe Distancing Assistant from Pathfindr is a new addition to RS Components' supplier portfolio specialising in asset intelligence using connectivity-enabled location tracking. Designed for use 
...
Read more...
---
1200 V SiC MOSFETs
26 February 2021, RS Components (SA) , Power Electronics / Power Management
RS Components now stocks ON Semiconductor's latest 1200 V-rated MOSFETs. Based on silicon carbide (SiC) technology, these power discretes are able to push the performance envelope. The new N-channel 
...
Read more...
---
Electrocomponents backs Engineering for People Design Challenge
26 February 2021, RS Components (SA) , News
Electrocomponents, of which RS Components is a trading brand, has signed a one-year partnership agreement with Engineers Without Borders International, the leading movement that puts global responsibility 
...
Read more...
---
Range of environmental T&M instruments
25 November 2020, RS Components (SA) , Test & Measurement
RS Components is now stocking a wide range of its own-brand RS PRO environmental test and measurement (T&M) products. These high-precision instruments and devices are for engineers and scientists to monitor 
...
Read more...
---
Data management for successful PCB designs
25 November 2020, EDA Technologies , Design Automation
Effective PCB data management is a crucial, yet multi-faceted, part of the design process. The following articles by two experts from Altium highlight the challenges and importance of this topic.
Read more...
---
User-friendly oscilloscope for STEM learning
25 November 2020, RS Components (SA) , Test & Measurement
Affordable, compact, and easy to use, Tektronix' TBS1000C digital storage oscilloscope (DSO) comes with an enhanced user interface and courseware, proving a great tool for STEM educators, students, and 
...
Read more...
---
Evaluation board for Wi-Fi microcontroller
26 February 2021, iCorp Technologies , Design Automation
The ESP32-S2-Kaluga-1 kit v1.3 is a development kit by Espressif Systems that was mainly created to demonstrate the ESP32-S2 Wi-Fi microcontroller's human-computer interaction functionalities, and to 
...
Read more...
---