printer friendly version
Variety of photoelectric sensors
31 August 2020
Opto-Electronics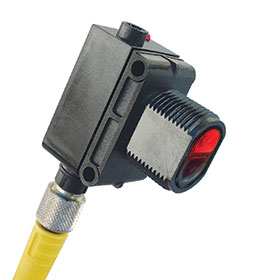 The Tri-Tronics Mini-Eye photoelectric sensors are designed to be low in cost and high in value. The sensors are waterproof and are enclosed in a high-impact plastic housing.
Thru-Beam models utilise a separate light source and receiver for 'beam break' sensing, recommended for long-range sensing or for use in environments where dust or dirt build-up may cover the lens. The sensors provide a very narrow beam path from the light source to the receiver and are perfect for sensing small gaps or precise sensing tasks, which is critical when attempting to resolve the exact location of passing objects. The light source requires a simple 2-wire connection and functions independently of other receivers.
Retroreflective models operate in either the 'beam make' or 'beam break' sensing mode and are designed to be used with a prismatic reflector. Detection occurs when the light beam is broken by a passing target or object. The visible, red, polarised model helps to prevent 'proxing' or responding to undesirable light reflecting from shiny objects, such as cans, glass and clear plastic. The invisible, infrared light source model is recommended for long-range sensing.
Proximity models are designed for close range sensing tasks and operate by detecting the reflected light from targeted objects. The red LED light source is recommended for detecting transparent objects, such as clear glass or plastic bottles. The invisible infrared LED light source is recommended for general purpose sensing tasks.
All Mini-Eye sensors are available with a quick disconnect M8 or M12 4-PIN connector or a potted 1,8 m 4-wire cable, and with a red or infrared LED light source. They are easy to set up and can operate in either the light 'ON' or dark 'ON' mode. For light 'ON' operation, connect the white wire to negative and for dark 'ON' operation, simply connect the white wire to positive.
Credit(s)
Further reading:
New low-cost 60 W PSU
Vepac Electronics Power Electronics / Power Management
The new VCB60 series of 60 W PSUs from XP Power addresses the need for high-quality easy-to-use power solutions at attractive price points.
Read more...
---
Hamamatsu Photonics boosts production capacity
Hamamatsu Photonics UK Opto-Electronics
Hamamatsu Photonics increases its current production capacity almost two-fold to help with expanding sales after completion of a new factory complex.
Read more...
---
No need for custom enclosures thanks to rugged subrack system
Vepac Electronics Enclosures, Racks, Cabinets & Panel Products
The KM6-HD subrack range from Verotec meets the requirements of IEEE 1101.10 and 11, which expand on IEC60297 to add functionality required for modern industrial computing applications. This includes 
...
Read more...
---
PSU available in 75 W to 1000 W output range
Vepac Electronics Power Electronics / Power Management
The switched-mode power supplies can accept a wide range of dual AC/DC inputs and have active power factor correction.
Read more...
---
Digital ambient light sensor
EBV Electrolink Opto-Electronics
The device is a highly sensitive light-to-digital converter that transforms light intensity into a digital signal output through an I
2
C digital interface.
Read more...
---
Half-duplex transceiver for RS-485
Vepac Electronics Computer/Embedded Technology
The new enhanced transceiver is designed for RS-485 data bus networks and is fully compliant with the TIA/EIA-485A standard.
Read more...
---
World's fastest 16-bit arbitrary waveform generator
Vepac Electronics Test & Measurement
The ARB Rider AWG-5000 has a 6,16 GS/s real-time update rate with a 16-bit vertical resolution and is available in two, four or eight channel models.
Read more...
---
Adjustable 1200 W power supply with near-to-zero output
Vepac Electronics Power Electronics / Power Management
Powerbox releases a 1200 W power supply, optimised for conduction cooling, which has adjustable near-to-zero output voltage and current.
Read more...
---
ST's new ToF sensor has double the range of existing modules
EBV Electrolink Opto-Electronics
The new sensor combines revolutionary metasurface lens technology with a more powerful and efficient laser and improved on-chip signal processing.
Read more...
---
Compact planar scanner with air bearing
Horne Technologies Opto-Electronics
PIglide positioning systems are ideally suited for high-precision applications such as inspection systems, laser marking, microscopy or scanning.
Read more...
---