printer friendly version
Navigating EMI challenges in next-generation railway technology
31 August 2020
Enclosures, Racks, Cabinets & Panel Products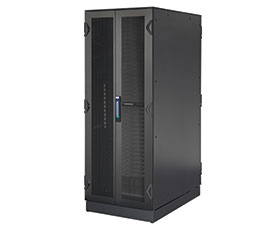 The advent of new-age connectivity, such as 5G networks and LTE, has enabled railway systems to process higher volumes of data digitally, which has significantly improved operational safety, efficiency and performance. However, the progression towards digitalisation and automation in railway technology has resulted in new challenges that need to be mitigated, such as increased electromagnetic interference (EMI) from the surrounding environment.
According to Pradipto Bhowmick, nVent SCHROFF global product manager of cabinets and vertical marketing manager of railway and transportation, EMI is a significant challenge within the complex electrical environment of railway networks that govern mission-critical systems and vital passenger communication.
This includes automatic train control, interlocking and control, fleet management, automatic ticketing, video surveillance, maintenance/diagnosis, and real-time passenger communication. This high volume of radio communication and signalling increases the risk of EMI even more, and modern-day enclosures need to address these new challenges.
nVent SCHROFF specialises in electronic enclosures and offers complete enclosure solutions for big data and analytics applications that drive efficiency, ease of travel and reliability. It offers indoor and outdoor cabinet solutions that are EMC-certified, robust, and fully customisable. The company's technology can help you future-proof hardware in order to protect mission critical electronics, even in harsh railway environments.
Credit(s)
Further reading:
Clearing the Static: ESD training and compliance in the workplace
Actum Group Circuit & System Protection
ESD (electrostatic discharge) can change the electrical characteristics of a semiconductor device by degrading or destroying it entirely. ESD can potentially damage electronic systems, causing equipment 
...
Read more...
---
Additional pin counts for MicroSpeed connectors
Actum Group Interconnection
ERNI expanded its MicroSpeed product family in the signal area to include variants with the additional pin counts of 26, 32 and 44. Unshielded connectors were also added to the power supply group.  
...
Read more...
---
Clearing the Static: ESD cleaning
Actum Group Circuit & System Protection
To avoid ESD damage to electronic assemblies or components, they must be manufactured, handled, packaged and stored in an ESD protected environment.       It is essential that these ESD protected workplace 
...
Read more...
---
No need for custom enclosures thanks to rugged subrack system
Vepac Electronics Enclosures, Racks, Cabinets & Panel Products
The KM6-HD subrack range from Verotec meets the requirements of IEEE 1101.10 and 11, which expand on IEC60297 to add functionality required for modern industrial computing applications. This includes 
...
Read more...
---
New EC centrifugal fans for more power and efficiency
Ebmpapst South Africa Enclosures, Racks, Cabinets & Panel Products
Ventilation and air conditioning fans are constantly being developed, as users' demand for control options and energy efficiency in particular are increasing rapidly. Legal requirements, increasing awareness 
...
Read more...
---
Small rectangular plastic enclosures
Electrocomp Enclosures, Racks, Cabinets & Panel Products
Owing to its versatility, Hammond Manufacturing's 1591 family is the company's best-selling plastic enclosure range, with a wide choice of sizes and features. The 1591 family is available in five small 
...
Read more...
---
Outdoor housings for space-critical applications
Phoenix Contact Enclosures, Racks, Cabinets & Panel Products
New outdoor housings with an installation depth of 80 mm extend the ECS range of outdoor housings from Phoenix Contact. The smaller design allows device dimensions that are 75% more compact. It is therefore 
...
Read more...
---
Plastic electronics housings made to custom specs
Enclosures, Racks, Cabinets & Panel Products
Based in Pretoria, NewElec boasts production capabilities that are ideally suited for making customised plastic electronic housings using computer-controlled manufacturing equipment. The process is quick, 
...
Read more...
---
Locally made, price-competitive SMC enclosures
Allbro Enclosures, Racks, Cabinets & Panel Products
The majority of electrical enclosures used in South Africa are coated with mild steel. Standard off-the-shelf sizes used to be locally manufactured but the tide of low-cost imported steel products has 
...
Read more...
---
Wall-mounting enclosures in mild steel
Elen Enclosures Enclosures, Racks, Cabinets & Panel Products
Elen Enclosures recently added a new range of wall-mounting mild steel enclosures from Italian metallic enclosure manufacturing specialist ETA. The new ECOR-Fe range is built to Industry 4.0 standards 
...
Read more...
---