printer friendly version
Data buffer for high performance server and cloud service applications
30 September 2020
Analogue, Mixed Signal, LSI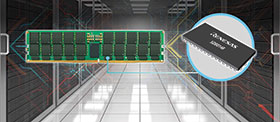 Renesas Electronics Corporation has introduced a new high speed, low power DDR5 data buffer for data centre, server and high-performance workstation applications.
Advancements over the past few years in real-time analytics, machine learning, HPC, AI and other memory and bandwidth-hungry applications have fuelled explosive growth in server memory bandwidth requirements. The new JEDEC-compliant DDR5 data buffer 5DB0148 enables significantly higher speeds and lower latency for load-reduced dual inline memory modules (LRDIMMs) that have become the cornerstone memory technology for this new class of applications.
The first generation of DDR5 LRDIMMs based on Renesas components enable a bandwidth increase of more than 35% over DDR4 LRDIMMs operating at 3200 MT/s. "As the industry's complete DDR5 solution provider, we are working closely with customers and ecosystem partners to launch a vastly expanded portfolio of memory solutions into production," said Rami Sethi, vice president of the Data Centre Business Division. "Our DDR5 data buffers are critical to enabling high performance DRAM solutions such as LRDIMMs, alternative high density modules and heterogeneous memory solutions, all of which empower a new generation of high performance computing applications."
The Renesas DDR5 Data Buffer maximises channel eye opening for systems that are heavily loaded through a combination of capacitive load reduction, data alignment and signal recovery techniques. This allows server motherboards with a large number of memory channels and slots and complex routing topologies to run at maximum speed, even when fully populated with high density memory. Additionally, improvements in the DDR5 modules definition allow for lower power supply voltages (1,1 V vs 1,2 V in DDR4), on-DIMM voltage regulation, and implementation of advanced control plane architectures with the use of the SPD Hub and modern control bus communications such as I3C.
Renesas is the longest running supplier of memory interface products in the industry, with a history of developing complete chipset solutions since the inception of dual inline memory modules. As part of a complete family of solutions, the new Renesas DDR5 data buffer 5DB0148 is optimised to work seamlessly with the other DDR5 Renesas components on an LRDIMM memory module, including the power management IC P8900, the registered clock driver 5RCD0148, the SPD Hub SPD5118 and the temperature sensor TS5111. Memory vendors deploying Renesas chipset solutions are assured of full interoperability and robust quality.
For more information contact Jody Botha, Hi-Q Electronics, +27 11 894 8083, jody@hi-q.co.za, www.hi-q.co.za
Credit(s)
Further reading:
Dual-channel digital isolator
26 May 2021, Future Electronics , Analogue, Mixed Signal, LSI
STMicroelectronics has begun volume production of the STISO621 dual-channel digital isolator, launching a new series of high-performance ICs for industrial applications and general optocoupler replacement.  
...
Read more...
---
16-bit general-purpose microcontroller
26 May 2021, Hi-Q Electronics , DSP, Micros & Memory
Renesas Electronics has launched and begun mass production of its 16-bit general-purpose RL78/G23 microcontroller (MCU), further strengthening its RL78 family of 8-bit and 16-bit MCUs for a broad range 
...
Read more...
---
Temperature and humidity sensors for cold chains
26 May 2021, Electrocomp , Analogue, Mixed Signal, LSI
New calibrated and ISO 17025-certified temperature, and humidity and temperature sensors have been announced by Sensirion.These sensors enable customers to achieve cost-efficient GDP (good distribution 
...
Read more...
---
MEMS accelerometer for automotive
26 May 2021, RFiber Solutions , Analogue, Mixed Signal, LSI
The STMicroelectronics AIS2IH three-axis linear accelerometer brings enhanced resolution, temperature stability and mechanical robustness to non-safety automotive applications including anti-theft, telematics, 
...
Read more...
---
Automotive magnetic position sensor
26 May 2021, Future Electronics , Analogue, Mixed Signal, LSI
By offering accurate, contactless angle measurements in demanding automotive applications such as high-speed motors, the new AS5116 magnetic rotary position sensor from ams enables automotive manufacturers 
...
Read more...
---
Training videos for op-amp troubleshooting
26 May 2021 , Analogue, Mixed Signal, LSI
Texas Instruments (TI) has produced a sizeable collection of training materials for linear amplifier troubleshooting, including videos that highlight various techniques to assist with application problem-solving, 
...
Read more...
---
Isolation for SAR ADCs
26 May 2021, Altron Arrow , Analogue, Mixed Signal, LSI
Question:
How do I add isolation to my ADC without harming its performance?   
Answer:
For isolated high-performance ADCs, keep one eye on isolated clocks and a second on isolated power. SAR ADCs (successive 
...
Read more...
---
MEMS absolute pressure sensor
26 May 2021, Altron Arrow , Analogue, Mixed Signal, LSI
The LPS27HHTW from STMicroelectronics is an ultra-compact piezoresistive absolute pressure sensor which functions as a digital output barometer. The device also embeds a temperature sensor to monitor 
...
Read more...
---
Renesas adds Bluetooth 5.0 to RE family
28 April 2021, Hi-Q Electronics , Telecoms, Datacoms, Wireless, IoT
The RE family of 32-bit ultra-low power consumption microcontrollers (MCUs) from Renesas Electronics has been expanded to include the RE01B with Bluetooth 5.0 support. Developed using Renesas' SOTB (Silicon 
...
Read more...
---
Multi-Hall-array sensor for high-precision current sensing
28 April 2021, Future Electronics , Analogue, Mixed Signal, LSI
TDK has expanded its Micronas Hall-effect sensor portfolio with the CUR 4000 sensor. Developed for highly accurate current measurements in automotive and industrial applications, it offers non-intrusive, 
...
Read more...
---