printer friendly version
Data buffer for high performance server and cloud service applications
30 September 2020
Analogue, Mixed Signal, LSI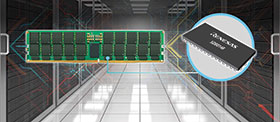 Renesas Electronics Corporation has introduced a new high speed, low power DDR5 data buffer for data centre, server and high-performance workstation applications.
Advancements over the past few years in real-time analytics, machine learning, HPC, AI and other memory and bandwidth-hungry applications have fuelled explosive growth in server memory bandwidth requirements. The new JEDEC-compliant DDR5 data buffer 5DB0148 enables significantly higher speeds and lower latency for load-reduced dual inline memory modules (LRDIMMs) that have become the cornerstone memory technology for this new class of applications.
The first generation of DDR5 LRDIMMs based on Renesas components enable a bandwidth increase of more than 35% over DDR4 LRDIMMs operating at 3200 MT/s. "As the industry's complete DDR5 solution provider, we are working closely with customers and ecosystem partners to launch a vastly expanded portfolio of memory solutions into production," said Rami Sethi, vice president of the Data Centre Business Division. "Our DDR5 data buffers are critical to enabling high performance DRAM solutions such as LRDIMMs, alternative high density modules and heterogeneous memory solutions, all of which empower a new generation of high performance computing applications."
The Renesas DDR5 Data Buffer maximises channel eye opening for systems that are heavily loaded through a combination of capacitive load reduction, data alignment and signal recovery techniques. This allows server motherboards with a large number of memory channels and slots and complex routing topologies to run at maximum speed, even when fully populated with high density memory. Additionally, improvements in the DDR5 modules definition allow for lower power supply voltages (1,1 V vs 1,2 V in DDR4), on-DIMM voltage regulation, and implementation of advanced control plane architectures with the use of the SPD Hub and modern control bus communications such as I3C.
Renesas is the longest running supplier of memory interface products in the industry, with a history of developing complete chipset solutions since the inception of dual inline memory modules. As part of a complete family of solutions, the new Renesas DDR5 data buffer 5DB0148 is optimised to work seamlessly with the other DDR5 Renesas components on an LRDIMM memory module, including the power management IC P8900, the registered clock driver 5RCD0148, the SPD Hub SPD5118 and the temperature sensor TS5111. Memory vendors deploying Renesas chipset solutions are assured of full interoperability and robust quality.
For more information contact Jody Botha, Hi-Q Electronics, +27 11 894 8083, jody@hi-q.co.za, www.hi-q.co.za
Credit(s)
Further reading:
SPST RF switch for high-performance aperture tuning
30 September 2020, Hi-Q Electronics , Telecoms, Datacoms, Wireless, IoT
Skyworks has introduced the SKY59272-707LF, a single-pole, single-throw (4xSPST) switch designed for antenna tuning applications that require ultra-low off-capacitance and low on-resistance. This device 
...
Read more...
---
High-voltage analog multiplexers
30 September 2020, Altron Arrow , Analogue, Mixed Signal, LSI
Diodes Incorporated announces the PS508 and PS509 analog multiplexers that are capable of switching signal voltages of up to 36 V in an industrial environment. The high voltage capability of the devices 
...
Read more...
---
Low inductance SiC power module gate driver kit
31 August 2020, Altron Arrow , Analogue, Mixed Signal, LSI
The transformation to electrify transportation – from trains, trams and trolleys to buses, automobiles and EV chargers – continues at a rapid pace, as countries shift toward improved modes of transit 
...
Read more...
---
New GaN-on-SiC power amplifiers
31 August 2020, RFiber Solutions , Analogue, Mixed Signal, LSI
MACOM Technology Solutions, a leading supplier of semiconductor solutions, recently announced at the virtual International Microwave Symposium the introduction of its new gallium nitride on silicon carbide 
...
Read more...
---
DACs with 1 or 2 channels
31 August 2020, Altron Arrow , Analogue, Mixed Signal, LSI
The MCP47CXBXX/MCP48CXBXX are single- and dual-channel 8-bit, 10-bit and 12-bit buffered voltage output digital-to-analog converters (DAC), with volatile or MTP memory and an I2C/SPI interface. The MTP 
...
Read more...
---
High accuracy inclinometer with machine learning core
30 September 2020, Avnet Silica , Analogue, Mixed Signal, LSI
The IIS2ICLX from STMicroelectronics is a high accuracy, low power, 2-axis digital inclinometer for use in applications such as industrial automation and structural health monitoring. It features a 
...
Read more...
---
Smoke detection matters
30 September 2020, Altron Arrow , Editor's Choice, Analogue, Mixed Signal, LSI
Smoke detection regulations are critically important when the value proposition is as basic as human life itself.
Read more...
---
Renesas expands wireless power portfolio
30 September 2020, Hi-Q Electronics , Telecoms, Datacoms, Wireless, IoT
Renesas Electronics Corporation has introduced the P9415-R wireless power receiver with its exclusive WattShare technology as the newest member of its wireless power solutions portfolio. The new 15 W 
...
Read more...
---
Temperature-compensated quartz crystal oscillators
30 September 2020, Hi-Q Electronics , Analogue, Mixed Signal, LSI
With it's compact, power-saving and highly precise specifications, Jauch's new TCXO JT21S is particularly suitable for use in wireless applications and ensures a stable frequency across all RF standards 
...
Read more...
---
Dual buck and boost-buck controllers
30 September 2020, Hi-Q Electronics , Power Electronics / Power Management
Renesas has introduced the ISL78264 Dual Buck and ISL78263 Boost-Buck controllers, which draw the industry's lowest 6 µA quiescent current under light load and can achieve 96% power efficiency. The ISL78264 
...
Read more...
---