printer friendly version
Data buffer for high performance server and cloud service applications
30 September 2020
Analogue, Mixed Signal, LSI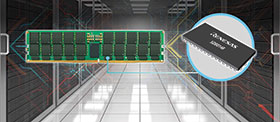 Renesas Electronics Corporation has introduced a new high speed, low power DDR5 data buffer for data centre, server and high-performance workstation applications.
Advancements over the past few years in real-time analytics, machine learning, HPC, AI and other memory and bandwidth-hungry applications have fuelled explosive growth in server memory bandwidth requirements. The new JEDEC-compliant DDR5 data buffer 5DB0148 enables significantly higher speeds and lower latency for load-reduced dual inline memory modules (LRDIMMs) that have become the cornerstone memory technology for this new class of applications.
The first generation of DDR5 LRDIMMs based on Renesas components enable a bandwidth increase of more than 35% over DDR4 LRDIMMs operating at 3200 MT/s. "As the industry's complete DDR5 solution provider, we are working closely with customers and ecosystem partners to launch a vastly expanded portfolio of memory solutions into production," said Rami Sethi, vice president of the Data Centre Business Division. "Our DDR5 data buffers are critical to enabling high performance DRAM solutions such as LRDIMMs, alternative high density modules and heterogeneous memory solutions, all of which empower a new generation of high performance computing applications."
The Renesas DDR5 Data Buffer maximises channel eye opening for systems that are heavily loaded through a combination of capacitive load reduction, data alignment and signal recovery techniques. This allows server motherboards with a large number of memory channels and slots and complex routing topologies to run at maximum speed, even when fully populated with high density memory. Additionally, improvements in the DDR5 modules definition allow for lower power supply voltages (1,1 V vs 1,2 V in DDR4), on-DIMM voltage regulation, and implementation of advanced control plane architectures with the use of the SPD Hub and modern control bus communications such as I3C.
Renesas is the longest running supplier of memory interface products in the industry, with a history of developing complete chipset solutions since the inception of dual inline memory modules. As part of a complete family of solutions, the new Renesas DDR5 data buffer 5DB0148 is optimised to work seamlessly with the other DDR5 Renesas components on an LRDIMM memory module, including the power management IC P8900, the registered clock driver 5RCD0148, the SPD Hub SPD5118 and the temperature sensor TS5111. Memory vendors deploying Renesas chipset solutions are assured of full interoperability and robust quality.
For more information contact Jody Botha, Hi-Q Electronics, +27 11 894 8083, jody@hi-q.co.za, www.hi-q.co.za
Credit(s)
Further reading:
Renesas adds Bluetooth 5.0 to RE family
28 April 2021, Hi-Q Electronics , Telecoms, Datacoms, Wireless, IoT
The RE family of 32-bit ultra-low power consumption microcontrollers (MCUs) from Renesas Electronics has been expanded to include the RE01B with Bluetooth 5.0 support. Developed using Renesas' SOTB (Silicon 
...
Read more...
---
Compact bias tees with up to 35 GHz bandwidth
31 March 2021, RF Design , Analogue, Mixed Signal, LSI
Designers can save design time and time-to-market by using a proven bias solution from the high-frequency specialist company, Marki Microwave. Its new line of surface mount bias tees, featuring up to 
...
Read more...
---
Bidirectional logic-level voltage translators
31 March 2021, Altron Arrow , Analogue, Mixed Signal, LSI
The 74LVC2T45 and 74LVCH2T45 from Diodes Incorporated provide logic-level voltage translation between devices that operate from different supply rails. The devices have dual power supplies and support 
...
Read more...
---
MCUs for low-power industrial and IoT applications
31 March 2021, Hi-Q Electronics , DSP, Micros & Memory
Renesas Electronics has expanded its RA4 Series microcontrollers (MCUs) with 12 new RA4M2 Group parts. The new devices deliver an exceptional combination of very low power consumption, high performance 
...
Read more...
---
Evaluate 3D magnetic sensors in under ten minutes
31 March 2021, Altron Arrow , Analogue, Mixed Signal, LSI
You probably think that it's not possible to evaluate a 3D magnetic sensor in less than ten minutes? Think again! Anything is possible with Infineon's 2GO kits. Its 3D magnetic sensor 2GO kit is a budget-priced 
...
Read more...
---
Ultrafast avalanche SMD rectifier diode
31 March 2021, Hi-Q Electronics , Power Electronics / Power Management
Diotec's new BYG20 Series is an ultrafast avalanche SMD rectifier diode in an SMA package, with repetitive reverse voltage of 200 V to 600 V and average forward current rating of 1,5 A. Having non-repetitive 
...
Read more...
---
How best to calculate DAC signal chain error budget
26 February 2021 , Analogue, Mixed Signal, LSI
Electrical signal chains can be found in various forms. They can consist of different electrical components, including sensors, actuators, amplifiers, analog-to-digital converters (ADCs), digital-to-analog 
...
Read more...
---
Inline industrial temperature sensor
26 February 2021, TRX Electronics , Analogue, Mixed Signal, LSI
Amphenol Advanced Sensors offers an inline flow-through temperature sensor that monitors the temperature of a fluid that passes through it. A system control module receives this temperature reading 
...
Read more...
---
Multi-parameter vital signs monitoring is easier than ever before
31 March 2021, Altron Arrow , Analogue, Mixed Signal, LSI
There is rapid expansion and adoption of digital healthcare fuelled by the continuous advancement in electronics and breakthroughs in cloud computing, AI, and communication technologies.
Read more...
---
Closed-loop MEMS accelerometer
26 February 2021, Electrocomp , Analogue, Mixed Signal, LSI
TDK announced the release of Tronics AXO315, a miniature, 1-axis closed-loop MEMS accelerometer with a 24-bit digital SPI interface and SMD package that reaches quartz sensor performance, outperforms 
...
Read more...
---