printer friendly version
High accuracy inclinometer with machine learning core
30 September 2020
Analogue, Mixed Signal, LSI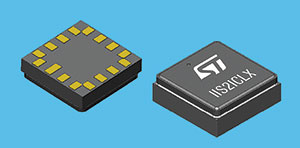 The IIS2ICLX from STMicroelectronics is a high accuracy, low power, 2-axis digital inclinometer for use in applications such as industrial automation and structural health monitoring.
It features a programmable machine learning core and 16 independent programmable finite state machines that help edge devices save power and reduce data transfers to the cloud.
With its advanced embedded functions, the IIS2ICLX lowers system-level power consumption to extend the operation of battery-powered nodes. The sensor's inherent characteristics simplify integration into high-performing products, while minimising the effort and cost of calibration.
Using MEMS accelerometer technology, the IIS2ICLX inclinometer has a selectable full scale of ±0,5/±1/±2/±3 g and provides outputs over a I2C or SPI digital interface. Embedded compensation maintains stability over temperature to within 0,075 mg/°C, ensuring high accuracy and repeatability even when ambient temperatures undergo extreme fluctuations. Its ultra-low noise density of 15 μg/√Hz enables high resolution tilt sensing as well as sensing of low level, low frequency vibration, as required in structural health monitoring.
The combination of high stability and repeatability, high accuracy and high resolution make the IIS2ICLX particularly suited to industrial applications such as antenna pointing and monitoring, platform levelling, forklift and construction machines, levelling instruments, equipment installation and monitoring and installation and sun tracking for solar panels, as well as Industry 4.0 applications such as robots and autonomous guided vehicles (AGVs).
In structural health monitoring, accurately measuring inclination and vibration with the IIS2ICLX can help assess the integrity of structures such as tall towers and infrastructure like bridges or tunnels. Affordable, battery powered MEMS tilt sensors containing the IIS2ICLX enable many more structures to be monitored for safety than has been economically viable using earlier, more expensive technologies.
Whereas many high accuracy inclinometers are single-axis devices, the 2-axis IIS2ICLX accelerometer can sense the tilt with respect to a horizontal plane along two axes (pitch and roll) or, by combining the two axes, can measure the tilt with high and repeatable accuracy and resolution with respect to a single direction of the horizontal plane over a range of ±180°. The digital output simplifies system design and reduces bills-of-material (BOM) cost by saving external digital-to-analog conversion or filtering.
To ease the adoption of the IIS2ICLX and accelerate application development, ST also provides specific software libraries to support sensor calibration and real-time computation of tilt angle. Such software libraries are part of the X-CUBE-MEMS1 expansion software package for STM32Cube.
The IIS2ICLX is housed in a high performance ceramic-cavity LGA package measuring 5 mm x 5 mm x 1,7 mm, with an operating temperature range of -40°C to +105°C.
Credit(s)
Further reading:
High-voltage analog multiplexers
30 September 2020, Altron Arrow , Analogue, Mixed Signal, LSI
Diodes Incorporated announces the PS508 and PS509 analog multiplexers that are capable of switching signal voltages of up to 36 V in an industrial environment. The high voltage capability of the devices 
...
Read more...
---
Low inductance SiC power module gate driver kit
31 August 2020, Altron Arrow , Analogue, Mixed Signal, LSI
The transformation to electrify transportation – from trains, trams and trolleys to buses, automobiles and EV chargers – continues at a rapid pace, as countries shift toward improved modes of transit 
...
Read more...
---
New GaN-on-SiC power amplifiers
31 August 2020, RFiber Solutions , Analogue, Mixed Signal, LSI
MACOM Technology Solutions, a leading supplier of semiconductor solutions, recently announced at the virtual International Microwave Symposium the introduction of its new gallium nitride on silicon carbide 
...
Read more...
---
USB Type-C charging controllers
29 July 2020, Avnet Silica , Power Electronics / Power Management
Designers can overcome the challenges of implementing USB-C Power Delivery (PD) with the MAX77958 USB-C PD controller and the MAX77962 28 W buck-boost charger from Maxim Integrated Products. As portable 
...
Read more...
---
DACs with 1 or 2 channels
31 August 2020, Altron Arrow , Analogue, Mixed Signal, LSI
The MCP47CXBXX/MCP48CXBXX are single- and dual-channel 8-bit, 10-bit and 12-bit buffered voltage output digital-to-analog converters (DAC), with volatile or MTP memory and an I2C/SPI interface. The MTP 
...
Read more...
---
Data buffer for high performance server and cloud service applications
30 September 2020, Hi-Q Electronics , Analogue, Mixed Signal, LSI
Renesas Electronics Corporation has introduced a new high speed, low power DDR5 data buffer for data centre, server and high-performance workstation applications. Advancements over the past few years 
...
Read more...
---
Smoke detection matters
30 September 2020, Altron Arrow , Editor's Choice, Analogue, Mixed Signal, LSI
Smoke detection regulations are critically important when the value proposition is as basic as human life itself.
Read more...
---
11th Gen Intel Core processors with new design options
30 September 2020, Avnet Silica , Computer/Embedded Technology
In parallel with the 11th Gen Intel Core processor launch (code named Tiger Lake), congatec has launched both its first COM-HPC Client size A module and a next generation COM Express Compact Computer-on-Module. 
...
Read more...
---
Temperature-compensated quartz crystal oscillators
30 September 2020, Hi-Q Electronics , Analogue, Mixed Signal, LSI
With it's compact, power-saving and highly precise specifications, Jauch's new TCXO JT21S is particularly suitable for use in wireless applications and ensures a stable frequency across all RF standards 
...
Read more...
---
Microthermal liquid flow sensors
29 July 2020, Electrocomp , Analogue, Mixed Signal, LSI
The SLF3x liquid flow sensor series from Sensirion represents an advancement for microthermal liquid flow sensors. By combining Sensirion's 20-year track record in low and lowest flow rate sensing with 
...
Read more...
---