printer friendly version
High accuracy inclinometer with machine learning core
30 September 2020
Analogue, Mixed Signal, LSI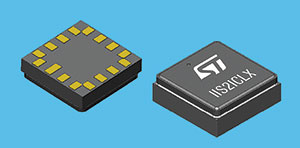 The IIS2ICLX from STMicroelectronics is a high accuracy, low power, 2-axis digital inclinometer for use in applications such as industrial automation and structural health monitoring.
It features a programmable machine learning core and 16 independent programmable finite state machines that help edge devices save power and reduce data transfers to the cloud.
With its advanced embedded functions, the IIS2ICLX lowers system-level power consumption to extend the operation of battery-powered nodes. The sensor's inherent characteristics simplify integration into high-performing products, while minimising the effort and cost of calibration.
Using MEMS accelerometer technology, the IIS2ICLX inclinometer has a selectable full scale of ±0,5/±1/±2/±3 g and provides outputs over a I2C or SPI digital interface. Embedded compensation maintains stability over temperature to within 0,075 mg/°C, ensuring high accuracy and repeatability even when ambient temperatures undergo extreme fluctuations. Its ultra-low noise density of 15 μg/√Hz enables high resolution tilt sensing as well as sensing of low level, low frequency vibration, as required in structural health monitoring.
The combination of high stability and repeatability, high accuracy and high resolution make the IIS2ICLX particularly suited to industrial applications such as antenna pointing and monitoring, platform levelling, forklift and construction machines, levelling instruments, equipment installation and monitoring and installation and sun tracking for solar panels, as well as Industry 4.0 applications such as robots and autonomous guided vehicles (AGVs).
In structural health monitoring, accurately measuring inclination and vibration with the IIS2ICLX can help assess the integrity of structures such as tall towers and infrastructure like bridges or tunnels. Affordable, battery powered MEMS tilt sensors containing the IIS2ICLX enable many more structures to be monitored for safety than has been economically viable using earlier, more expensive technologies.
Whereas many high accuracy inclinometers are single-axis devices, the 2-axis IIS2ICLX accelerometer can sense the tilt with respect to a horizontal plane along two axes (pitch and roll) or, by combining the two axes, can measure the tilt with high and repeatable accuracy and resolution with respect to a single direction of the horizontal plane over a range of ±180°. The digital output simplifies system design and reduces bills-of-material (BOM) cost by saving external digital-to-analog conversion or filtering.
To ease the adoption of the IIS2ICLX and accelerate application development, ST also provides specific software libraries to support sensor calibration and real-time computation of tilt angle. Such software libraries are part of the X-CUBE-MEMS1 expansion software package for STM32Cube.
The IIS2ICLX is housed in a high performance ceramic-cavity LGA package measuring 5 mm x 5 mm x 1,7 mm, with an operating temperature range of -40°C to +105°C.
Further reading:
Compact bias tees with up to 35 GHz bandwidth
31 March 2021, RF Design , Analogue, Mixed Signal, LSI
Designers can save design time and time-to-market by using a proven bias solution from the high-frequency specialist company, Marki Microwave. Its new line of surface mount bias tees, featuring up to 
...
Read more...
---
Bidirectional logic-level voltage translators
31 March 2021, Altron Arrow , Analogue, Mixed Signal, LSI
The 74LVC2T45 and 74LVCH2T45 from Diodes Incorporated provide logic-level voltage translation between devices that operate from different supply rails. The devices have dual power supplies and support 
...
Read more...
---
Evaluate 3D magnetic sensors in under ten minutes
31 March 2021, Altron Arrow , Analogue, Mixed Signal, LSI
You probably think that it's not possible to evaluate a 3D magnetic sensor in less than ten minutes? Think again! Anything is possible with Infineon's 2GO kits. Its 3D magnetic sensor 2GO kit is a budget-priced 
...
Read more...
---
How best to calculate DAC signal chain error budget
26 February 2021 , Analogue, Mixed Signal, LSI
Electrical signal chains can be found in various forms. They can consist of different electrical components, including sensors, actuators, amplifiers, analog-to-digital converters (ADCs), digital-to-analog 
...
Read more...
---
Inline industrial temperature sensor
26 February 2021, TRX Electronics , Analogue, Mixed Signal, LSI
Amphenol Advanced Sensors offers an inline flow-through temperature sensor that monitors the temperature of a fluid that passes through it. A system control module receives this temperature reading 
...
Read more...
---
Multi-parameter vital signs monitoring is easier than ever before
31 March 2021, Altron Arrow , Analogue, Mixed Signal, LSI
There is rapid expansion and adoption of digital healthcare fuelled by the continuous advancement in electronics and breakthroughs in cloud computing, AI, and communication technologies.
Read more...
---
Closed-loop MEMS accelerometer
26 February 2021, Electrocomp , Analogue, Mixed Signal, LSI
TDK announced the release of Tronics AXO315, a miniature, 1-axis closed-loop MEMS accelerometer with a 24-bit digital SPI interface and SMD package that reaches quartz sensor performance, outperforms 
...
Read more...
---
Shielded 1,0 GHz A/D driver
25 November 2020, RFiber Solutions , Analogue, Mixed Signal, LSI
The AM3073A from Atlanta Micro is a shielded A/D driver module that provides amplification and anti-aliasing filtering of the 1,0 GHz IF output of the AM9017 tuner module. The AM3073A offers 500 MHz 
...
Read more...
---
Motion sensors for industrial applications
26 February 2021, Electrocomp , Analogue, Mixed Signal, LSI
TDK has launched a new compact and low-power InvenSense SmartIndustrial sensor platform family. With its support for an extended temperature range of -40°C to 105°C, the new family of 3-axis accelerometers 
...
Read more...
---
How a 16-bit output module can be controlled with full isolation from the MCU
25 November 2020, Altron Arrow , Analogue, Mixed Signal, LSI
Whether in buildings or on production floors, programmable controllers are needed everywhere today to regulate various processes, machines, and systems. This involves programmable logic controllers (PLCs) 
...
Read more...
---