printer friendly version
The Huawei Wi-Fi mesh
1 September 2020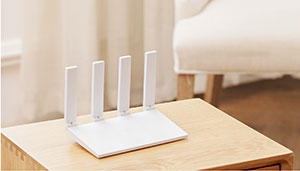 How we use the internet and what we use it for has evolved considerably over the past few years. The internet now enables us to work from home, stream our favourite shows and even home-school the kids. But these tasks all have one thing in common – we need reliable, fast, and trustworthy Wi-Fi in order to do them effectively.
The key to having the best internet experience has consistently been dependent on the router you use. A router needs to provide sufficient coverage to every corner of your home, delivering a buffer-free experience everywhere. With this in mind, Huawei recently unveiled the Huawei Wi-Fi Mesh Solution, which provides a Wi-Fi network system that is fast, versatile and stable.
Huawei Mesh Wi-Fi is achieved by using two or more fibre routers to create a seamless network. Mesh routers capture signal more rapidly and send stronger Wi-Fi signals that can cover up to 100 m2 per router.
Conventional routers are designed to keep your device connected at all times. These routers, at times, provide limited coverage that becomes spotty the further you move away from them. The Huawei Mesh network provides coverage throughout the home and ensures a consistently strong blanket-signal in every room. The solution enables you to simultaneously connect up to 64 different devices, such as phones, tablets or notebooks, and still provide a stable connection for each device.
The high-performance antennas are broadened and foldable, which allows them to bring various Wi-Fi signals together. The Mesh automatically steers devices to the most appropriate band, based on location, distance and device type, prioritising the bolstered 5 GHz band where possible. This enables the routers to form one wireless network and ensures your devices automatically connect to the fastest and strongest frequency based on your location while moving around in your home or office.
The HUAWEI WiFi WS5200 V2 is equipped with a Huawei dual-core 800 MHz processor and twice the RAM of conventional routers, which vastly increases the performance demands of the modern user. Compared with the previous generation, the powerful CPU upgrade provides a stable connection for more devices and more services simultaneously. Three highlights of the WS5200:
1. Dual-core 800 MHz CPU for high performance. Wi-Fi performance is significantly improved compared to the previous generation. 2,4 GHz Wi-Fi is improved by 60%, and 5 GHz Wi-Fi is improved by 25%.
2. Four 5 dBi high performance antennas for better coverage.
3. Automatically connects to the best Wi-Fi frequency (2,4 GHz/5 GHz) based on to the location of the device.
Further reading:
Protecting you and your home with IoT
Smart Home Automation
IoT technology gives people the power to keep a watchful eye on what is important to them, whether they are 200 metres or 200 kilometres away.
Read more...
---
Is a wireless home automation system a good investment?
Wireless home automation systems come with so much developed technology that they are impossible to ignore if you want to create a smart home.
Read more...
---
Adapt your home to your lifestyle
The Came Domotic3.0 home automation system allows people to manage all the automated devices in their home according to their lifestyle needs.
Read more...
---
Six smart home trends that will transform life in the home and far beyond
The Transformational Smart Home will expand in capability, function and activity, and will reflect the wider global needs of the planet, economies, societies and individuals.
Read more...
---
Maximising off-grid energy in South Africa
xStorage Home lets households store energy to use when needed, reducing their CO
2
footprint.
Read more...
---
Smart home weather stations
Legrand Southern Africa
Legrand's Netatmo smart home weather stations are an easy and efficient way to understand and monitor a home's indoor and outdoor environment.
Read more...
---
Creston Mercury provides a complete conference room solution
One easy-to-use console enables people to work together regardless of location or web collaboration application.
Read more...
---
Smart access control with a smart app
dormakaba South Africa
Dormakaba has introduced the evolo smart app, an app that enables users to control access rights using a smartphone, access card or key fob for up to 50 users.
Read more...
---
Seven tips for securing your home IT
Technews Publishing
Paul Ducklin, principal research scientist at IT security company Sophos, offers some tips for keeping IoT devices and other connected computers secure at home.
Read more...
---
Domestic staff should be your partners in home security
Homeowners should be vetting domestic staff and equipping them to be able to protect themselves and their property.
Read more...
---