printer friendly version
Keep the whole family protected
1 September 2020
Vox has announced the launch of Kaspersky Total Security, a cost-effective solution that blocks viruses, secures your passwords, and helps manage internet access for children, providing the ultimate level of protection for families in the digital age.
"Kaspersky Total Security provides a premium level of protection to maintain privacy of families online, as well as corporate networks and data, while employees are working from home. There are several cost-effective monthly packages on offer, including ones that are designed to protect multiple users or devices, regardless of whether they are using a Windows PC, a Mac, or a mobile," says Ryan McGee, head of Security Solutions at Vox.
Social distancing guidelines mean that companies still can't have all their employees back at work, and are having to juggle between either creating rosters so employees can take turns coming into the office, or by letting employees continue to work from home.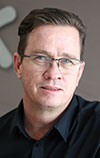 Ryan McGee.
These changes have been a boon for cyber criminals too, who have been targeting remote workers. While some companies have their own IT department to maintain the security of their data and networks, the situation isn't the same when employees are working from home. While their work laptop might be secure, what about all their other devices, all of which are connected to the same home network?
"Kaspersky Total Security is simple to set up and use, and goes about its tasks while having a minimal impact on your device's performance. Its features include an award-winning anti-virus to block viruses, malware and ransomware; privacy protection, to stop phishing attacks or webcam hijacks; a smart VPN, which is automatically activated when you connect to unsafe/public Wi-Fi; and an encrypted web browser to protect your online transactions on PC or Mac," says McGee.
Other handy features include a password manager to keep track of all your logins and synchronise them across your devices; file protection to backup your valuable data locally and online; and advanced parental controls that help block certain content across children's devices, and even includes a GPS tracker.
There are currently three packages, developed around the number of devices covered, that are available on a 12-month contract. This includes protection for one device, at R37 per month, for three devices at R54 per month, and for five devices at R64 per month. Note that all devices that you want to protect and manage need to have their own license.
For more information, visit https://www.vox.co.za/security/it-security-toolbox/?prod=SME
Credit(s)
Further reading:
Colour monitoring in dark environments
30 September 2020, Hikvision South Africa
EZVIZ Launches C3X: a dual-lens colour night vision security camera with built-in AI to detect vehicle and person motion events.
Read more...
---
Ring Africa launches in SA
30 September 2020
Ring Africa raises the bar on smart and affordable home security with innovative security cameras.
Read more...
---
The Huawei Wi-Fi mesh
30 September 2020
The Huawei Mesh network provides coverage throughout the home and ensures a consistently strong blanket-signal in every room.
Read more...
---
Distinct technology capabilities draped in luxury
30 September 2020
BNC Technology merges immersive design with expansive technology prowess, to enrich any entertainment experience, whether it's home cinema, audio visual, home automation or world-class remote security systems.
Read more...
---
Take security to the next level
30 September 2020, Yale Security (SA)
Yale's Smart Home Alarm sends email alerts, push notifications or even a text when an alarm is triggered.
Read more...
---
New method to defend against smart home device attacks
29 July 2020
Researchers have developed a new method that enables telecommunications and Internet service providers to monitor vulnerable smart home devices.
Read more...
---
Came Domotic 3.0: smart technology to adapt your home to the lifestyle of the people who live in it
29 July 2020
Came's home automation system gives you total control so that you can manage comfort and security with a focus on energy saving.
Read more...
---
Modern homes work for the owner
29 July 2020
The challenge is how to integrate systems so that they're easy to operate and don't end up adding more complexity.
Read more...
---
'Works With' smart home virtual conference
29 July 2020
From 9-10 September 2020, Silicon Labs will be hosting a virtual conference that aims to help those interested in smart home automation to learn to work with Silicon Labs' ecosystem of partners from Amazon, 
...
Read more...
---
Cost-effective smart building retrofit system
29 July 2020, ElectroMechanica
Retrofitting older building stock with 'smart' automation solutions is now possible with the latest Hager system introduced locally by leading supplier ElectroMechanica (EM). Known as coviva, the system 
...
Read more...
---