printer friendly version
Keep the whole family protected
1 September 2020
Vox has announced the launch of Kaspersky Total Security, a cost-effective solution that blocks viruses, secures your passwords, and helps manage internet access for children, providing the ultimate level of protection for families in the digital age.
"Kaspersky Total Security provides a premium level of protection to maintain privacy of families online, as well as corporate networks and data, while employees are working from home. There are several cost-effective monthly packages on offer, including ones that are designed to protect multiple users or devices, regardless of whether they are using a Windows PC, a Mac, or a mobile," says Ryan McGee, head of Security Solutions at Vox.
Social distancing guidelines mean that companies still can't have all their employees back at work, and are having to juggle between either creating rosters so employees can take turns coming into the office, or by letting employees continue to work from home.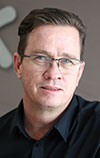 Ryan McGee.
These changes have been a boon for cyber criminals too, who have been targeting remote workers. While some companies have their own IT department to maintain the security of their data and networks, the situation isn't the same when employees are working from home. While their work laptop might be secure, what about all their other devices, all of which are connected to the same home network?
"Kaspersky Total Security is simple to set up and use, and goes about its tasks while having a minimal impact on your device's performance. Its features include an award-winning anti-virus to block viruses, malware and ransomware; privacy protection, to stop phishing attacks or webcam hijacks; a smart VPN, which is automatically activated when you connect to unsafe/public Wi-Fi; and an encrypted web browser to protect your online transactions on PC or Mac," says McGee.
Other handy features include a password manager to keep track of all your logins and synchronise them across your devices; file protection to backup your valuable data locally and online; and advanced parental controls that help block certain content across children's devices, and even includes a GPS tracker.
There are currently three packages, developed around the number of devices covered, that are available on a 12-month contract. This includes protection for one device, at R37 per month, for three devices at R54 per month, and for five devices at R64 per month. Note that all devices that you want to protect and manage need to have their own license.
For more information, visit https://www.vox.co.za/security/it-security-toolbox/?prod=SME
Credit(s)
Further reading:
Protecting you and your home with IoT
Smart Home Automation
IoT technology gives people the power to keep a watchful eye on what is important to them, whether they are 200 metres or 200 kilometres away.
Read more...
---
Is a wireless home automation system a good investment?
Wireless home automation systems come with so much developed technology that they are impossible to ignore if you want to create a smart home.
Read more...
---
Adapt your home to your lifestyle
The Came Domotic3.0 home automation system allows people to manage all the automated devices in their home according to their lifestyle needs.
Read more...
---
Six smart home trends that will transform life in the home and far beyond
The Transformational Smart Home will expand in capability, function and activity, and will reflect the wider global needs of the planet, economies, societies and individuals.
Read more...
---
Maximising off-grid energy in South Africa
xStorage Home lets households store energy to use when needed, reducing their CO
2
footprint.
Read more...
---
Smart home weather stations
Legrand Southern Africa
Legrand's Netatmo smart home weather stations are an easy and efficient way to understand and monitor a home's indoor and outdoor environment.
Read more...
---
Creston Mercury provides a complete conference room solution
One easy-to-use console enables people to work together regardless of location or web collaboration application.
Read more...
---
Smart access control with a smart app
dormakaba South Africa
Dormakaba has introduced the evolo smart app, an app that enables users to control access rights using a smartphone, access card or key fob for up to 50 users.
Read more...
---
Seven tips for securing your home IT
Technews Publishing
Paul Ducklin, principal research scientist at IT security company Sophos, offers some tips for keeping IoT devices and other connected computers secure at home.
Read more...
---
Domestic staff should be your partners in home security
Homeowners should be vetting domestic staff and equipping them to be able to protect themselves and their property.
Read more...
---