printer friendly version
Efficient IoT gateway
30 September 2020
Telecoms, Datacoms, Wireless, IoT
The Cinterion EGX81 Efficient Gateway raises the bar on IoT simplicity by quickly connecting industrial IoT solutions with virtually zero design time and minimal integration effort. It greatly accelerates time-to-market, offering plug-and-play low-power wide-area (LPWA) global connectivity that supports an easy evolution to 5G as technology needs change. The compact, feature-rich device delivers out-of-the-box LTE-M, NB-IoT and 2G connectivity from a single global SKU. An ultra-rugged housing and range of highly efficient IoT-optimised data speeds make the EGX81 gateway ideal for battery operated, remote use cases such as track-and-trace, smart meters, smart city, agriculture, connected sensors and healthcare applications.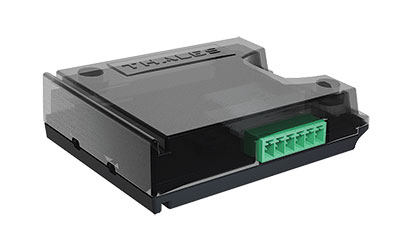 The Cinterion EGX81 gateway supports all LTE bands plus Quad Band GSM and it delivers a suite of MTC technologies including LTE Cat. M1, Cat. NB1 and Cat. NB2. Support for 3GPP Release 14 eliminates the need for hardware updates when technology needs evolve, which is especially important as 5G spreads worldwide. An efficient architecture provides the highest efficiency for a long life by leveraging revolutionary power class 5 (20 dBm) and efficient eDRX and PSM. State-of-the-art security features protect the device and data with a secure boot, trusted identities pre-integrated in the root of the gateway and secure key storage enabling trustful enrolment in cloud platforms. An optional integrated Gemalto eSIM strengthens security, simplifies manufacturing and streamlines logistics while providing flexibility in the field with easy remote provisioning and dynamic subscription updates.
What's more, the EGX81 gateway is supported by Cinterion IoT Suite Services, a platform that helps IoT fleet operators manage the connectivity, security and software lifecycle of IoT solutions enabling business continuity and longer application lifespans. Additionally, a Thales programmable hardware watchdog ensures reliable operation and the unique incremental firmware over-the-air (FOTA) implementation dramatically reduces the size of update binaries, thereby stretching battery life.
Plug-and-play simplicity speeds up deployment
Simple and reliable plug-and-play cellular connectivity quickly connects industrial applications with very little integration or approval effort. It gives new implementers a cost-effective, easy way to bring IoT optimisation to their enterprise.
Incremental FOTA ensures power efficiency and longevity
Incremental firmware over-the-air updates allow revision of only the portion of code that needs updating. This significantly reduces transmission time, power draw and throughput, which are all essential in preserving the investment in NB-IoT technology over the long life of IoT solutions.
Optional Thales eSIM simplifies and secures IoT connectivity
An embedded SIM strengthens security, authenticates devices, encrypts data and securely manages connections to cellular networks. It works seamlessly with Thales's subscription management solution to maintain connectivity for the lifecycle of devices. All this simplifies integration, manufacturing and logistics and lowers TCO.
Credit(s)
Further reading:
V2X transceiver modules
30 September 2020, RF Design , Telecoms, Datacoms, Wireless, IoT
The VERA-P3 Series from u-blox are automotive grade 802.11p V2X (vehicle-to-everything) transceiver modules that operate in the 5,9 GHz frequency band. These automotive-grade modules are based on the 
...
Read more...
---
Voltage tuneable notch filter bank
30 September 2020, RFiber Solutions , Telecoms, Datacoms, Wireless, IoT
Atlanta Micro's AM3129 is a miniature voltage-tuneable notch filter bank covering the 1,0 to 6,0 GHz frequency range in a 4 mm QFN package. Six notch filters and two bypass paths with SP8T switches on 
...
Read more...
---
Permanent mounting MIMO antenna for Wi-Fi
30 September 2020, RF Design , Telecoms, Datacoms, Wireless, IoT
The Ultima MA530 MIMO antenna from Taoglas is a low-profile, heavy-duty, fully IP67 waterproof external M2M antenna for use in transportation and remote monitoring applications. It provides high efficiency 
...
Read more...
---
SPST RF switch for high-performance aperture tuning
30 September 2020, Hi-Q Electronics , Telecoms, Datacoms, Wireless, IoT
Skyworks has introduced the SKY59272-707LF, a single-pole, single-throw (4xSPST) switch designed for antenna tuning applications that require ultra-low off-capacitance and low on-resistance. This device 
...
Read more...
---
Applications for RF electromechanical relay switches
30 September 2020, RF Design , Telecoms, Datacoms, Wireless, IoT
RF electromechanical switches are a key active device in many signal chains, including time-domain duplex communications and pulsed radar applications. Such switches can be as simple as a 3-port toggle 
...
Read more...
---
Diplexer for GNSS L1 and L2
31 August 2020, RF Design , Telecoms, Datacoms, Wireless, IoT
The Taoglas DXP.01.A is a diplexer for GNSS L1 and L2. This advanced compact SAW diplexer is for use in any navigation system application using the GPS/GALILEO L1, GLONASS L2 and BeiDou B2 bands. The 
...
Read more...
---
Quectel unveils SA800U-WF premium smart module to enable computing and multimedia applications on Android OS devices
31 August 2020, iCorp Technologies , Telecoms, Datacoms, Wireless, IoT
Quectel Wireless solutions has launched its SA800U-WF premium smart module which features a built-in Android 9.0 or 10.0 operating system (OS). The new module features a high performance, low power 64-bit 
...
Read more...
---
Directional coupler
31 August 2020, RF Design , Telecoms, Datacoms, Wireless, IoT
The MC16-0222SM from Marki Microwave is a directional coupler with frequency DC to 22 GHz, coupling 16&nbspdB, directivity 14 to 23&nbspdB, insertion loss 1,2 to 3,5&nbspdB, and operating temperature 
...
Read more...
---
Bluetooth wearable tags for social distancing
31 August 2020, RF Design , Telecoms, Datacoms, Wireless, IoT
Nordic Semiconductor has announced that DigitalAlerts, an Eindhoven, Netherlands-based designer and manufacturer of smart digital warning systems, has selected Nordic's nRF51822 Bluetooth Low Energy (Bluetooth 
...
Read more...
---
RF variable attenuator
31 August 2020, RF Design , Telecoms, Datacoms, Wireless, IoT
The 4205A-95.5 from API Technologies – Weinschel is a Programmable Attenuator that operates from 0,3 to 6000 MHz. It has an attenuation range from 0 to 95,75 dB with 0,25 dB steps, an insertion loss of 
...
Read more...
---