printer friendly version
Renesas expands wireless power portfolio
30 September 2020
Telecoms, Datacoms, Wireless, IoT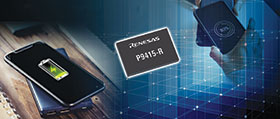 Renesas Electronics Corporation has introduced the P9415-R wireless power receiver with its exclusive WattShare technology as the newest member of its wireless power solutions portfolio. The new 15 W wireless power receiver enables smartphones, power banks and portable industrial and medical equipment to wirelessly charge other mobile devices and accessories that also have wireless charging capabilities. The P9415-R features up to 5 W of transmit power capability in transmitter/receiver (TRx) mode, as well as receive up to 15 W on Qi transmitters, enabling quick and convenient mobile device charging on the go.
"2020 will be the year wireless charging moves into the mainstream, expanding from premium smartphones to include mid-range devices, and gaining broader adoption into consumer and industrial devices beyond the smartphone market," said Andrew Cowell, vice president of the Mobility, Infrastructure & IoT Power Business Division. "With the P9415-R, we are excited to bring our state-of-the-art WattShare technology to a wider audience, offering customers broader access to robust, scalable and flexible solutions that enable quick, convenient and cost-effective wireless charging for portable devices."
Based on Renesas' proprietary WattShare technology, the P9415-R combines receiver and transmitter capabilities, allowing smartphones, smartwatches, truly wireless ear buds and other devices to be wirelessly charged simply by placing them on top of a smartphone or other industrial and medical portable devices. In WattShare TRx mode, the P9415-R enables these mobile devices to change the power flow direction and deliver up to 5 W of power to charge other devices. Customers can use the same wireless power coil and same P9415 circuitry to both receive and transmit power wirelessly.
Key features of the P9415-R wireless power receiver include:
• MTP non-volatile memory for easy firmware and device function updates.
• GUI support offering greater flexibility for user customisation.
• Receives up to 30 W in proprietary mode.
• UVLO as low as 2,7 V for increased available charging area and fast connections.
• Improved IOUT sensing accuracy for improved foreign object detection capabilities.
• Supports an easier path to QI certification and speeds time to market.
• Bi-directional communications to support proprietary authentication with encryption.
• X-Y alignment circuitry for better receiver/transmitter device alignment.
• WPC 1.3 ready – Renesas' first WPC 1.3-ready wireless power receiver.
Renesas is the global leader in wireless power solutions for both the power receivers (PRx) used in smartphones and other applications, as well as the power transmitters (PTx) used in charging pads and automotive in-car applications.
Credit(s)
Further reading:
Connectivity for IoT devices with SoftSIM
Otto Wireless Solutions Telecoms, Datacoms, Wireless, IoT
IoT device vendors are facing more and more complex cellular connectivity issues these days. Manufacturing is often outsourced to third-party factories and finished devices are being distributed to many 
...
Read more...
---
Embedded GNSS antenna with integrated LNA
RF Design Telecoms, Datacoms, Wireless, IoT
The HC990EXF from Tallysman is an extended-filter embedded GNSS helical antenna. This RHCP (right-hand circular polarised) antenna provides a peak gain of 3 dBi at full bandwidth and has an axial ratio 
...
Read more...
---
Wireless asset tag supporting Quuppa RTLS
EBV Electrolink Telecoms, Datacoms, Wireless, IoT
onsemi unveiled a new system solution that overcomes the main challenges associated with developing asset tracking tags. Battery life has been a major obstacle to asset tag adoption, particularly within 
...
Read more...
---
Wi-Fi SoCs with USB interface
iCorp Technologies Telecoms, Datacoms, Wireless, IoT
USB (Universal Serial Bus) is an industry standard that enables communication between a host controller and peripherals or other devices. A USB interface is integrated into Espressif Systems' ESP32-S 
...
Read more...
---
RS-485/422 differential transceivers
Hi-Q Electronics Telecoms, Datacoms, Wireless, IoT
Renesas has expanded its RS-485/422 portfolio with the RAA78815x family of 5 V differential transceivers with electrical fast transient (EFT) immunity of ±5000 V and ESD protection up to ±16 000 V, making 
...
Read more...
---
NB-IoT roll-out will rapidly increase adoption
Flickswitch Telecoms, Datacoms, Wireless, IoT
In today's ever-evolving world, catching the IoT wave is critical. Surveys show that four out of five businesses are investing in IoT, however, there are always questions when it comes to delivering long-term 
...
Read more...
---
Multi-mode LTE Cat. 4 module
iCorp Technologies Telecoms, Datacoms, Wireless, IoT
The SC200R-EM is a new-generation multi-mode LTE Cat. 4 smart module measuring 40,5 mm × 40,5 mm × 2,8 mm with built-in Android OS, based on Qualcomm's ARM Cortex-A53 64-bit quad-core processor and built-in 
...
Read more...
---
Tiny Bluetooth module fit for industrial applications
RF Design Telecoms, Datacoms, Wireless, IoT
The newly released ANNA-B4 is u-blox' smallest Bluetooth module to date, packed with features tailored to the needs of industrial applications. This comes at a time when smart factories have matured from 
...
Read more...
---
Multiprotocol, dual-processor wireless SoC
RF Design Telecoms, Datacoms, Wireless, IoT
Nordic Semiconductor's nRF5340 high-end multiprotocol system-on-chip (SoC) became the first member of its next generation of nRF5 Series SoCs. The nRF5340 builds on Nordic's proven and globally adopted 
...
Read more...
---
Cloud platform securely manages and connects edge devices
Avnet Silica Telecoms, Datacoms, Wireless, IoT
NXP Semiconductors' EdgeLock 2GO IoT service platform enables easy, secure deployment and management of IoT devices and services. The platform is integrated with NXP's Common Criteria (CC) EAL 6+ certified 
...
Read more...
---