printer friendly version
11th Gen Intel Core processors with new design options
30 September 2020
Computer/Embedded Technology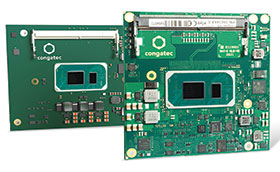 In parallel with the 11th Gen Intel Core processor launch (code named Tiger Lake), congatec has launched both its first COM-HPC Client size A module and a next generation COM Express Compact Computer-on-Module.
This provides engineers the choice to further scale the performance of their existing systems or develop the next generation of products utilising COM-HPC's broader array of interfaces. OEMs will benefit from the substantial performance improvements as well as communication enhancements that the new modules based on 11th Gen Intel Core processors deliver to the high-end computing sector. Typical applications can be found in many high-end solutions, from embedded systems and edge computing nodes to network hubs and local fog data centres to core network appliances, as well as ruggedised central cloud data centres for critical government applications.
"congatec's modules based on the 11th Gen Intel Core processors feature high-performance CPU/GPU compute with integrated AI acceleration for critical applications that demand high-speed processing and computer vision," explains Gerhard Edi, CTO at congatec. The highlights of the 11th Gen Intel Core processors provide a massive CPU performance boost, fast DDR4 memory, expansive PCIe Gen4 and USB 4.0 bandwidth. These performance enhancements are complemented by features that are critical for communication connected edge computers such as congatec's support for hypervisor technologies e.g. from Real-Time Systems. All this comes in a powerful and energy-efficient package leveraging Intel's SuperFin technology, delivering increased power savings, physical density and providing even more compute power for given thermal envelopes.
The benefits of choice
"For the first time, design engineers now have the choice to go either with COM Express or COM-HPC. Each provide unique benefits, for example, we have an improved next-gen connector for COM Express that is expected to offer better bandwidth capacities compared to what was available in the past. This is essential information for engineers thinking about utilising the high bandwidth interfaces such as PCIe Gen 4. Engineers choosing COM-HPC will benefit from far more high-speed interfaces delivered over 800 signal pins in total. This is almost twice as many pins as COM Express Type 6 modules deliver with 440 pins," explains Andreas Bergbauer, product line manager at congatec. To help engineers make the best choice, congatec provides engineering support and is creating a COM Express and COM-HPC design decision guide and a whitepaper.
Even more innovations and benefits
It is important to mention that besides PCIe Gen 4, the new congatec Computer-on-Modules with low-power 11th Gen Intel Core processors also offer USB 4.0, which is fundamentally based on Intel's Thunderbolt technology. USB 4.0 supports amazing data transfer rates of up to 40 Gbit/s and tunneling of PCIe 4.0, as well as DP-Alt mode supporting video signals of up to 8k resolution with 10-bit HDR at 60 Hz.
The feature set in detail
The COM-HPC Client size A module conga-HPC/cTLU, as well as the COM Express Compact conga-TC570, will become available with the 11th Gen Intel Core processors. Both modules are the first to support PCIe x4 in Gen 4 quality to connect external peripherals with massive bandwidth. In addition, designers can leverage 8x PCIe Gen 3.0 x 1 lanes. Where the COM-HPC module offers latest 2x USB 4.0 and 2x USB 3.2 Gen 2 and 8x USB  2.0, the COM Express module offers 4x USB 3.2 Gen 2 and 8x USB 2.0 in compliance to the PICMG specification. Sound is provided via I2S, SoundWire by COM-HPC and HDA by COM Express modules. Comprehensive board support packages are provided for all leading OSs like Linux, Windows and Chrome, as well as hypervisor support from Real Time Systems.
Credit(s)
Further reading:
BC200 Boxed Rugged Industrial Configurable PC
31 August 2020, Rugged Interconnect Technologies , Computer/Embedded Technology
• Based on proven 3U CompactPCI.Serial technologies • The system is user configurable for unlimited solutions supporting: • 4HP/8HP Processor boards configured with I/O side cards • 4HP/8HP Peripheral 
...
Read more...
---
USB Type-C charging controllers
29 July 2020, Avnet Silica , Power Electronics / Power Management
Designers can overcome the challenges of implementing USB-C Power Delivery (PD) with the MAX77958 USB-C PD controller and the MAX77962 28 W buck-boost charger from Maxim Integrated Products. As portable 
...
Read more...
---
Data recorder qualified for aerospace
31 August 2020, Rugged Interconnect Technologies , Computer/Embedded Technology
The Galleon G1 microRecorder is a powerful gigabit and 10Gb Ethernet recorder in an extremely small enclosure. It is designed to meet the most severe environmental conditions without compromising on functionality 
...
Read more...
---
High accuracy inclinometer with machine learning core
30 September 2020, Avnet Silica , Analogue, Mixed Signal, LSI
The IIS2ICLX from STMicroelectronics is a high accuracy, low power, 2-axis digital inclinometer for use in applications such as industrial automation and structural health monitoring. It features a 
...
Read more...
---
PCIe board for wireless applications
29 July 2020, Rugged Interconnect Technologies , Computer/Embedded Technology
Pentek introduced an addition to the Quartz RFSoC architecture family, the Model 7050, an eight-channel A/D and D/A converter, PCIe double-wide board based on the Xilinx Zynq UltraScale+ RFSoC. The Model 
...
Read more...
---
Sensor bridge for 1-Wire protocol
31 August 2020, Avnet Silica , Telecoms, Datacoms, Wireless, IoT
Designers expanding connections to remote sensor networks can now reduce complexity and cost to the industry's lowest levels with the DS28E18 1-Wire to I
2
C/SPI bridge from Maxim Integrated Products. By 
...
Read more...
---
Smallest automotive maXTouch controllers
29 July 2020, Altron Arrow, Avnet Silica , DSP, Micros & Memory
To help enhance and ease today's driving experience, automotive manufacturers are implementing additional touch displays beyond the centre infotainment display (CID). Supporting the application of these 
...
Read more...
---
Configured computing systems and individual elements
29 July 2020, Vepac Electronics , Computer/Embedded Technology
Verotec has a selection of configured systems plus individual elements such as backplanes, power supplies and cooling products, which are compliant with the PICMG/VITA specifications, and supported by 
...
Read more...
---
Pentek accelerates real-time recording
29 July 2020, Rugged Interconnect Technologies , Computer/Embedded Technology
Pentek has introduced a new addition to the Talon series of recorders, the Model RTR 2757 4U 19-inch rackmount recorder. This new recorder complements Pentek's Quartz RFSoC products that stream digitised 
...
Read more...
---
3 kW TVS diode arrays
30 June 2020, Avnet Silica , Circuit & System Protection
To ensure critical operations, aviation and space systems rely on digital and logic functionality and circuitry in engine control units, environmental controls, instruments and actuators. Data centres, 
...
Read more...
---