printer friendly version
Bluetooth modules for COVID-19 track-and-trace wearables
30 September 2020
Telecoms, Datacoms, Wireless, IoT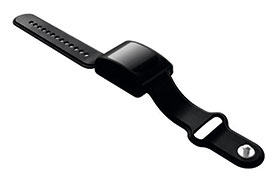 Ticking all the boxes in terms of size, power budget and breadth of functionality. u blox ,a global provider of leading positioning and wireless communication technologies and services, has confirmed that its Bluetooth 5 modules are being built into wearable devices that are helping to combat the global COVID-19 pandemic. Available as either a wristband or a pendant, the TDS 50 has been developed by Electronic Precepts to present a highly effective track-and-trace solution, with data being directly stored on the device then periodically sent to a Web server. In addition, through the social distancing function that is also featured, wearers are given visual and vibrational alerts if another TDS-50 wearer comes within a 2 metre distance of them for over 45 seconds. The device can be used anywhere, from schools to businesses or airport settings.
The TDS-50 units needed a compact form factor to make them comfortable for the user to wear. They also had to support ultra-low power operation, with the ability to deliver passive scanning (for social distancing purposes) over a period of up to 240 hours. Consequently, the wireless communication module specified had to meet both of these key criteria fully. Given the immediacy of the COVID crisis, it was crucial as well that the solution could be brought to market very rapidly − with the constituent RF electronics being quick and simple to incorporate into the design and having all the necessary standards approvals in place.
The u blox ANNA-B112 proved itself to have all the attributes needed. With dimensions of just 6,5 x 6,5 x 1,2 mm, this space-saving, highly integrated and pre-approved system-in-package (SiP) is optimised for situations where a swift turnaround is mandated. It is based on Nordic's nRF52832 chip-level Bluetooth technology, with a 64 MHz Arm Cortex-M4 processing resource plus 512 kB of embedded flash memory. Supporting 1,4 Mbit/s data rates, it is highly suited to wearables applications and does not impact heavily on battery reserves. "u blox was able to satisfy all our expectations with the ANNA-B112 module, allowing us to bring our track-and-trace device to market within a very short timeframe, while also addressing the stringent space and power constraints that had been set," says Jeff Singer, CEO of Electronic Precepts. "Over 10 000 TDS-50 units have already been shipped and demand is ramping up every day. We see huge potential for it in schools, businesses and theme parks, as well as within airport environments."
"This collaboration with Electronic Precepts gives us a valuable opportunity to highlight all of the key elements that make u blox technology so appealing to numerous industry sectors," adds Carl Bellanca, head of sales for u blox Americas. "It underlines our ability to provide cutting-edge wireless solutions that have all the necessary processing and data storage capabilities, while also taking up minimal space and drawing only a relatively small amount of power."
For more information contact Andrew Hutton, RF Design, +27 21 555 8400, andrew@rfdesign.co.za, www.rfdesign.co.za
Credit(s)
Further reading:
RF amplifier for linear and saturated applications
28 October 2020, RFiber Solutions , Telecoms, Datacoms, Wireless, IoT
The MAPC-A1103 is a high-power GaN-on-silicon-carbide HEMT D-mode amplifier suitable for DC to 2,7 GHz frequency operation. The device supports both CW and pulsed operation with peak output power levels 
...
Read more...
---
Antennas from Linx available from RS
25 November 2020, RS Components (SA) , Telecoms, Datacoms, Wireless, IoT
RS Components is now stocking a comprehensive range of antennas from wireless technology specialist, Linx Technologies. Linx, headquartered in Oregon, USA, produces antennas that enable design engineers 
...
Read more...
---
Major update to GNSS firewall software strengthens protection
25 November 2020, Comtest , Telecoms, Datacoms, Wireless, IoT
Critical infrastructure systems including power utilities, financial services, mobile networks and transportation rely on Global Positioning System (GPS)-delivered timing to ensure ongoing operations. 
...
Read more...
---
The difference between RF limiters and attenuators
25 November 2020, RF Design , Telecoms, Datacoms, Wireless, IoT
Both RF limiters and attenuators reduce the power of an RF signal. However, they do so in different ways that are key to understanding their use. These components are often used to protect sensitive RF 
...
Read more...
---
RTLS tag module for real-time positioning
25 November 2020, Altron Arrow , Telecoms, Datacoms, Wireless, IoT
Inpixon announced the launch of its newest smart tag module, the swarm bee LE V3, supporting a range of indoor and outdoor location applications including real-time location systems (RTLS). This is 
...
Read more...
---
Antenna selection and design for small IoT devices
25 November 2020, Avnet Abacus , Telecoms, Datacoms, Wireless, IoT
IoT devices are typically small and often have a severely limited power budget to operate for long periods from a small energy source such as a primary coin cell. While careful selection of ICs and modules, 
...
Read more...
---
Connectivity for IoT devices with SoftSIM platform
25 November 2020, Otto Wireless Solutions , Telecoms, Datacoms, Wireless, IoT
IoT device vendors are facing more and more complex cellular connectivity issues these days. Manufacturing is often outsourced to third-party factories and finished devices are being distributed to many 
...
Read more...
---
Otto Wireless Solutions' evolution into a wireless connectivity powerhouse
25 November 2020, Otto Wireless Solutions , Telecoms, Datacoms, Wireless, IoT
Otto Wireless Solutions, established in 2010, has gradually evolved into a South African powerhouse of industrial wireless connectivity, offering solutions which cover multiple industries with its suite 
...
Read more...
---
Nordic supports development of Amazon Sidewalk devices
25 November 2020, RF Design , Telecoms, Datacoms, Wireless, IoT
Nordic Semiconductor is cooperating with Amazon to develop Bluetooth Low Energy (Bluetooth LE) solutions for Amazon Sidewalk. Amazon Sidewalk is a neighbourhood network designed to help customer devices 
...
Read more...
---
4G USB device gateway makes IoT retrofitting easy
25 November 2020, Gemalto IoT (Cinterion Wireless Modules) , Telecoms, Datacoms, Wireless, IoT
As 2G and 3G networks phase out around the world, the Cinterion DGL61-W USB Device Gateway offers a simple and powerful solution for retrofitting existing IoT applications while providing seamless evolution 
...
Read more...
---