printer friendly version
Global analysis of the solid-state battery market
19 October 2020 Power Electronics / Power Management
The rapid growth of the electric vehicle market has driven the development, manufacture and sales of batteries, especially lithium-ion batteries. In the meantime, market research firm IDTechEx has identified a number of companies that are betting on the next big energy storage technologies, solid-state batteries being one of them.
The first application of solid-state electrolytes was in the 1970s as primary batteries for pacemakers, where a sheet of lithium metal is placed in contact with solid iodine. The two materials behave like a short-circuited cell and their reaction leads to the formation of a lithium iodide (LiI) layer at their interface. After the LiI layer has formed, a very small, constant current can still flow from the lithium anode to the iodine cathode for several years.
Fast forward to 2011, and researchers from Toyota and the Tokyo Institute of Technology claimed the discovery of a sulphide-base material that has the same ionic conductivity of a liquid electrolyte, something unthinkable just a decade ago. Five years later, they were able to double that value, thus also making solid-state electrolytes appealing for high-power applications and fast charging. This and other innovations have fuelled research and investments into new categories of materials that can triple the energy densities of current Li-ion batteries.
In 2015, Volkswagen invested in QuantumScape, Dyson acquired Sakti3, Bosch acquired SEEO and Johnson Battery Technologies sold its solid-state batteries to BP. Although in 2017 Bosch gave up SEEO and was selling the company, and Dyson abandoned the technologies of Sakti3, the interest in solid-state batteries never vanished. Ford, Samsung and Hyundai invested in Solid Power. The latter also partnered with BMW. Renault, Mitsubishi and Nissan invested in Ionic Materials. Additionally, in 2020 there are the newly developed solid-state batteries based on an argyrodite electrolyte by Samsung, and a further $200 million investment by Volkswagen in QuantumScape. Besides the companies already mentioned, Honda, Fisker, Panasonic, and CATL are also involved in this game.
Lithium-ion battery manufacturing has been dominated by East Asia, with Japan, China and South Korea playing a significant role. US and European countries are competing in the race, shifting the added values away from East Asia and building battery manufacturing close to the application market. Solid-state batteries can provide an opportunity to reshuffle the supply chain with the new active materials, components, manufacturing methods and know-how.
Solid-state batteries have had strategic importance in multiple countries and regions. For instance, Germany has earmarked 1 billion Euros to support a consortium looking to produce electric car battery cells, and plans to fund a research facility to develop next-generation solid-state batteries.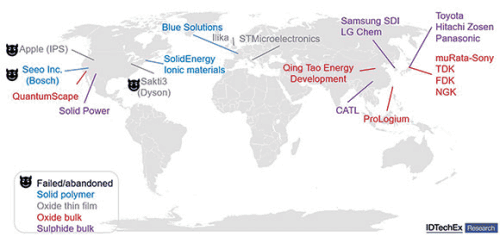 In the UK, a 30-month collaborative project, PowerDrive Line, will develop a lithium-based solid-state battery for EVs and PHEVs, and establish a pre-pilot line for this solid-state battery cell technology.
As of May 2018, the Japanese government has created a new research entity known as the Consortium for Lithium-Ion Battery Technology and Evaluation Center (Libtec) to push forward with research into solid-state batteries.
In South Korea, the three largest battery manufacturers – SK Innovation, LG Chem, and Samsung SDI – promote joint research on next-generation battery fields including solid-state batteries.
US solid-state battery companies have attracted investment from Asian and European battery vendors, carmakers, and venture capital funds.
The interests are heavily driven by the electric vehicle market and regional convenience is an important consideration for the next stage of commercialisation, especially based on the current situation with COVID-19 affecting consumers' purchasing decisions, lifestyle and influencing globalisation. This will lead to further consolidation and partnerships and it is highly likely that new solid-state battery manufacturing sites will be located near the electric vehicle application market, while startups far away from the application markets tend to license their technologies, rather than building manufacturing sites locally.
The global interests in solid-state batteries have been summarised in IDTechEx's report 'Solid-State and Polymer Batteries 2020-2030: Technology, Patents, Forecasts, Players'. For further understanding of the markets, players, technologies, opportunities and challenges, visit www.idtechex.com/ssb.
Further reading:
Miniature 4,4 A boost converter
28 October 2020, iCorp Technologies , Power Electronics / Power Management
The SGM6623 from SG Micro is a general-purpose, miniature boost DC-DC switching regulator with high efficiency for battery backup and standby power systems. The acceptable input voltage range is between 
...
Read more...
---
Double the power output from new Tadiran battery
25 November 2020, Altron Arrow , Power Electronics / Power Management
Tadiran has developed the latest in its PulsesPlus HLC battery range, doubling the power output of its previous offering. Recently the company launched the C-type HLC which represented a huge improvement 
...
Read more...
---
DIN-rail power supplies for harsh conditions
25 November 2020 , Power Electronics / Power Management
Available from Traco Power is a dedicated series of DIN-rail power solutions for harsh industrial applications. The TSP series' high immunity against electrical disturbances and rugged metal casing 
...
Read more...
---
SiC diodes for electric vehicles
25 November 2020, Altron Arrow , Power Electronics / Power Management
As vehicle electrification continues rapid growth worldwide, innovative power technologies such as silicon carbide (SiC) are required for high-voltage automotive systems ranging from motors to on-board 
...
Read more...
---
Single-cell battery charger
25 November 2020, iCorp Technologies , Power Electronics / Power Management
The SGM41511 is a battery charger and system power path management device with integrated converter and power switches for use with single-cell Li-ion or Li-polymer batteries. This highly integrated 3 A 
...
Read more...
---
Locally designed gang battery charger
25 November 2020, Seven Labs Technology , Power Electronics / Power Management
Made by Seven Labs Technology, the JuiceBar has 10 individually configurable chargers, each of which can be configured to charge the battery with a charge current of up to 2 A. What really makes the JuiceBar 
...
Read more...
---
Regenerative power system integrating two instruments
25 November 2020, Conical Technologies , Power Electronics / Power Management
The IT-M3600 regenerative power system from ITECH integrates two instruments in one, those being a bidirectional power supply and a regenerative electronic load. When used as a load, its energy recovery 
...
Read more...
---
Battery manufacturer enters South African market
25 November 2020 , Power Electronics / Power Management
Energon, a leading battery manufacturer based in Russia, has expanded its global presence to include new subsidiaries in Turkey (as the centre of a new cluster for eastern Europe, the Middle East and 
...
Read more...
---
Li-MnO2 and Li-ion batteries
25 November 2020, Surn Technologies , Power Electronics / Power Management
COROS Battery, which is located in Korea, has launched new 3,6 V Li-SOCl
2
(lithium thionyl chloride) and 3,0 V Li-MnO
2
(lithium manganese) batteries. The company's key members have extensive experience 
...
Read more...
---
Maintaining backup battery systems for maximum usage and reliability
30 September 2020, Comtest , Power Electronics / Power Management
Standby battery backup systems play a critical role in keeping essential operations functional in the event of a utility outage. Facilities like data centres, hospitals, airports, utilities, oil and gas 
...
Read more...
---