printer friendly version
Real-time dashboards for remote test data access
19 October 2020 Test & Measurement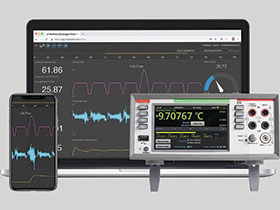 Tektronix announced the availability of a native integration between the Keithley DAQ6510 and DMM6500 instruments with Initial State, an loT dashboard for data streaming and visualisation for world-class, remote data access. Keithley and Initial State, both Tektronix companies, collaborated to integrate Initial State's data streaming and visualisation platform with the Keithley graphical DAQ6510 and DMM6500. This integration gives a DAQ6510/DMM6500 remote monitoring capability, real-time interactive dashboards, triggering and the ability to share data – all without the need for a PC or external software.
Designed for monitoring, test and data streaming applications, this software-as-a-service platform is able to securely turn data into real-time, customisable loT dashboards that are highly interactive. This speed, remote access, and usability makes it possible to instantly interpret data without the need to utilise third party software. Now users can monitor and analyse an experiment remotely in any browser – including on mobile devices.
"Our DAQ customers are being challenged to run longer tests in labs in order to collect large amounts of data," says Chris Bohn, vice president and general manager at Keithley/Tektronix. "This data usually needs to be highly accessible and converted into usable information quickly. Two Tektronix companies, Keithley and Initial State, have collaborated to meet these demands head on."
In order to meet testing needs, the dashboard is able to automate triggers and alerts based on incoming data, so the DAQ can proactively send an email or text message based on rules established by the user. The dashboard can also routinely share large data sets by embedding live data within a website. Data can be downloaded and stored for personal use and documentation or shared securely with colleagues or partners.
The dashboard is compatible with the DMM6500 6½-digit graphical touchscreen digital multimeter, a touchscreen bench/production test DMM with extensive measurement capability, including transient capture, data visualisation, and analysis. It is also compatible with the DAQ6510 data acquisition and logging multimeter system, which is complete with a touchscreen interface, enabling faster setup time, real-time monitoring of test status and detailed data analysis on the instrument.
Credit(s)
Further reading:
SatGen simulation software now supports NavIC
26 May 2021, RF Design , Test & Measurement
The latest update to LabSat SatGen GNSS simulation software for PC now incorporates NavIC RF simulation. Designed to create custom GNSS RF I/Q or IF data files based on user-generated trajectories, the 
...
Read more...
---
E-commerce platform for new and pre-owned T&M equipment
26 May 2021, Willcom , Test & Measurement
Electro Rent has added e-commerce capability to its global website, helping customers to find, research and compare more than 21 000 test and measurement (T&M) products. The new site offers a streamlined, 
...
Read more...
---
RF test probes for the 5G revolution
28 April 2021, Electronic Industry Supplies , Test & Measurement
5G, the fifth-generation mobile communications standard, will shape the third decade of the 21st century: a higher degree of networking is emerging, connecting different aspects of life and enabling new 
...
Read more...
---
Digital flow sensor for respiratory devices
31 March 2021, Electrocomp , Test & Measurement
The compact SFM3119 digital flow meter is the successor to Sensirion's SFM3100 mass flow meter. Compared to its predecessor, the SFM3119 comes with a digital I
2
C output as well as improved specifications. The 
...
Read more...
---
Handheld spectrum analysers for up to 6 GHz frequencies
31 March 2021, Comtest , Test & Measurement
The latest offering from Bird, a leading RF and tech provider, has expanded its highly sought-after SignalHawk family of rugged, handheld spectrum analyser products by adding the SH-60S-AOA Angle of Arrival 
...
Read more...
---
Comtest to represent Netscout
26 February 2021, Comtest , News
Comtest is pleased to announce that it now represents Netscout Systems, protecting digital business services against disruptions in availability, performance and security. Netscout's market and technology 
...
Read more...
---
Boundary scan tester and programmer
26 May 2021, Test & Rework Solutions , Test & Measurement
ABI Electronics' JTAGMaster tester and programmer is a fully integrated solution for the configuration and diagnosis of programmable logic devices (PLDs). The unit includes a boundary scan tester 
...
Read more...
---
Range of environmental T&M instruments
25 November 2020, RS Components (SA) , Test & Measurement
RS Components is now stocking a wide range of its own-brand RS PRO environmental test and measurement (T&M) products. These high-precision instruments and devices are for engineers and scientists to monitor 
...
Read more...
---
Real-time drone detection system
25 November 2020, Conical Technologies , Test & Measurement
Aaronia announced the release of its sixth generation real-time drone detection system. The new AARTOS system monitors all frequency bands in real time, and has direction finding and frequency monitoring 
...
Read more...
---
User-friendly oscilloscope for STEM learning
25 November 2020, RS Components (SA) , Test & Measurement
Affordable, compact, and easy to use, Tektronix' TBS1000C digital storage oscilloscope (DSO) comes with an enhanced user interface and courseware, proving a great tool for STEM educators, students, and 
...
Read more...
---