printer friendly version
Real-time dashboards for remote test data access
19 October 2020 Test & Measurement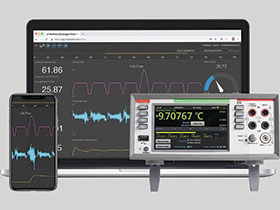 Tektronix announced the availability of a native integration between the Keithley DAQ6510 and DMM6500 instruments with Initial State, an loT dashboard for data streaming and visualisation for world-class, remote data access. Keithley and Initial State, both Tektronix companies, collaborated to integrate Initial State's data streaming and visualisation platform with the Keithley graphical DAQ6510 and DMM6500. This integration gives a DAQ6510/DMM6500 remote monitoring capability, real-time interactive dashboards, triggering and the ability to share data – all without the need for a PC or external software.
Designed for monitoring, test and data streaming applications, this software-as-a-service platform is able to securely turn data into real-time, customisable loT dashboards that are highly interactive. This speed, remote access, and usability makes it possible to instantly interpret data without the need to utilise third party software. Now users can monitor and analyse an experiment remotely in any browser – including on mobile devices.
"Our DAQ customers are being challenged to run longer tests in labs in order to collect large amounts of data," says Chris Bohn, vice president and general manager at Keithley/Tektronix. "This data usually needs to be highly accessible and converted into usable information quickly. Two Tektronix companies, Keithley and Initial State, have collaborated to meet these demands head on."
In order to meet testing needs, the dashboard is able to automate triggers and alerts based on incoming data, so the DAQ can proactively send an email or text message based on rules established by the user. The dashboard can also routinely share large data sets by embedding live data within a website. Data can be downloaded and stored for personal use and documentation or shared securely with colleagues or partners.
The dashboard is compatible with the DMM6500 6½-digit graphical touchscreen digital multimeter, a touchscreen bench/production test DMM with extensive measurement capability, including transient capture, data visualisation, and analysis. It is also compatible with the DAQ6510 data acquisition and logging multimeter system, which is complete with a touchscreen interface, enabling faster setup time, real-time monitoring of test status and detailed data analysis on the instrument.
Credit(s)
Further reading:
Major feature update for PicoLog Cloud software
23 June 2021, Comtest , Test & Measurement
Pico Technology announced that the beta version of its brand new PicoLog Cloud software is now officially open and readily available to the public. Building on the proven PicoLog 6.1 applications track 
...
Read more...
---
Test probes for the toughest test conditions
23 June 2021, Electronic Industry Supplies , Test & Measurement
Ingun has developed a test probe series especially for challenging contacting of tough OSP coatings, lead-free soldering or contaminated printed circuit boards (PCBs). Despite harsh conditions, these 
...
Read more...
---
Choosing a software environment for data acquisition
23 June 2021, Osiris Technical Systems , Test & Measurement
Read more...
---
2-channel tablet oscilloscope
23 June 2021, Vepac Electronics , Test & Measurement
The PeakTech 1206 is a new, innovative oscilloscope which is based on the size and design of a standard tablet computer. With the tablet oscilloscope it is possible to record each normal measured variable 
...
Read more...
---
RF probes for low-profile designs
23 June 2021, Electronic Industry Supplies , Test & Measurement
Miniature plug connectors for the transmission of radio frequency (RF) signals are essential components of smartphones, tablets and wearables as they form the basis which makes these communication technologies 
...
Read more...
---
Cable and network tester supporting PoE
23 June 2021, RS Components (SA) , Test & Measurement
RS Components is now stocking LinkIQ Cable+Network, a brand-new advanced Fluke cable and network tester ideal for installers and maintenance technicians. A highly cost-effective and time-saving unit, 
...
Read more...
---
SatGen simulation software now supports NavIC
26 May 2021, RF Design , Test & Measurement
The latest update to LabSat SatGen GNSS simulation software for PC now incorporates NavIC RF simulation. Designed to create custom GNSS RF I/Q or IF data files based on user-generated trajectories, the 
...
Read more...
---
E-commerce platform for new and pre-owned T&M equipment
26 May 2021, Willcom , Test & Measurement
Electro Rent has added e-commerce capability to its global website, helping customers to find, research and compare more than 21 000 test and measurement (T&M) products. The new site offers a streamlined, 
...
Read more...
---
RF test probes for the 5G revolution
28 April 2021, Electronic Industry Supplies , Test & Measurement
5G, the fifth-generation mobile communications standard, will shape the third decade of the 21st century: a higher degree of networking is emerging, connecting different aspects of life and enabling new 
...
Read more...
---
Digital flow sensor for respiratory devices
31 March 2021, Electrocomp , Test & Measurement
The compact SFM3119 digital flow meter is the successor to Sensirion's SFM3100 mass flow meter. Compared to its predecessor, the SFM3119 comes with a digital I
2
C output as well as improved specifications. The 
...
Read more...
---