printer friendly version
ESD testing equipment and calibration
28 October 2020
Test & Measurement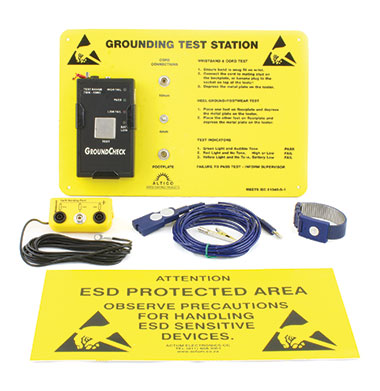 ESD stands for electrostatic discharge, and describes the transfer of electrostatic charge between two objects. The resulting discharge from an electron imbalance may be so small that the human body cannot feel it, nevertheless it can have serious consequences. In electronics manufacturing, pharmaceuticals, healthcare, ordnance manufacturing and storage, ESD incidents can often cause material, component, or system failures, which may prove costly and sometimes even dangerous.
The importance of testing
Since static charge cannot be seen and since the human body cannot always detect or feel harmful electrostatic discharges, regular testing and monitoring is the only way of knowing for sure whether your facility is safe or at risk.
The first step is to establish an ESD Protected Area (EPA), which is essentially a cordoned-off area and controlled environment where components and devices that are vulnerable to ESD damage are safely handled. Once you have identified an EPA and the equipment required to control static within this environment, you need to establish a documented testing and monitoring system which outlines the items to be tested, as well as the frequency. It is always advisable to keep a record of all tests conducted as well as the results so that you can refer back to it if necessary.
Types of testing equipment
There are various types of testers but the following are some of the most popular ones required by almost any EPA:
• Field meters: portable static detectors that measure the static of all moving objects. This is especially useful when setting up the EPA or when working on site, and helps determine objects and areas that are generating the most static.
• Ground-check tester: this tester contains two probes that can be placed on either side of an object to measure its resistance. This is useful to determine whether you are operating with the correct ESD resistivity standards governing your industry and application.
• Footwear and wrist-strap testers: grounding forms a critical part of effective static control since movement is a major generator of static charge. Personnel grounding equipment, such as wrist straps and footwear, need to be monitored continuously while they are working directly with ESD-sensitive components.
Calibration of testing equipment
All testers need to be calibrated once a year to ensure that they are functioning within the correct test range and are compliant with ESD standards. Different industries and applications have different ESD compliance standards and so the equipment needs to measure within the correct static and resistivity ranges as well.
For more information contact Actum Group, +27 11 608 3001, sales@actum.co.za, www.actum.co.za
Credit(s)
Further reading:
SatGen simulation software now supports NavIC
26 May 2021, RF Design , Test & Measurement
The latest update to LabSat SatGen GNSS simulation software for PC now incorporates NavIC RF simulation. Designed to create custom GNSS RF I/Q or IF data files based on user-generated trajectories, the 
...
Read more...
---
E-commerce platform for new and pre-owned T&M equipment
26 May 2021, Willcom , Test & Measurement
Electro Rent has added e-commerce capability to its global website, helping customers to find, research and compare more than 21 000 test and measurement (T&M) products. The new site offers a streamlined, 
...
Read more...
---
RF test probes for the 5G revolution
28 April 2021, Electronic Industry Supplies , Test & Measurement
5G, the fifth-generation mobile communications standard, will shape the third decade of the 21st century: a higher degree of networking is emerging, connecting different aspects of life and enabling new 
...
Read more...
---
Digital flow sensor for respiratory devices
31 March 2021, Electrocomp , Test & Measurement
The compact SFM3119 digital flow meter is the successor to Sensirion's SFM3100 mass flow meter. Compared to its predecessor, the SFM3119 comes with a digital I
2
C output as well as improved specifications. The 
...
Read more...
---
Handheld spectrum analysers for up to 6 GHz frequencies
31 March 2021, Comtest , Test & Measurement
The latest offering from Bird, a leading RF and tech provider, has expanded its highly sought-after SignalHawk family of rugged, handheld spectrum analyser products by adding the SH-60S-AOA Angle of Arrival 
...
Read more...
---
Boundary scan tester and programmer
26 May 2021, Test & Rework Solutions , Test & Measurement
ABI Electronics' JTAGMaster tester and programmer is a fully integrated solution for the configuration and diagnosis of programmable logic devices (PLDs). The unit includes a boundary scan tester 
...
Read more...
---
Range of environmental T&M instruments
25 November 2020, RS Components (SA) , Test & Measurement
RS Components is now stocking a wide range of its own-brand RS PRO environmental test and measurement (T&M) products. These high-precision instruments and devices are for engineers and scientists to monitor 
...
Read more...
---
Real-time drone detection system
25 November 2020, Conical Technologies , Test & Measurement
Aaronia announced the release of its sixth generation real-time drone detection system. The new AARTOS system monitors all frequency bands in real time, and has direction finding and frequency monitoring 
...
Read more...
---
User-friendly oscilloscope for STEM learning
25 November 2020, RS Components (SA) , Test & Measurement
Affordable, compact, and easy to use, Tektronix' TBS1000C digital storage oscilloscope (DSO) comes with an enhanced user interface and courseware, proving a great tool for STEM educators, students, and 
...
Read more...
---
Radiation safety tester for 5G EMF
26 February 2021, Conical Technologies , Test & Measurement
Since 1986, the Microwave Vision Group (MVG) has developed unique expertise in the visualisation of electromagnetic waves. The latest addition to its list of electromagnetic field (EMF) exposure monitors 
...
Read more...
---