printer friendly version
High-speed synchroniser and distribution board
28 October 2020
Computer/Embedded Technology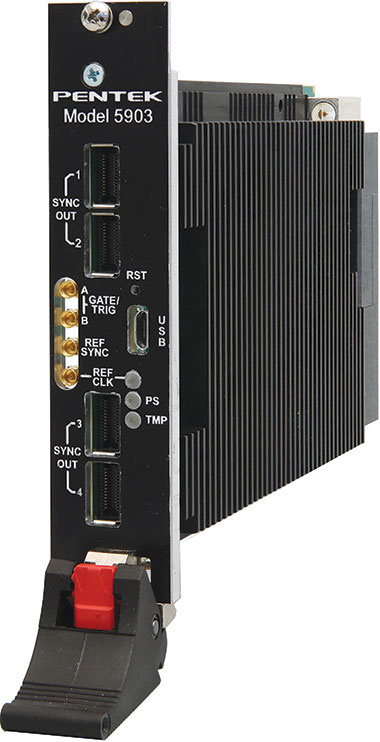 Pentek introduced a new board to the Quartz RFSoC architecture family, the Model 5903, a 3U VPX high-speed synchroniser and distribution board, optimised for Pentek products using the Xilinx Zynq UltraScale+ RFSoC. The Model 5903 synchronises up to eight 8-channel Pentek Quartz family boards within a system, enabling synchronous sampling and timing for a wide range of multichannel high-speed data acquisition, DSP, radar, beamforming, 5G, electronic warfare and software radio applications.
The board provides four front panel MMCX connectors to accept input signals from external sources: one for reference clock, one for sync and two for gate/trigger signals. The internal programmable clock generator can create sample clock frequencies from 1 GHz to more than 5 GHz. The sample clock can be locked to the internal 100 MHz frequency reference or locked to an external reference input connector. Similarly, sync and gate/trigger signals can be generated on-board via software or received from external sources through the sync and gate/trigger input connectors.
All board modes and operations are controlled by an on-board processor. Commands to this processor are sent via USB either through a front panel port or through the Rear Transition Module (RTM). The Pentek Navigator BSP (board support package) provided with Quartz boards includes configuration utilities for the Model 5903.
The Model 5903 delivers a multi-signal sync bus to each board to be synchronised, containing sample clocks, reference clocks, and gate/trigger and sync signals. Four sync buses are provided on the Model 5903's front panel and four are provided to the VPX backplane and optionally to an RTM. Connections between boards are facilitated across the VPX backplane and through precision matched multi-signal sync cables that come with the Model 5903.
The new board is ideal for use with Pentek's 8-channel A/D and D/A boards based on the Zynq UltraScale+ RFSoC processor: Model 5550 and Model 5950 3U VPX boards and the Model 7050 PCIe board.
Credit(s)
Further reading:
AI-powered computer for autonomous machines
Altron Arrow Computer/Embedded Technology
Nvidia recently premiered Jetson AGX Orin, the world's smallest, most powerful and energy-efficient AI supercomputer for robotics, autonomous machines, medical devices and other forms of embedded computing 
...
Read more...
---
AI voice development kit
iCorp Technologies Computer/Embedded Technology
Espressif Systems announced the launch of its AI voice development kit, ESP32-S3-BOX, which provides a platform for developing the control of smart devices with offline and online voice assistants. The 
...
Read more...
---
VITA 42.0 XMC updates: A refreshed standard and new optical XMC modules
Spectrum Concepts Computer/Embedded Technology
Open standards simplify system design while offering robust ecosystems of solutions providers. Even as open standards are adopted across industries and platforms, updates are needed from time to time. 
...
Read more...
---
VPX processor board with strong security
Rugged Interconnect Technologies Computer/Embedded Technology
Concurrent Technologies has developed a VPX processor board based on the Intel Xeon E-2200 processor family (previously known as Coffee Lake Refresh) launched by Intel for use in long-lifecycle embedded 
...
Read more...
---
Full AI/machine learning sensing solution
Computer/Embedded Technology
SensiML, a developer of AI tools for building intelligent Internet of Things (IoT) endpoints, has teamed up with onsemi to deliver a complete machine learning solution for autonomous sensor data processing 
...
Read more...
---
Frame grabber for up to four CoaXPress links
Rugged Interconnect Technologies Computer/Embedded Technology
Kaya Instruments' Komodo II CoaXPress 12G PCIe/104 is a high-spec frame grabber supporting the CoaXPress 2.0 standard. It can receive video streams from up to four CoaXPress links in single, dual or 
...
Read more...
---
Benchmarking tools for quantum computing released
Computer/Embedded Technology
Quantum computers are still a long way from being practical in real-world scenarios, but development is already underway on benchmarking tools to measure their performance. The Quantum Economic Development 
...
Read more...
---
Updates add video to ST's TouchGFX suite
Altron Arrow Computer/Embedded Technology
STMicroelectronics has released TouchGFX Version 4.18 for user-interface development with STM32 microcontrollers (MCUs), adding video playback, enhanced tools for multi-developer collaboration and support 
...
Read more...
---
SoM maker relies on ST MPU and open-source community
Altron Arrow Computer/Embedded Technology
"Open source is not only code sharing but a willingness to bring a certain know-how to a community and make a business around it."
Read more...
---
Analog microphone array board for advanced audio sensing
Altron Arrow Computer/Embedded Technology
The STEVAL-STWINMAV1 microphone array expansion board adds advanced audio sensing capabilities to STMicroelectronics' STEVAL-STWINKT1B (and STEVAL-STWINKT1) SensorTile Wireless Industrial Node (STWIN) 
...
Read more...
---