printer friendly version
MCUs with advanced analog peripherals
25 November 2020
DSP, Micros & Memory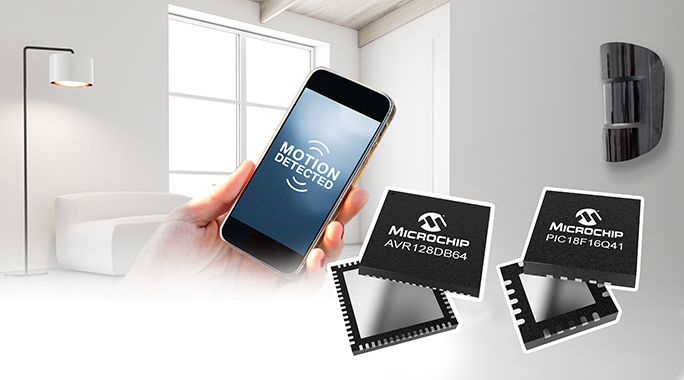 Microchip Technology's new PIC18-Q41 and AVR DB microcontroller (MCU) families are the first to combine advanced analog peripherals and multi-voltage operation with inter-peripheral connections for increased system integration and reduced signal acquisition times, and offer the convenience and efficiency of operating in a single design environment.
To address the need for signal conditioning in space-constrained sensing and measuring applications such as IoT end nodes and industrial, medical devices, wearables, automotive and lighting systems, the PIC18-Q41 has a configurable op-amp and analog-to-digital converter (ADC) with computation and digital-to-analog converters (DACs). It is particularly well suited for IoT and large-scale artificial intelligence (AI) at the edge, including predictive maintenance edge nodes in a smart factory.
Mixed-signal IoT systems often include multiple power domains, and the AVR DB MCU simplifies the challenges of these designs while reducing cost by integrating true bidirectional level shifters. This feature lowers cost in a wide range of applications including automotive, appliances, HVAC and liquid measurement. The device has three independent and highly configurable op-amps, a 12-bit differential ADC, 10-bit DAC, three zero cross detectors and Core Independent Peripherals (CIPs).
Credit(s)
Further reading:
Industrial MCU with gigabit time-sensitive networking
Future Electronics DSP, Micros & Memory
Time-sensitive networking solution by NXP bridges communication gaps in industrial IoT.
Read more...
---
64 Mbit SuperFlash memory for space systems
Altron Arrow DSP, Micros & Memory
Designers of spaceflight-qualified systems have a great need to reduce development time, cost and risk in their systems. Microchip Technology proposed the concept of starting with commercial off-the-shelf 
...
Read more...
---
Offline voice recognition module
iCorp Technologies DSP, Micros & Memory
AI-Thinker's VB-01 is an offline voice recognition AI module featuring ultra-low cost, high reliability and strong versatility.  Its speech recognition technology achieves a highly dependable wake-up 
...
Read more...
---
Avnet Silica gains access to Octavo's advanced SiP technology
Avnet Silica Analogue, Mixed Signal, LSI
Avnet Silica has added advanced SiP (system-in-package) technology to its portfolio via a distribution agreement with Octavo Systems, a leading provider of innovative high-quality SiP solutions. The 
...
Read more...
---
Speech processing SoC uses Microchip's SuperFlash technology
Altron Arrow DSP, Micros & Memory
Computing-in-memory technology is poised to eliminate the massive data communications bottlenecks otherwise associated with performing artificial intelligence (AI) speech processing at the network's edge, 
...
Read more...
---
LoRaWAN gateways for Azure Sphere deployments
Avnet Silica Telecoms, Datacoms, Wireless, IoT
Avnet Silica announced availability of Microsoft Azure Sphere-enabled LoRaWAN gateways from Miromico, an established OEM for IoT devices that focuses on design services in the field of integrated circuits, 
...
Read more...
---
ST integrates brains into sensors to launch 'Onlife Era'
STMicroelectronics DSP, Micros & Memory Analogue, Mixed Signal, LSI
STMicroelectronics announced the launch of the seminal Intelligent Sensor Processing Unit (ISPU) that combines a digital signal processor (DSP) suited to run artificial intelligence (AI) algorithms and 
...
Read more...
---
MCU boasts innovative sensing, enhanced security
Future Electronics DSP, Micros & Memory
Enabled with Bluetooth Low Energy wireless connectivity, onsemi's new low-power RSL15 microcontroller (MCU) addresses the growing demand of connected industrial applications for security without sacrificing 
...
Read more...
---
Fujitsu FRAM and ReRAM now available from Mouser
TRX Electronics DSP, Micros & Memory
Fujitsu Semiconductor Memory Solution's ferroelectric random access memory (FRAM) and large-density resistive random access memory (ReRAM) products are now being distributed by Mouser Electronics. Fujitsu 
...
Read more...
---
Functional safety packages for Microchip MCUs and DSCs
EBV Electrolink DSP, Micros & Memory
Safety is a primary concern in automotive applications to ensure reliable operation and end users' wellbeing. Microchip Technology is offering newly certified functional safety packages to enable engineers 
...
Read more...
---