printer friendly version
Power connector for heavy-duty EV applications
25 November 2020
Interconnection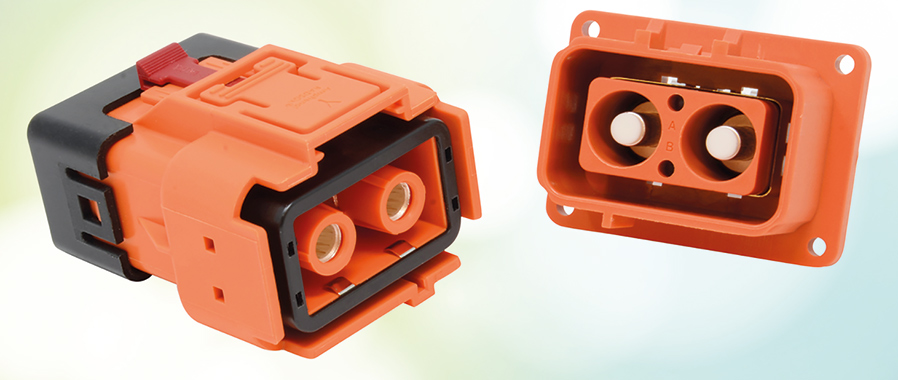 Amphenol Industrial Operations now offers a medium amperage connection system that is rated up to 120 A of continuous current.
The ePower-Lite 5,7 mm has an operating voltage of 600 V a.c./800 V&nbspd;.c. Used to connect PTC/AC to DC and related control boxes, including power distribution units (PDU), this 2-pole connector features HVIL and EMI shielding for safety and performance.
Designed for use in electric vehicles (EV), hybrid and pure EV heavy equipment, these robust connectors feature a lightweight plastic shell and compact design to provide both weight and space savings in vehicle architecture, and are built to meet the demanding needs of medium amperage applications. They incorporate 5,7 mm terminals with Amphenol's patented R4 RADSOK technology to achieve higher current ratings, lower insertion forces and lower temperature rise and contact resistance. Due to the low insertion force, no mechanical assistance is required.
These touch-proof connectors are RoHS compliant and feature a straight version plug for easy mating, as well as a keyway design to prevent incorrect mating. The ePowerLite can be mated a minimum of 100 times. This connector series has a UL 94V-0 flammability rating, an IP67 rating when mated, and an operating temperature range from -40°C to 125°C.
Credit(s)
Further reading:
Hybrid device connectors with knurled nut
25 November 2020, Phoenix Contact , Interconnection
M23 Hybrid series device connectors from Phoenix Contact are now also available with a knurled nut. This enables devices such as servo drives to be connected using either coupler or cable connectors. 
...
Read more...
---
Flexible 50 GHz and 67 GHz cable assemblies
25 November 2020, RFiber Solutions , Interconnection
The W2 Series is a complete line of high-performance, flexible microwave cable assemblies from Withwave. Specially, the W205 Series has a low-density PTFE structure to achieve velocity propagation of 
...
Read more...
---
Low board-to-board RF coax connectors
25 November 2020, Hiconnex , Interconnection
The IMP-LP product range is Radiall's lowest board-to-board distance solution with optimised RF performance. This small form factor system features a pressure contact design to provide a quick and reliable 
...
Read more...
---
Ultra-flexible Ku/Ka-band cable
28 October 2020, Hiconnex , Interconnection
As a leader in civil aircraft interconnection and RF cables, Radiall introduces a new cable in response to ARINC 791 and ARINC 792 requirements. This new ultra-flexible cable is ideally suited for Ku/Ka-band 
...
Read more...
---
Power and signal connectors with selective mate keying
25 November 2020, Vepac Electronics , Interconnection
The SB Smart range from Anderson Power Products is designed for applications where storage batteries intelligently interact with the system. Two primary power positions (up to 230 A each) are combined 
...
Read more...
---
What makes good connector design?
25 November 2020, IPD Electronics , Editor's Choice, Interconnection
It's important to remember that your connector may have physical design constraints like a minimum wire gauge or number of contacts, so it's vital to consult with your connector supplier early in the process.
Read more...
---
Durable connectors for harsh conditions
25 November 2020, TRX Electronics , Interconnection
When the going gets tough, you need rugged, reliable and ready connections to see the job done right and through to completion. From industrial and heavy equipment to defence applications, only the best 
...
Read more...
---
Magnetic jack connectors and their benefits
25 November 2020, Vepac Electronics , Interconnection
EDAC's product offering includes the edacJAX range of magnetic and modular jacks, offering many features and benefits. These connectors are used in data, telecom, networking and home entertainment markets 
...
Read more...
---
Battle-tested power and data hubs
25 November 2020, Hiconnex , Interconnection
Ruggedised soldier-worn electronics have revolutionised mission effectiveness, but the ongoing evolution of Digitally Aided Close Air Support (DACAS) missions, including precision targeting, ground and 
...
Read more...
---
Compact, robust cable connectors with high mating reliability
25 November 2020, Actum Group , Interconnection
ERNI is expanding its robust and versatile range of MiniBridge (1,27 mm pitch) and MaxiBridge (2,54 mm) cable-to-board connector range with the MicroBridge family in a 1,27 mm pitch, which is currently 
...
Read more...
---