printer friendly version
Enhanced RF connectors and terminators
25 November 2020
Interconnection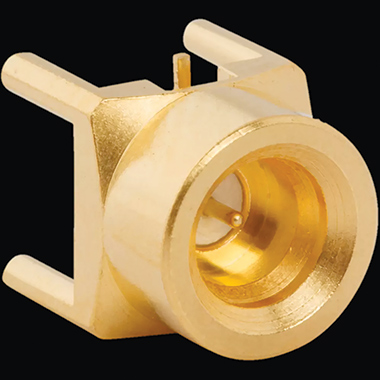 Amphenol RF has expanded its SMP product series with enhanced performance connectors and the introduction of terminators. SMP connectors are ideal for telecommunications and military applications which require compact, board-to-board RF interconnection.
These commercial products utilise the standard SMP interface and provide a high-frequency solution that offers reliable performance up to 20 GHz. Higher frequency performance can be reached through PCB optimisation analysis using readily available HFSS 3D models. They are constructed using machine brass bodies and contacts on all receptacle interfaces, and are available in both smooth bore and limited detent mating configurations.
SMP terminators are designed to reduce RF leakage that may occur when interfaces are left open in order to improve performance. These terminators are manufactured with gold plated bodies and contacts, and LCP insulators. The plug version uses beryllium copper for the contact. Terminators are used in any application that you would find an SMP connector, such as quantum computing and test and measurement designs.
For more information contact Juan Ras, Altron Arrow, +27 11 923 9600, jras@arrow.altech.co.za, www.altronarrow.com
Credit(s)
Further reading:
Active GNSS patch antenna
25 November 2020, Altron Arrow , Telecoms, Datacoms, Wireless, IoT
The Taoglas ASGGB184.A is a single-band, active GNSS patch antenna covering GPS, GLONASS, BeiDou and Galileo. With hidden active circuitry embedded between the ceramic patch and PCB base, it has been 
...
Read more...
---
Hybrid device connectors with knurled nut
25 November 2020, Phoenix Contact , Interconnection
M23 Hybrid series device connectors from Phoenix Contact are now also available with a knurled nut. This enables devices such as servo drives to be connected using either coupler or cable connectors. 
...
Read more...
---
SiC SBDs for automotive applications
25 November 2020, Altron Arrow , Power Electronics / Power Management
As vehicle electrification continues rapid growth worldwide, innovative power technologies such as silicon carbide (SiC) are required for high-voltage automotive systems ranging from motors to on-board 
...
Read more...
---
Out-of-the-box global MTC connectivity
25 November 2020, Altron Arrow , Telecoms, Datacoms, Wireless, IoT
The Thales Cinterion EGX81 Efficient IoT Gateway raises the bar on IoT simplicity, delivering highly efficient global Machine Type Communications (MTC) connectivity straight out of the box. The EGX81 
...
Read more...
---
Littelfuse launches DC disconnect switch product line
25 November 2020, Altron Arrow , Circuit & System Protection
Littelfuse has expanded its solar product line of fuses, relays, surge protection devices, and more with its new DC disconnect switch. Trusted with over 25 million installations, Littelfuse understands 
...
Read more...
---
Flexible 50 GHz and 67 GHz cable assemblies
25 November 2020, RFiber Solutions , Interconnection
The W2 Series is a complete line of high-performance, flexible microwave cable assemblies from Withwave. Specially, the W205 Series has a low-density PTFE structure to achieve velocity propagation of 
...
Read more...
---
Altron appoints new company secretary
25 November 2020, Altron Arrow , News
Nicole Morgan has been appointed as company secretary of Altron with effect from 1 January 2021. An admitted attorney of the High Court with 11 years of corporate law and company secretarial experience, 
...
Read more...
---
MCU module for Bluetooth 5.2 low energy applications
25 November 2020, Altron Arrow , Telecoms, Datacoms, Wireless, IoT
The certified WB2072-00 module from Jorjin is a wireless MCU (microcontroller) module targeting Bluetooth 5.2 low energy applications. It is based on the STMicroelectronics BlueNRG-355AC wireless MCU 
...
Read more...
---
Low board-to-board RF coax connectors
25 November 2020, Hiconnex , Interconnection
The IMP-LP product range is Radiall's lowest board-to-board distance solution with optimised RF performance. This small form factor system features a pressure contact design to provide a quick and reliable 
...
Read more...
---
Ultra-flexible Ku/Ka-band cable
28 October 2020, Hiconnex , Interconnection
As a leader in civil aircraft interconnection and RF cables, Radiall introduces a new cable in response to ARINC 791 and ARINC 792 requirements. This new ultra-flexible cable is ideally suited for Ku/Ka-band 
...
Read more...
---