printer friendly version
Adapt your home to your lifestyle
25 November 2020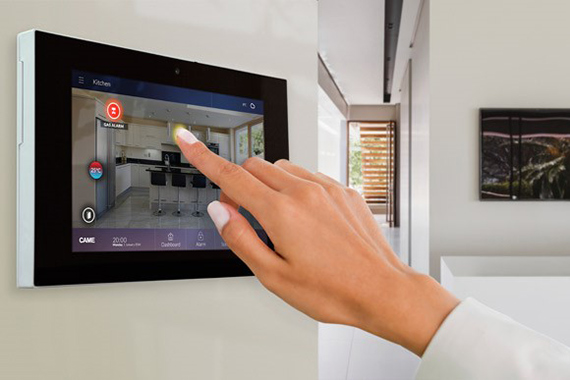 Came's home automation system gives you total control so that you can manage comfort and security with a focus on energy saving. Designed to improve the comfort and wellbeing of people inside the home, the system creates a living space tailored to individual needs, saving both time and energy. It makes it easy for each user to manage the devices installed in their home according to their own habits, controlling them from a touchscreen terminal, or remote connection via a smartphone or tablet.
All the automated devices in a home – from automation to lighting, the video entry system to temperature control, the sound system to the burglar alarm – are fully integrated with each other to manage any space intelligently and offer the ultimate in comfort and security. The new Came home automation system, characterised by ease of programming and complete system connectivity, reflects the focus of the company on technological innovation and design, able to add value to the homes they are installed in. Came Domotic 3.0 is ideal for both new and existing buildings, and, thanks to wireless devices, it can be installed without the need for building work.
Further reading:
The promise of seamless interoperability in smart homes
Altron Arrow Smart Home Automation
Designed for smart homes and smart buildings, Matter ensures seamless interactions between connected devices across different IP technologies.
Read more...
---
Webinar: Industrial solutions with ADLINK I-Pi SMARC development kit
Smart Home Automation
Learn how to leverage the I-Pi SMARC IMX8M Plus development kit, featuring NXP i.MX 8M Plus applications processors, to fulfil one's home automation needs using hardware-to-top.
Read more...
---
Matter protocol going from strength to strength
Altron Arrow Smart Home Automation Edge Computing & IIoT
The Consumer Electronics Show, that took place in January 2023, highlighted the importance of the new Matter protocol with the smart home being a prominent part of the event.
Read more...
---
High performance CO2 sensor based on PAS
EBV Electrolink Smart Home Automation
Infineon has developed a CO2 sensor chip the XENSIV PAS CO
2
sensor module that integrates a PAS transducer, a microcontroller, and a MOSFET on the PCB.
Read more...
---
Protecting you and your home with IoT
Smart Home Automation
IoT technology gives people the power to keep a watchful eye on what is important to them, whether they are 200 metres or 200 kilometres away.
Read more...
---
Is a wireless home automation system a good investment?
Wireless home automation systems come with so much developed technology that they are impossible to ignore if you want to create a smart home.
Read more...
---
Six smart home trends that will transform life in the home and far beyond
The Transformational Smart Home will expand in capability, function and activity, and will reflect the wider global needs of the planet, economies, societies and individuals.
Read more...
---
Maximising off-grid energy in South Africa
xStorage Home lets households store energy to use when needed, reducing their CO
2
footprint.
Read more...
---
Smart home weather stations
Legrand Southern Africa
Legrand's Netatmo smart home weather stations are an easy and efficient way to understand and monitor a home's indoor and outdoor environment.
Read more...
---
Creston Mercury provides a complete conference room solution
One easy-to-use console enables people to work together regardless of location or web collaboration application.
Read more...
---