printer friendly version
Illuminated E-Stop button
25 November 2020
Switches, Relays & Keypads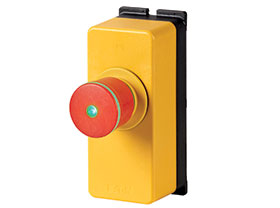 RS Components has added the Eaton RMQ Small E-Stop to its emergency pushbutton portfolio. This compact device is around 30% smaller than standard emergency-stop buttons and is designed to deliver improved levels of safety in the smallest possible footprint. Offering 360° visibility and with a diameter of just 30 mm, the Small E-Stop integrates seamlessly into most automation and machine building applications. Its compact size gives machine builders and operations engineers an emergency stop option that is at home in any automation environment, whether mounted horizontally on a flat control panel or vertically on a machine enclosure.
Although it is small in size, the part is big on safety. In addition to a front-facing LED status indicator, this emergency stop button features an innovative illuminated ring design around its circumference. This delivers full 360° visibility when the device is activated, ensuring that its status can be seen clearly from all sides as well as from the front. An optional RGB LED element gives system designers and operations engineers a choice of seven colours, which can be selected to show machine status or to ensure the emergency light is distinct from other visual indicators in the area.
The Small E-Stop is simple to integrate thanks to its modular, plug-and-play design. It is compatible with flat rear contacts but can be supplied with self-monitoring contacts as an option. For further flexibility, specifiers can select from either a 22 mm or 30 mm diameter version, and models which are rated to IP65K and IP69K. There is also a choice of a pull-to-reset or turn-to-reset release mechanism.
Credit(s)
Further reading:
Tektronix reimagines performance and portability in oscilloscopes
RS Components (SA) Test & Measurement
The new 2 series of oscilloscope can move from the bench to the field and back, enabling workflows previously not possible.
Read more...
---
'Excellently average' PhotoMOS relays
Avnet Abacus Switches, Relays & Keypads
With the new AQY215S 100 V load voltage type, Panasonic Industry complements its GU series of MOSFET relays in the middle of the feature scale.
Read more...
---
RS to showcase IoT and Food Safe products at NAMPO Harvest Day
RS Components (SA) News
Following a two-year hiatus, this year's event will take place over five days as opposed to four, to accommodate Covid-19 restrictions.
Read more...
---
Automotive solid-state relays
Switches, Relays & Keypads
The TPSI3050-Q1 isolated switch driver and the TPSI2140-Q1 isolated switch both integrate power and signal isolation across a single barrier.
Read more...
---
What can sport teach us about MRO procurement?
RS Components (SA) News
Just like triathlon transitions, if you don't respect the details and aren't supportive about making manufacturing flexible, as a supplier you aren't contributing to your customers' success.
Read more...
---
Heavy-duty incremental and absolute encoders
Vepac Electronics Switches, Relays & Keypads
Wachendorff Automation now offers a heavy-duty variant, in a very compact 36 mm design, as part of its range of incremental encoders in the WDGP series, as well as absolute encoders in the WDGA series. 
...
Read more...
---
Ergonomic tuning knobs with illumination options
Avnet Abacus Switches, Relays & Keypads
With its new Control-Knobs range, OKW Gehäusesysteme offers an advanced range of tuning knobs as the central elements for menu-controlled interfaces. The soft-touch grip surface provides an easy hold, 
...
Read more...
---
Waterproof rocker switch with coloured backlighting
Brabek Switches, Relays & Keypads
APEM's FNR series rocker switch is completely watertight and specially designed for easy forward and reverse control. This rocker switch was developed to maximise user comfort without compromising on 
...
Read more...
---
DesignSpark to host new activist engineering programme
RS Components (SA) News
RS Components has launched its DesignSpark #ActivistEngineering programme, further strengthening the company's commitment to engage and inspire design engineers across the globe to 'make amazing happen 
...
Read more...
---
Dual concentric rotary encoder
Electrocomp Switches, Relays & Keypads
Bourns Sensors and Controls announced the release of the PEC11D Series dual concentric rotary encoder with momentary push switch. The parts are designed to meet the specifications of professional audio 
...
Read more...
---