printer friendly version
Bench test and measurement equipment
25 November 2020
Test & Measurement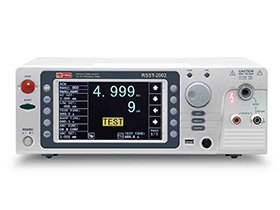 RS Components is now stocking an extensive range of RS PRO bench test and measurement products. The range offers various functions and applications, providing a full suite of electronic instruments for customers in the engineering community.
A highlight in the range is the RS PRO RSST-2000 series of insulation testers. These electrical safety testers feature a double insulation design that makes them the world's first to comply with the IEC 61010-2-034 safety standard. Comprising four models, each caters to a wide range of applications and features for greater functionality.
The RS PRO electrical safety testers provide a high-quality and high-efficiency solution to any electrical testing needs with an output capacity of 200 VA. They are ideal for preventing potential equipment failures before they occur and make for excellent troubleshooting tools. The primary test functions include AC and DC withstanding voltage, ground bond, and grounding continuity.
The series features superb output adjustment resolution, measurement resolution, controllable voltage ramp-up and ramp-down time settings and upper/lower limit judgement settings. The high-illumination LED lights (flashing or permanently lit) and high-volume audio indicator provide warnings of the status during ongoing tests or judgement results from the safety analyser.
Other functions and features of the RSST-2000 series include 100 sets of manual test memory for the storage of different test conditions; rear output terminal for system integration; and front panel remote control terminal mount/rear panel signal I/O for users to control the analyser's output/stop based upon the requirements.
In addition, the RS PRO range of benchtop test and measurement equipment includes programmable power supplies, oscilloscopes, waveform generators, digital multimeters, and arbitrary function generators.
The RS PRO RSST-2000 series is competitively priced and comes with the RS PRO Seal of Approval and three-year warranty. These instruments have been through high-calibre compliance and quality testing to assure quality, durability, and consistency.
Credit(s)
Further reading:
1200 V SiC MOSFETs
26 February 2021, RS Components (SA) , Power Electronics / Power Management
RS Components now stocks ON Semiconductor's latest 1200 V-rated MOSFETs. Based on silicon carbide (SiC) technology, these power discretes are able to push the performance envelope. The new N-channel 
...
Read more...
---
Electrocomponents backs Engineering for People Design Challenge
26 February 2021, RS Components (SA) , News
Electrocomponents, of which RS Components is a trading brand, has signed a one-year partnership agreement with Engineers Without Borders International, the leading movement that puts global responsibility 
...
Read more...
---
Range of environmental T&M instruments
25 November 2020, RS Components (SA) , Test & Measurement
RS Components is now stocking a wide range of its own-brand RS PRO environmental test and measurement (T&M) products. These high-precision instruments and devices are for engineers and scientists to monitor 
...
Read more...
---
Real-time drone detection system
25 November 2020, Conical Technologies , Test & Measurement
Aaronia announced the release of its sixth generation real-time drone detection system. The new AARTOS system monitors all frequency bands in real time, and has direction finding and frequency monitoring 
...
Read more...
---
User-friendly oscilloscope for STEM learning
25 November 2020, RS Components (SA) , Test & Measurement
Affordable, compact, and easy to use, Tektronix' TBS1000C digital storage oscilloscope (DSO) comes with an enhanced user interface and courseware, proving a great tool for STEM educators, students, and 
...
Read more...
---
Radiation safety tester for 5G EMF
26 February 2021, Conical Technologies , Test & Measurement
Since 1986, the Microwave Vision Group (MVG) has developed unique expertise in the visualisation of electromagnetic waves. The latest addition to its list of electromagnetic field (EMF) exposure monitors 
...
Read more...
---
Software links oscilloscopes with the cloud
26 February 2021, Comtest , Test & Measurement
Comtest, local representative of Tektronix, has announced the availability of TekDrive, the first native oscilloscope-to-cloud software solution to facilitate global data collaboration directly on an 
...
Read more...
---
Arduino shields for KNX implementations
26 February 2021, RS Components (SA) , Telecoms, Datacoms, Wireless, IoT
NCN5100ASGEVB evaluation boards from ON Semiconductor are Arduino-compatible units designed to facilitate prototyping work, comprising all the constituent components necessary to create smart home and 
...
Read more...
---
Connectors for EV and hybrid applications
25 November 2020, RS Components (SA) , Interconnection
The compact, metal-shell PowerLok Series from Amphenol provides interconnect solutions and signal connections for EV (electric vehicle) and hybrid transportation applications. Accommodating up to 
...
Read more...
---
Circuit protection and EMI design kits
25 November 2020, RS Components (SA) , Circuit & System Protection
RS Components now offers a wide range of design kits created by Würth Elektronik for engineers to use during prototype development. The kits include a selection of EMC components, making a perfect match 
...
Read more...
---