printer friendly version
Circuit protection and EMI design kits
25 November 2020
Circuit & System Protection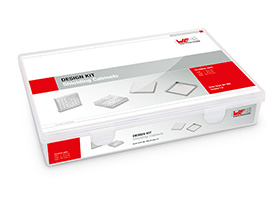 RS Components now offers a wide range of design kits created by Würth Elektronik for engineers to use during prototype development. The kits include a selection of EMC components, making a perfect match for signal and power integrity (common mode chokes and chip bead ferrites), overvoltage protection (varistors) and shielding materials.
The WE-SHC design kit for shielding cabinets features an assortment of standard tin-plated parts with a shielding effectiveness of up to 60 dB from 500 MHz to 3 GHz. Consisting of a grid frame and removable cover, the kit is available in both THT and SMT versions.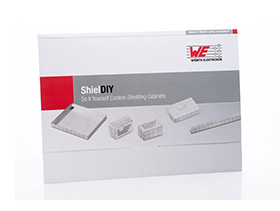 The shielding cabinets prevent EMI radiation from the PCB, and keep sensitivity low for RF output stages, RF input and amplifier stages, oscillators, and EMC sensitive parts in plastic cases.
If none of Würth Elektronik's standard shielding products fits in the application, the ShielDIY design kit is ideal for fast prototyping. It contains a 0,2 mm thick nickel-silver sheet, which offers the same performance as tin-plated steel, with lines etched every 5 mm for easy bending and cutting. To build the shielding cabinet prototype, just cut along the etched lines before bending to obtain the desired shape. The kit is available in both THT and SMT versions.
The WE-SECF SMT EMI contact finger design kit features a selection of parts in various shapes and sizes. The copper-beryllium (CuBe) and gold-plated (Au) materials make the EMI fingers resistant to corrosion, high temperatures and wear.
Contact fingers are typically used as a connection between signal and power supply boards, or PCBs and other external elements.
Credit(s)
Further reading:
Chip capacitors for high capacitance and voltage
RS Components (SA) Passive Components
Multi-anode solid tantalum chip capacitors offer a high capacitance/voltage rating in a single package for power supply and power distribution applications.
Read more...
---
650 W fast recovery diodes
RS Components (SA) Power Electronics / Power Management
Rohm has released its 4th-generation 650 V fast recovery diodes (FRDs), balancing forward voltage and reverse-recovery time for high-power industrial and consumer equipment including air conditioners and electric vehicle charging stations.
Read more...
---
Compact varistors offer surge capability of 6000 A
Electrocomp Circuit & System Protection
TDK has released the new EPCOS B72314S2* series of leaded disk varistors which cover a wide operating voltage range of 175 V
RMS
to 625 V
RMS
.
Read more...
---
eFuse with transient overcurrent blanking timer
RS Components (SA) Power Electronics / Power Management
The TPS25981xx family of eFuses from Texas Instruments is a robust defence against overloads, short circuits, voltage surges and excessive inrush current.
Read more...
---
Clearing the Static: ESD wrist straps
Actum Electronics Circuit & System Protection
The human body is the primary source of electrostatic charge generation. In order to control and reduce static charge build-up and prevent electrostatic discharges (ESD) at an electronic equipment facility, we use grounding systems to ensure that all components are at the same electrical potential.
Read more...
---
An entire chain of trust for system platforms
RS Components (SA) DSP, Micros & Memory
Microchip's CEC1736 Trust Shield family spans silicon, software, tools, a development board and provisioning capabilities that drive the end-to-end platform firmware protection that customers need.
Read more...
---
EFM32PG23 Microcontroller for IoT applications
RS Components (SA) DSP, Micros & Memory
Silicon Labs' EFM32PG23 microcontroller is the ideal combination of excellent low-power performance, precision analog capabilities and security in a small package.
Read more...
---
MG24 Wireless Development Kit
RS Components (SA) DSP, Micros & Memory
Silicon Labs' MG24 development kit is a high-performing wireless SoC with an AI/ML accelerator for battery-powered IoT end devices.
Read more...
---
50 W high-power RF MOSFET announced
RS Components (SA) Telecoms, Datacoms, Wireless, IoT
Mitsubishi has announced that it will launch a 50 W silicon RF high-power metal-oxide semiconductor field-effect transistor (MOSFET) module for use in high-frequency power amplifiers.
Read more...
---
Tektronix reimagines performance and portability in oscilloscopes
RS Components (SA) Test & Measurement
The new 2 series of oscilloscope can move from the bench to the field and back, enabling workflows previously not possible.
Read more...
---