printer friendly version
Cellular and GNSS technology in miniature SiP
25 November 2020
Telecoms, Datacoms, Wireless, IoT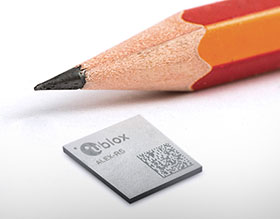 u-blox has unveiled the ALEX-R5, a miniature cellular module that integrates low power wide area (LPWA) connectivity and global navigation satellite system (GNSS) technology into an ultra-small system-in-package (SiP) form factor. Comprising hardware components designed fully in-house, ALEX-R5 is based on the secure UBX-R5 LTE-M/NB-IoT chipset platform with out-of-the-box secure cloud functionality and the u-blox M8 GNSS chip for world-class location accuracy.
ALEX-R5 stands out for its miniature 14 x 14 mm footprint, achieved thanks to its SiP design, reducing its size compared to the functionally equivalent u-blox SARA-R5 module by half. Its tiny dimensions make it a perfect fit for size constrained applications.
Zero compromises on cellular and GNSS performance
ALEX-R5 makes zero performance compromises in terms of the technologies it features. Its 23 dBm cellular transmission power guarantees that end devices operate effectively in all signal conditions, even at cell edges, underground, or in other challenging scenarios. A dedicated GNSS antenna interface enables fully independent, simultaneous operation of the u-blox M8 GNSS chip, matching the performance of a standalone u-blox M8 module. u-blox IoT Location-as-a-Service with CellLocate and AssistNow (online, offline and autonomous) further enhance positioning performance.
Optimised for power-sensitive and battery-dependent applications
The SiP is optimised for power-sensitive and battery-dependent applications, addressing common pain points of size-constrained applications such as wearables and connected medical devices. It achieves this by leveraging the lower power modes of the u-blox UBX-R5 and UBX-M8 chipsets and giving users options to further balance power consumption and performance using GNSS Super-E mode.
Its rugged SiP construction makes it an ideal fit for harsh environments, where moisture or vibration would be a concern for conventional modules. ALEX-R5 is rated at moisture sensitivity level 3 (MSL 3), offering reduced handling and device production complexity.
Designed to last an IoT lifetime and 5G-ready
By bringing all technology building blocks in-house and having full hardware and software ownership, u-blox can guarantee long-term device availability and provide lifetime support for the entire platform, down to the chipset level. Secure cloud functionality supporting IoT-Security-as-a-Service based on an internal, hardware-based secure element enables a lightweight pre-shared key management system specifically designed for LPWA devices.
ALEX-R5 future-proofs IoT devices and solutions by enabling customers to software-upgrade deployed devices for compatibility with 5G networks, offering a seamless transition to the next generation of cellular technology as 5G networks are rolled out by mobile operators.
For more information contact Andrew Hutton, RF Design, +27 21 555 8400, andrew@rfdesign.co.za, www.rfdesign.co.za
Credit(s)
Further reading:
High-frequency 100 nF single layer capacitor
28 April 2021, RF Design , Passive Components
Knowles Precision Devices recently announced the release of a new 100 nF capacitor within its V-Series of single layer capacitors. The part is a high-frequency, wire-bondable single layer capacitor, making 
...
Read more...
---
LoRa transceiver modules for ranging applications
28 April 2021, Avnet Silica , Telecoms, Datacoms, Wireless, IoT
Avnet Silica announced the availability of Miromico's FMLR-8x-x-STLx LoRa and LoRaWAN IoT modules. Based on Semtech's LoRa 2,4 GHz technology, Miromico partnered with danalto to enable location services. 
...
Read more...
---
AI platform for mass-market embedded/edge deployments
31 March 2021, RF Design , Computer/Embedded Technology
NVIDIA's Jetson TX2 NX delivers the next step in AI performance for entry-level embedded and edge products. It provides up to 2,5 times the performance of Jetson Nano and shares form factor and pin compatibility 
...
Read more...
---
Dual-band GNSS RTK module
28 April 2021, Electrocomp , Telecoms, Datacoms, Wireless, IoT
The RTK-1010 is a high-performance dual-band GNSS RTK module that is designed for applications requiring centimetre-level positioning accuracy. It adopts a 12 nm manufacturing process and integrates an 
...
Read more...
---
Compact bias tees with up to 35 GHz bandwidth
31 March 2021, RF Design , Analogue, Mixed Signal, LSI
Designers can save design time and time-to-market by using a proven bias solution from the high-frequency specialist company, Marki Microwave. Its new line of surface mount bias tees, featuring up to 
...
Read more...
---
Electronic warfare: Vying for control of the electromagnetic spectrum
28 April 2021, Concilium Technologies , Telecoms, Datacoms, Wireless, IoT
Future systems will move from being adaptive to using new AI and machine learning capabilities to decipher constant changes in spectrum use.
Read more...
---
Development kit supporting Espressif's Alexa Connect Kit
31 March 2021, iCorp Technologies , Telecoms, Datacoms, Wireless, IoT
Espressif Systems announced the launch of its new development kit, the ESP32-PICO-V3-ZERO-DevKit, which uses the Alexa Connect Kit (ACK) module announced by Espressif in July 2020. Both this module and 
...
Read more...
---
Multi-constellation GNSS module
31 March 2021, Altron Arrow , Telecoms, Datacoms, Wireless, IoT
Telit's high-precision GNSS SE868SY-D is a new multi-frequency, multi-constellation positioning receiver capable of combining GPS/QZSS and Galileo in the L1/E1 and L5/E5 bands, GLONASS in the L1, BeiDou 
...
Read more...
---
S-band low-noise amplifier
31 March 2021, RFiber Solutions , Telecoms, Datacoms, Wireless, IoT
The MAAL-011138 from MACOM Technology Solutions is a high dynamic range, single-stage MMIC LNA (low-noise amplifier) designed to operate from 2,5 GHz to 3,5 GHz, and is assembled in a lead-free, 2 mm 
...
Read more...
---
Wireless module for integrating BLE sensors
31 March 2021, Phoenix Contact , Telecoms, Datacoms, Wireless, IoT
The compact FL BLE 1300 wireless module with integrated antenna from Phoenix Contact connects up to eight industrial Bluetooth Low Energy (BLE) sensors to industrial controllers and IoT systems. This 
...
Read more...
---