printer friendly version
GDT surge protection devices
25 November 2020
Circuit & System Protection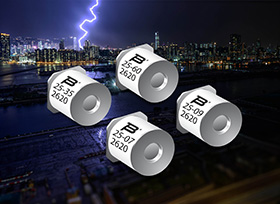 Bourns' new and improved next-generation surface mount two-electrode GDT (gas discharge tube) surge protection devices have been designed using Bourns' proprietary, advanced computer simulation techniques and offer industry-leading maximum impulse voltage limiting specifications in a small, environmentally rugged surface mount package.
The performance delivered by the Bourns GDT25 Series helps to significantly heighten protection against induced voltage transients such as lightning and AC induction. Plus, the enhanced level of protection, with tighter voltage limiting provided during fast-rising events, will reduce stress on downstream components compared to current GDT designs in the same application.
The GDT25 Series features:
• 75-600 V breakdown voltages.
• -55°C to 125°C operation.
• Fast response time.
• High surge current rating.
• Low capacitance and insertion loss.
• Stable performance throughout lifetime.
• Design kit available for quick-turn prototype testing.
• UL recognised.
• RoHS compliant.
Credit(s)
Further reading:
TDK announces robust varistors with 14 mm disk diameter
Electrocomp Passive Components
The new AdvanceD series of varistors have a wide operating voltage range up to 625 V and offer a surge current capability of 3000 A.
Read more...
---
Compact varistors offer surge capability of 6000 A
Electrocomp Circuit & System Protection
TDK has released the new EPCOS B72314S2* series of leaded disk varistors which cover a wide operating voltage range of 175 V
RMS
to 625 V
RMS
.
Read more...
---
Clearing the Static: ESD wrist straps
Actum Electronics Circuit & System Protection
The human body is the primary source of electrostatic charge generation. In order to control and reduce static charge build-up and prevent electrostatic discharges (ESD) at an electronic equipment facility, we use grounding systems to ensure that all components are at the same electrical potential.
Read more...
---
Short body USB-A with no compromise on performance
Electrocomp Interconnection
The all-new USB1125 connector from GCT with a minimal PCB footprint of just 13mm2 is 25% smaller than full-size equivalents.
Read more...
---
Bourns releases new series of power inductors
Electrocomp Power Electronics / Power Management
Constructed with a magnetic-silica coating to the perimeter of the inductor winding to provide effective shielding, these inductors release lower magnetic field radiation compared to non-shielded inductors.
Read more...
---
IP68 sealed enclosures from Hammond Manufacturing
Electrocomp Enclosures, Racks, Cabinets & Panel Products
Hammond Manufacturing has introduced the 1551W series, IP68 sealed versions of its popular 1551 miniature enclosure family, in five initial sizes.
Read more...
---
New series of power ribbon wire-wound resistors
Electrocomp Power Electronics / Power Management
This QL/QRZG series of high-power resistors have a high-power load up to 2500 W and are suitable for applications such as industrial braking, EV battery packs and charging stations.
Read more...
---
Surface-mount resettable fuses
Electrocomp Passive Components
The new series of fuses, suitable for overcurrent and thermal protection, expand the hold current up to 6 A and the maximum voltage to 33 V DC.
Read more...
---
Clearing the Static: ESD Flooring
Actum Group Circuit & System Protection
Altico's ESD flooring has been specially engineered to facilitate a uniform flow of static electricity directly to a ground point.
Read more...
---
Electrocomp stocks PhaseCap Energy Plus capacitor
Electrocomp Passive Components
TDK Electronics' new PhaseCap Energy Plus series capacitor is the latest generation of capacitor for power factor correction.
Read more...
---