printer friendly version
LoRa-compatible wireless SoCs
25 November 2020
Telecoms, Datacoms, Wireless, IoT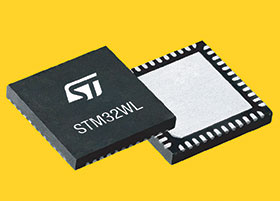 STMicroelectronics has expanded availability of its STM32WL long-range sub-GHz wireless system-on-chip (SoC) family, adding flexible configurations and package options for diverse mass-market applications.
By enabling devices to connect to LoRa-based low-power wide-area networks (LPWANs), the STM32WL series lets users create Internet-of-Things (IoT) devices that are extremely compact, energy efficient, and reliable. LPWANs provide cost-effective connectivity over large geographical areas and in remote locations, extending the IoT's reach and enabling smart technologies to add greater value in industries from utilities and agriculture to shipping, transportation, and others.
The STM32WL series combines ST's STM32 ultra-low-power microcontroller (MCU) architecture with a sub-GHz radio subsystem that supports multiple modulation schemes. These include LoRa, which allows high receiving sensitivity at low RF signal power, and (G)FSK, (G)MSK and BPSK modulation used by Sigfox and wireless Meter-Bus (wM-Bus) protocols, for instance, as well as other proprietary protocols or sub-GHz standards. The radio has a selectable dual-power output that helps customers comply with RF power restrictions for unlicensed frequency bands in all territories worldwide.
The new STM32WL models include the dual-core STM32WL55, based on an Arm Cortex-M4 core and a Cortex-M0+ MCU core which can both be used in a fully open and flexible way. The dual-core architecture effectively ensures hardware isolation that enhances cybersecurity, allows application updates without the need to recertify the device as a new radio product, and enhances real-time performance of both the radio and application.
The STM32WL55 joins the single-core STM32WLE5 introduced in January 2020 in BGA73 and QFN48 packages, which uses the main Cortex-M4 core to handle the radio and the application. The extended lineup also adds two non-LoRa variants, the single-core STM32WLE4 and dual-core STM32WL54, giving developers flexibility to leverage the unique SoC in new wireless IoT projects. All devices are supported by ST's rolling ten-year longevity commitment for industrial products.
Monolithic integration of ST's STM32 ultra-low-power architecture, and sub-GHz multi-modulation radio featuring LoRa modulation, makes the STM32WL series unique in the market.
The radio is based on proven Semtech SX126x transceiver IP, specially re-engineered by ST to fit market-proven power modes of STM32 platforms. It contains two internal power amplifiers with 15 dBm and 22 dBm maximum transmit power: The high-power and low-power transmitter modes, covering the global unlicensed frequency range from 150 MHz to 960 MHz, ensure compatibility with LPWANs in all territories and allow STM32WL SoCs to power end-products that are marketed worldwide.
The high level of RF integration enables single-crystal synchronisation of the high-speed external (HSE) clock and radio, and with no need for an external power amplifier (PA), which serves to minimise the overall bill of materials cost and solution footprint.
ST's STM32WL architecture, leveraging the energy-efficient and powerful Arm Cortex-M4 core with DSP extensions, benefits from ultra-low-power technologies including dynamic voltage scaling and ST's adaptive real-time ART Accelerator for zero-wait execution from Flash. MCU Flash options up to 256 KB let developers choose the optimal code and data storage density for the entire platform including application and radio.
Built-in cybersecurity features include hardware symmetric encryption and public key accelerators, true random number generator (TRNG), sector protection against read/write operation, dual-core secure areas isolation and support for state-of-the-art cryptographic algorithms including RSA, ECC and ECDSA.
Moreover, users can take advantage of the proven STM32Cube development ecosystem to simplify product creation and accelerate time to market. Such free resources include the STM32CubeMX project configuration and code generation tool, STM32CubeMonitor runtime monitoring and visualisation tool, and STM32CubeProgrammer.
The STM32CubeWL MCU package contains all the embedded software bricks needed to operate the STM32WL series, including peripheral drivers, ST's LoRaWAN protocol stack, Sigfox stack, and example code for LoRaWAN firmware update over the air (FUOTA) leveraging ST's Secure Boot and Secure Firmware Update (SBSFU) technology. Alternative stacks by authorised partners, such as the Stackforce W-MBus stack, are also available.
There are also two STM32WL-based Nucleo boards for fast prototyping: NUCLEO-WL55JC1 (868/915/923 MHz) and NUCLEO-WL55JC2 (433/470 MHz).
For more information contact Renaldo Fibiger, Altron Arrow, +27 11 923 9600, rfibiger@arrow.altech.co.za, www.altronarrow.com
Credit(s)
Further reading:
Ballast evaluation board for UV-C disinfection lamps
28 April 2021, Altron Arrow , Power Electronics / Power Management
The EVAL_ICB2FL03G is a ballast design evaluation board for 54 W UV-C disinfection lamps with voltage-mode preheating. Supplied by Infineon Technologies, it features the smart ballast controller ICB2FL03G 
...
Read more...
---
LoRa transceiver modules for ranging applications
28 April 2021, Avnet Silica , Telecoms, Datacoms, Wireless, IoT
Avnet Silica announced the availability of Miromico's FMLR-8x-x-STLx LoRa and LoRaWAN IoT modules. Based on Semtech's LoRa 2,4 GHz technology, Miromico partnered with danalto to enable location services. 
...
Read more...
---
Dual-band GNSS RTK module
28 April 2021, Electrocomp , Telecoms, Datacoms, Wireless, IoT
The RTK-1010 is a high-performance dual-band GNSS RTK module that is designed for applications requiring centimetre-level positioning accuracy. It adopts a 12 nm manufacturing process and integrates an 
...
Read more...
---
Challenges for electronic circuits in space applications
28 April 2021, Altron Arrow , Electronics Technology
Outside the protective cover of the Earth's atmosphere, the natural space radiation environment can damage electronic devices and the effects range from a degradation in parametric performance to a complete functional failure.
Read more...
---
Electronic warfare: Vying for control of the electromagnetic spectrum
28 April 2021, Concilium Technologies , Telecoms, Datacoms, Wireless, IoT
Future systems will move from being adaptive to using new AI and machine learning capabilities to decipher constant changes in spectrum use.
Read more...
---
Component shortages and how to mitigate them
31 March 2021, RS Components (SA), Projects Concern Manufacturing, Production Logix, Altron Arrow , News
To find out just how severe the problem is right now, and the impact it is having, we consulted two South African CEMs and two component distributors for their insights and advice.
Read more...
---
Development kit supporting Espressif's Alexa Connect Kit
31 March 2021, iCorp Technologies , Telecoms, Datacoms, Wireless, IoT
Espressif Systems announced the launch of its new development kit, the ESP32-PICO-V3-ZERO-DevKit, which uses the Alexa Connect Kit (ACK) module announced by Espressif in July 2020. Both this module and 
...
Read more...
---
Bidirectional logic-level voltage translators
31 March 2021, Altron Arrow , Analogue, Mixed Signal, LSI
The 74LVC2T45 and 74LVCH2T45 from Diodes Incorporated provide logic-level voltage translation between devices that operate from different supply rails. The devices have dual power supplies and support 
...
Read more...
---
Multi-constellation GNSS module
31 March 2021, Altron Arrow , Telecoms, Datacoms, Wireless, IoT
Telit's high-precision GNSS SE868SY-D is a new multi-frequency, multi-constellation positioning receiver capable of combining GPS/QZSS and Galileo in the L1/E1 and L5/E5 bands, GLONASS in the L1, BeiDou 
...
Read more...
---
S-band low-noise amplifier
31 March 2021, RFiber Solutions , Telecoms, Datacoms, Wireless, IoT
The MAAL-011138 from MACOM Technology Solutions is a high dynamic range, single-stage MMIC LNA (low-noise amplifier) designed to operate from 2,5 GHz to 3,5 GHz, and is assembled in a lead-free, 2 mm 
...
Read more...
---