printer friendly version
Software links oscilloscopes with the cloud
26 February 2021
Test & Measurement
Comtest, local representative of Tektronix, has announced the availability of TekDrive, the first native oscilloscope-to-cloud software solution to facilitate global data collaboration directly on an oscilloscope, PC, phone or tablet.
Created to enable ultimate ease and accuracy in data accessibility and collaboration, TekDrive gives engineers the ability to instantaneously share and recall data directly on an oscilloscope, eliminating the need for cumbersome data-sharing practices. TekDrive allows for data to automatically become accessible, usable and shareable across teams and partners, making remote work easier – all with industry-leading security practices built in.
In addition, TekDrive is the first general purpose test and measurement file system with scope-like data visualisations. The software provides ultra-smooth visualisation and analysis capabilities that support any modern browser, including options to view, zoom, pan, measure, decode and analyse full test and measurement data on any device without the need for any additional software.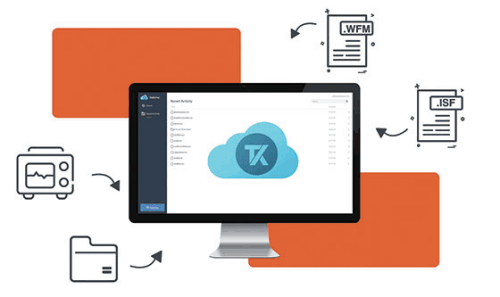 Seventy percent of oscilloscope users have the need to transfer data off the scope. Through TekDrive, data updates are instantly saved in globally accessible shared folders in which owners can manage secure access and permissions at a granular level.
"I joined Tektronix to help inspire the next wave of innovation in electronics engineering, and projects like this will do exactly that," says David Sulpy, chief information officer at Tektronix. "Engineers needed their own workspace in the cloud to securely manage complicated, real-time data from their oscilloscopes. TekDrive fulfils that need, whether they are working in the lab or at home."
TekDrive was built with the engineer in mind, and boasts a clean, easy-to-use interface for file organisation, management, search, upload and download. It's also architected for ease of integration with secure vendor-agnostic REST APIs for scripting, automation and analysis. Tektronix provides SDKs and examples in multiple languages, such as Python, Matlab and LabVIEW.
The TekCloud Developer Program also provides a secure way for third-party developers to add native TekDrive capability to their devices, instruments and software applications. With a quick integration time, any vendor of hardware or software can unleash the ecosystem of TekCloud storage, streaming, visualisation and analysis into their products.
All TekDrive users receive a free contributor account, which grants participation rights in shared files and folders, with the Enterprise Tier boasting unlimited contributors. A 14-day trial is also available.
Credit(s)
Further reading:
Comtest to represent Netscout
26 February 2021, Comtest , News
Comtest is pleased to announce that it now represents Netscout Systems, protecting digital business services against disruptions in availability, performance and security. Netscout's market and technology 
...
Read more...
---
Range of environmental T&M instruments
25 November 2020, RS Components (SA) , Test & Measurement
RS Components is now stocking a wide range of its own-brand RS PRO environmental test and measurement (T&M) products. These high-precision instruments and devices are for engineers and scientists to monitor 
...
Read more...
---
Real-time drone detection system
25 November 2020, Conical Technologies , Test & Measurement
Aaronia announced the release of its sixth generation real-time drone detection system. The new AARTOS system monitors all frequency bands in real time, and has direction finding and frequency monitoring 
...
Read more...
---
User-friendly oscilloscope for STEM learning
25 November 2020, RS Components (SA) , Test & Measurement
Affordable, compact, and easy to use, Tektronix' TBS1000C digital storage oscilloscope (DSO) comes with an enhanced user interface and courseware, proving a great tool for STEM educators, students, and 
...
Read more...
---
Radiation safety tester for 5G EMF
26 February 2021, Conical Technologies , Test & Measurement
Since 1986, the Microwave Vision Group (MVG) has developed unique expertise in the visualisation of electromagnetic waves. The latest addition to its list of electromagnetic field (EMF) exposure monitors 
...
Read more...
---
Ensuring workers' safety through EMF monitoring
25 November 2020, Conical Technologies , Test & Measurement
Accurately measuring the electromagnetic field (EMF) is essential to confirm that exposure levels comply with the regulatory limits established in each country, and thus ensure the safety of individuals 
...
Read more...
---
Wideband synthesised signal generator
25 November 2020, Conical Technologies , Test & Measurement
Mini-Circuits announced the release of the latest addition to its array of microwave components, the SSG-15G-RC synthesised signal generator. The SSG-15G-RC is a wideband synthesised signal generator 
...
Read more...
---
Bench test and measurement equipment
25 November 2020, RS Components (SA) , Test & Measurement
RS Components is now stocking an extensive range of RS PRO bench test and measurement products. The range offers various functions and applications, providing a full suite of electronic instruments for 
...
Read more...
---
Isolated oscilloscope probes
25 November 2020, Comtest , Test & Measurement
Tektronix has rolled out its second generation of IsoVu isolated oscilloscope probes, the TIVP Series, which significantly advance the capabilities of the probes first introduced in 2016. The second-generation 
...
Read more...
---
Buy a Fluke, get one free
28 October 2020, Comtest , News
Comtest, Fluke's official South African importer, is offering one free Fluke for every Fluke purchased from any South African-based, authorised Fluke dealer. Fluke is a world leader in the manufacture, 
...
Read more...
---