printer friendly version
Standard and modified enclosures catalogue
26 February 2021
Technical Literature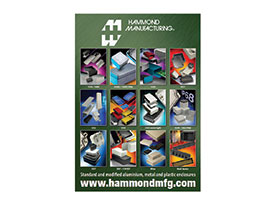 This shortform, 8-page catalogue provides an overview of aluminium, metal and plastic enclosures available from Hammond Manufacturing, together with corresponding accessories.
Hammond Manufacturing can modify any of its standard enclosures in-house to meet the specific requirements of the application. In-house modification capabilities include CNC milling, drilling, punching, engraving and printing, EMC coatings, front panel overlays, custom colours for moulded enclosures and a variety of different paint finishes for metal enclosures.
Download the catalogue from www.parkfield.co.uk/hel/gb20.pdf
Credit(s)
Further reading:
TDK announces robust varistors with 14 mm disk diameter
Electrocomp Passive Components
The new AdvanceD series of varistors have a wide operating voltage range up to 625 V and offer a surge current capability of 3000 A.
Read more...
---
Compact varistors offer surge capability of 6000 A
Electrocomp Circuit & System Protection
TDK has released the new EPCOS B72314S2* series of leaded disk varistors which cover a wide operating voltage range of 175 V
RMS
to 625 V
RMS
.
Read more...
---
Short body USB-A with no compromise on performance
Electrocomp Interconnection
The all-new USB1125 connector from GCT with a minimal PCB footprint of just 13mm2 is 25% smaller than full-size equivalents.
Read more...
---
Bourns releases new series of power inductors
Electrocomp Power Electronics / Power Management
Constructed with a magnetic-silica coating to the perimeter of the inductor winding to provide effective shielding, these inductors release lower magnetic field radiation compared to non-shielded inductors.
Read more...
---
IP68 sealed enclosures from Hammond Manufacturing
Electrocomp Enclosures, Racks, Cabinets & Panel Products
Hammond Manufacturing has introduced the 1551W series, IP68 sealed versions of its popular 1551 miniature enclosure family, in five initial sizes.
Read more...
---
New series of power ribbon wire-wound resistors
Electrocomp Power Electronics / Power Management
This QL/QRZG series of high-power resistors have a high-power load up to 2500 W and are suitable for applications such as industrial braking, EV battery packs and charging stations.
Read more...
---
Surface-mount resettable fuses
Electrocomp Passive Components
The new series of fuses, suitable for overcurrent and thermal protection, expand the hold current up to 6 A and the maximum voltage to 33 V DC.
Read more...
---
Designing modern wearable electronics
Infineon Technologies Technical Literature
Designing innovative and power-efficient wearable devices is essential for today's design engineers, but several developmental challenges lie ahead for the upcoming generation of products. Wrist-worn 
...
Read more...
---
Electrocomp stocks PhaseCap Energy Plus capacitor
Electrocomp Passive Components
TDK Electronics' new PhaseCap Energy Plus series capacitor is the latest generation of capacitor for power factor correction.
Read more...
---
Thinner pattern coils set to revolutionise wireless charging
Electrocomp Power Electronics / Power Management
TDK developed the 0,76 mm thick charging coils using a unique pattern coil technology without employing conventional lithographic exposure and etching techniques.
Read more...
---