printer friendly version
Closed-loop MEMS accelerometer
26 February 2021
Analogue, Mixed Signal, LSI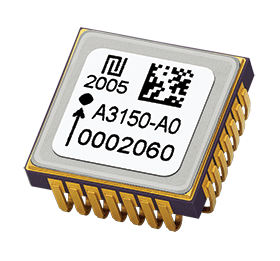 TDK announced the release of Tronics AXO315, a miniature, 1-axis closed-loop MEMS accelerometer with a 24-bit digital SPI interface and SMD package that reaches quartz sensor performance, outperforms commercial MEMS sensors, and eases integration.
The new force-rebalance accelerometer delivers an excellent one-year composite bias repeatability of 1 mG and composite scale factor repeatability of 600 ppm under severe temperature and vibration conditions common in industrial, land, railway, naval and construction applications. Its characteristics enable significant reduction in size, weight and cost of materials for industrial motion control units, inertial measurement units (IMU) and inertial navigation systems (INS).
AXO315 is a ±14 G range, in-plane linear accelerometer. It achieves a 1 mG composite bias repeatability over one year at temperatures ranging from -55°C to +105°C, and 4 G vibrations with outstanding vibration rejection. Performance is augmented by its superior Allan variance characteristics, with an excellent bias instability of 4 G, a velocity random walk of 0,006 m/s/√h, and very low noise of 15 μG/√Hz, thus enabling high resolution and low error.
For more information contact Electrocomp, +27 11 458 9000, sales@electrocomp.co.za, www.electrocomp.co.za
Credit(s)
Further reading:
Signal chain implementation for condition monitoring systems
Altron Arrow Editor's Choice Analogue, Mixed Signal, LSI
Like all system designs, there are many choices to be made when it comes to designing a condition monitoring system, each of which comes with various trade-offs and can drastically alter the DAQ signal chain design.
Read more...
---
High-speed SAR ADC family
Analogue, Mixed Signal, LSI
Texas Instruments expanded its portfolio of high-speed data converters with a broad family of successive-approximation register (SAR) analog-to-digital converters (ADCs) that enable high-precision data 
...
Read more...
---
Digital flow sensor for respiratory devices
Electrocomp Analogue, Mixed Signal, LSI
The compact SFM3119 digital flow meter is the successor to Sensirion's SFM3100 mass flow meter. Compared to its predecessor, the SFM3119 comes with a digital I
2
C output as well as improved specifications.  
...
Read more...
---
Liquid flow sensor in small planar package
Electrocomp Analogue, Mixed Signal, LSI
With a tiny footprint of only
10 x 10 mm
, Sensirion's LPG10-1000 liquid flow sensor provides optimal performance and speed in measuring liquid flow in a planar microfluidic glass substrate, with down-mount 
...
Read more...
---
Wide range of sensor technologies for innovative designs
TRX Electronics Analogue, Mixed Signal, LSI
Mouser Electronics has created a sensor technology content stream on its website that highlights the latest in innovative sensor solutions and resources from the world's top manufacturers. With the 
...
Read more...
---
Evaluation kit for formaldehyde sensor
Electrocomp Design Automation
The SEK-SFA30 evaluation kit has been designed for easy evaluation of Sensirion's SFA30 formaldehyde sensor. The SFA30 is designed for easy integration into air purifiers, demand-controlled ventilation 
...
Read more...
---
Tiny 5 W to 150 W power modules
Electrocomp Power Electronics / Power Management
TDK's series of µPOL DC-DC converters, with their compact size and high power density, are ideal point-of-load solutions for applications such as big data, machine learning (ML), artificial intelligence 
...
Read more...
---
Capacitive touchscreen controllers
EBV Electrolink Analogue, Mixed Signal, LSI
Microchip Technology is adding two new members to its family of IEC/UL 60730 Class B certified touchscreen controllers. The new MXT448UD-HA and MXT640UD-HA extend the Class B portfolio of devices beyond 
...
Read more...
---
Standalone GNSS antenna module
Electrocomp Telecoms, Datacoms, Wireless, IoT
The LS2003C-G from Locosys is a complete standalone GNSS smart antenna module, including embedded patch antenna and GNSS receiver circuits. The module can simultaneously acquire and track multiple satellite 
...
Read more...
---
High-precision voltage reference IC
Future Electronics Analogue, Mixed Signal, LSI
Extended temperature-range voltage reference ICs for automotive and industrial applications require low drift, high reliability and high performance. A new high-precision voltage reference (Vref) IC from 
...
Read more...
---