printer friendly version
Closed-loop MEMS accelerometer
26 February 2021
Analogue, Mixed Signal, LSI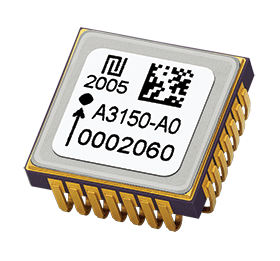 TDK announced the release of Tronics AXO315, a miniature, 1-axis closed-loop MEMS accelerometer with a 24-bit digital SPI interface and SMD package that reaches quartz sensor performance, outperforms commercial MEMS sensors, and eases integration.
The new force-rebalance accelerometer delivers an excellent one-year composite bias repeatability of 1 mG and composite scale factor repeatability of 600 ppm under severe temperature and vibration conditions common in industrial, land, railway, naval and construction applications. Its characteristics enable significant reduction in size, weight and cost of materials for industrial motion control units, inertial measurement units (IMU) and inertial navigation systems (INS).
AXO315 is a ±14 G range, in-plane linear accelerometer. It achieves a 1 mG composite bias repeatability over one year at temperatures ranging from -55°C to +105°C, and 4 G vibrations with outstanding vibration rejection. Performance is augmented by its superior Allan variance characteristics, with an excellent bias instability of 4 G, a velocity random walk of 0,006 m/s/√h, and very low noise of 15 μG/√Hz, thus enabling high resolution and low error.
For more information contact Electrocomp, +27 11 458 9000, sales@electrocomp.co.za, www.electrocomp.co.za
Credit(s)
Further reading:
Dual-band GNSS RTK module
31 March 2021, Electrocomp , Telecoms, Datacoms, Wireless, IoT
The RTK-1010 is a high-performance dual-band GNSS RTK module that is designed for applications requiring centimetre-level positioning accuracy. It adopts a 12 nm manufacturing process and integrates an 
...
Read more...
---
Compact bias tees with up to 35 GHz bandwidth
31 March 2021, RF Design , Analogue, Mixed Signal, LSI
Designers can save design time and time-to-market by using a proven bias solution from the high-frequency specialist company, Marki Microwave. Its new line of surface mount bias tees, featuring up to 
...
Read more...
---
Bidirectional logic-level voltage translators
31 March 2021, Altron Arrow , Analogue, Mixed Signal, LSI
The 74LVC2T45 and 74LVCH2T45 from Diodes Incorporated provide logic-level voltage translation between devices that operate from different supply rails. The devices have dual power supplies and support 
...
Read more...
---
Evaluate 3D magnetic sensors in under ten minutes
31 March 2021, Altron Arrow , Analogue, Mixed Signal, LSI
You probably think that it's not possible to evaluate a 3D magnetic sensor in less than ten minutes? Think again! Anything is possible with Infineon's 2GO kits. Its 3D magnetic sensor 2GO kit is a budget-priced 
...
Read more...
---
How best to calculate DAC signal chain error budget
26 February 2021 , Analogue, Mixed Signal, LSI
Electrical signal chains can be found in various forms. They can consist of different electrical components, including sensors, actuators, amplifiers, analog-to-digital converters (ADCs), digital-to-analog 
...
Read more...
---
Inline industrial temperature sensor
26 February 2021, TRX Electronics , Analogue, Mixed Signal, LSI
Amphenol Advanced Sensors offers an inline flow-through temperature sensor that monitors the temperature of a fluid that passes through it. A system control module receives this temperature reading 
...
Read more...
---
Upcoming modifications to Bourns' isolation power transformers
26 February 2021, Electrocomp , Passive Components
In the spirit of continuous improvement, effective 14 June 2021, Bourns is changing the silicone material, Hi-pot specification and marking content for its HCT Series high clearance/creepage distance 
...
Read more...
---
Multi-parameter vital signs monitoring is easier than ever before
31 March 2021, Altron Arrow , Analogue, Mixed Signal, LSI
There is rapid expansion and adoption of digital healthcare fuelled by the continuous advancement in electronics and breakthroughs in cloud computing, AI, and communication technologies.
Read more...
---
Rack-mounted instrument enclosure
31 March 2021, Electrocomp , Enclosures, Racks, Cabinets & Panel Products
Made from extruded aluminium, the RM Series of enclosures from Hammond Manufacturing are suitable for rack-mount or desktop use. Featuring strong construction yet light in weight, the enclosures are made 
...
Read more...
---
Compact transformers for DC/DC converters
26 February 2021, Electrocomp , Passive Components
New from TDK is the EPCOS E10 EM series, a range of insulated SMT transformers that are suitable for various DC/DC converter topologies and gate driver circuits in e-mobility and industrial electronics. 
...
Read more...
---